Putin Breaks Silence on Poisoned Spy, Calls Skripal a Traitor and 'a Scumbag'
Russian President Vladimir Putin has angrily attacked Sergei Skripal, the spy who was poisoned in the English city of Salisbury, calling him"a scumbag" and a "traitor."
Skripal and his daughter Yulia were found slumped on a bench on March 4. British investigators say Russian intelligence officers poisoned them with Novichok.
Putin did not mince his words about Skripal or the media when he answered a question about the case at an energy forum in Moscow on Wednesday.
After a question from a moderator, Putin said: "I see there are several media sources that push this line that Mister Skripal was some kind of human rights defender."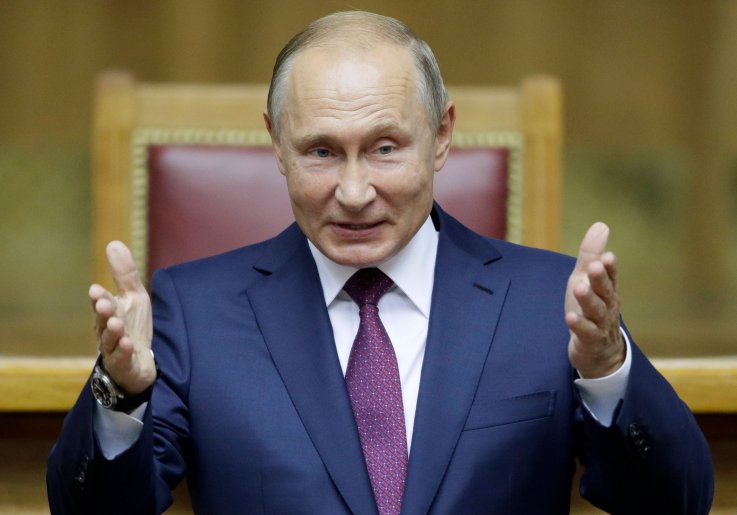 Then Putin raised his voice to spit out: "He was simply a spy, a traitor of the motherland. There is only one way to describe him, a traitor of the motherland."
Putin added that the faster the media campaign around Skripal ended, the better.
"Imagine you are a citizen of your own country and all of a sudden, there is a person who betrays his country. How would you regard him? He is just a scumbag, plain and simple," RIA Novosti reported.
He said British authorities must send information on its investigation to the Russian Prosecutor General's Office, adding that there was an agreement with the U.K. to help each other in criminal matters, "which provides for an appropriate procedure."
"As for all this fuss between secret services, it's nothing new. As everyone knows, espionage, just like prostitution, is among the most important professions in the world. So what," he added, according to Life.ru.
Although the Skripals recovered, a British woman, Dawn Sturgess died in a separate poisoning after picking up a modified perfume bottle containing the poison.
Investigative website Bellingcat says it has identified one of the two suspects as Colonel Anatoliy Chepiga, who had received in 2014 Russia's highest military award, possibly from Putin himself.
The Dossier Center, a London-based investigative group, reported that Chepiga was given the award for his role in saving the ousted Ukrainian president, Viktor Yanukovych, during the Ukraine revolution in 2014.
The Russian president insists that both suspects were civilians.
Putin Breaks Silence on Poisoned Spy, Calls Skripal a Traitor and 'a Scumbag' | World