Russian President Vladimir Putin on Tuesday appeared to contradict his own defense ministry when discussing the Ukrainian military's equipment losses during Kyiv's ongoing counteroffensive, and one expert told Newsweek why that may have happened.
Western analysts have reported on Ukraine's recent advancements in the counteroffensive. Launched in early June, the major military operation has seen Kyiv begin to recapture territory once occupied by Russia, including more than a dozen villages in the Zaporizhzhia and Donetsk regions.
Speaking at the Eastern Economic Forum in the Russian city of Vladivostok, Putin downplayed the success of the counteroffensive and claimed Ukrainian President Volodymyr Zelensky's military has sustained "big losses."
However, a figure he cited for Ukrainian armored vehicle losses was much higher than an estimate released by Russia's Ministry of Defense (MoD) on Sunday.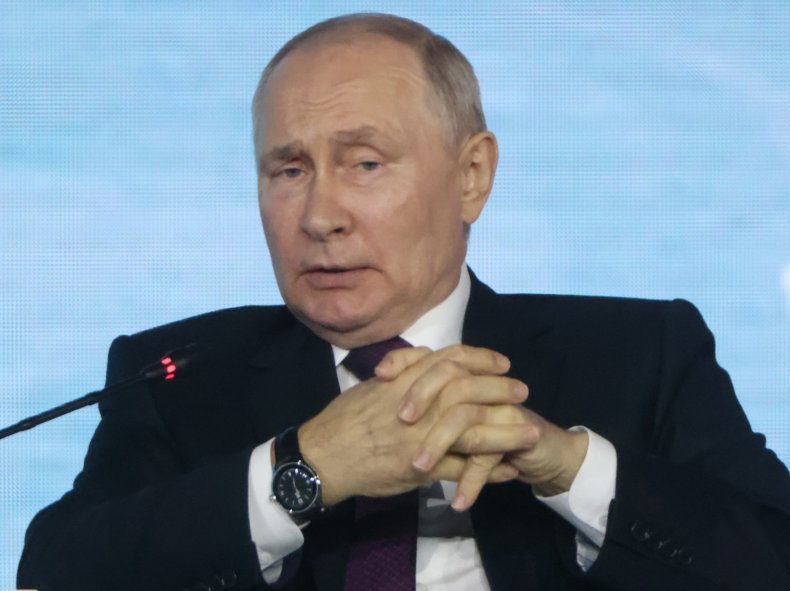 According to the Kremlin-operated media outlet RT, Putin said Ukraine has not found much success on the battlefield while crediting his forces for destroying 543 tanks and 18,000 armored vehicles from Ukraine in the past three months alone.
Only two days earlier, Russia's MoD said Ukraine has lost a total of 11,773 armored combat vehicles (including tanks) since Putin launched the war in February 2022.
"Putin either may have decided that there is no downside to exaggerating, or he really doesn't pay attention to what the MoD is saying," George Mason University Schar School of Policy and Government professor Mark N. Katz told Newsweek about the discrepancy between the figures cited.
Katz added, "It will be interesting to see whether the MoD now 'corrects' its website and lists the same figures that Putin cited."
For their part, Kyiv officials typically cite the General Staff of Ukraine's Armed Forces' figures when they discuss Russian losses. According to the General Staff's data released on Tuesday, Russia has lost 4,568 tanks and 8,778 armored fighting vehicles throughout the entire course of the war.
Newsweek could not independently verify Ukraine and Russia's figures on equipment losses and has reached out to both countries' defense ministries for comment via email.
According to Dutch open-source intelligence outlet Oryx, Ukraine has lost 4,420 pieces of equipment since the beginning of the war, while Russia has suffered the loss of 12,121 pieces of equipment. Since only confirmed equipment losses are included in its tallies, Oryx states that the "amount of equipment destroyed is significantly higher" than it records.
Tuesday wasn't the first time that Putin has seemingly contradicted data released by Russia's defense ministry.
During a June meeting with Russian military bloggers and journalists, Putin said his military had lost 54 tanks during the first two weeks of Ukraine's counteroffensive. But Russian Defense Minister Sergei Shoigu said days earlier that Russia had only lost 15 tanks and nine armored vehicles in counteroffensive engagements.