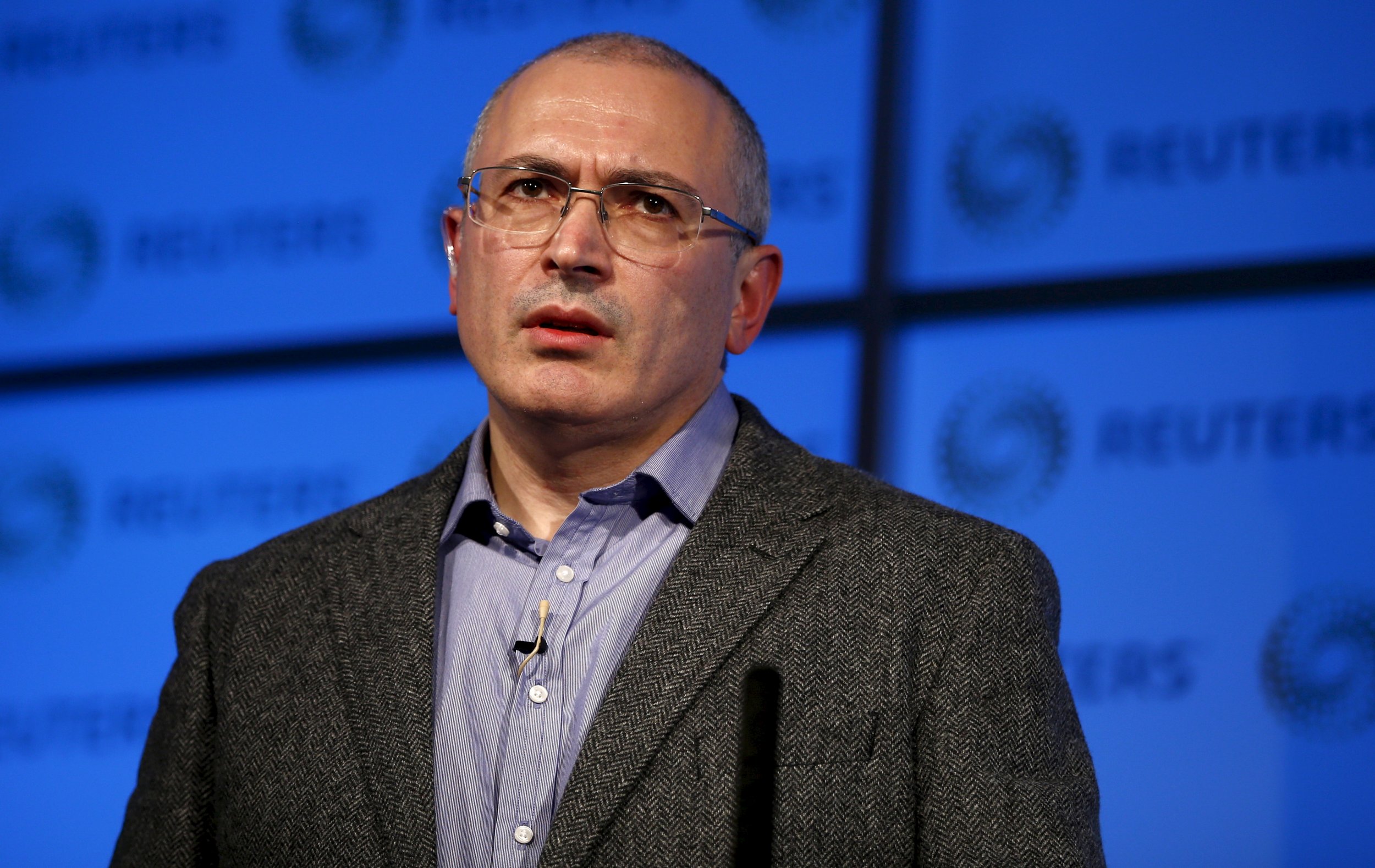 "Revolution in Russia is inevitable," Mikhail Khodorkovsky, formerly Russia's richest man and possibly the most famous living critic of Russian President Vladimir Putin, said in December 2015. "Our goal is to make it peaceful," he added.
Khodorkovsky and his Open Russia organization have unveiled the first step to what they hope will be peaceful change by reminding the world of the brief period of time between the Soviet Union and Putin.
The project is called the Open Russia University and its purpose is to cover aspects of Russia over last three decades that are often brushed under the carpet. Its website went live on Wednesday.
"Any revolutions starts in people's minds first and foremost," Tatiana Fokina, manager of the project, tells Newsweek. "We very much want to equip our users with the relevant knowledge and tools with analysis of the current situation in Russia. We want to inspire them to think about it. I think if you do consider all the expressed views in our course you will come to the conclusion the country is in need of a change."
So who can attend Khodorkovsky's university and what can they learn?
Firstly, the website is entirely in Russian and requires a login either by email, through Facebook or the popular Russian social media analogue, VKontakte. Once logged in, the first course available is "Culture and Politics," which consists of 19 video lectures, each about 15 minutes long, exploring art and media in Russia during the tumultuous time period from the collapse of the Soviet Union to the present day. The content is available for free.
The site content consists of five programs—"New History," "Culture and Art," "Political Science," "Sociology," and "Economics"—outlining the general subject. Each subject contains a number of courses, which are further broken up into video lectures. The first course available is the Culture and Politics course in New History, for which over three hours of materials have been shot and are uploaded on the site each week, alongside accompanying reading material.
New History focuses on Russia's cultural emergence from Communism and much of it seeks to dispel the Russian state media's perception of the 1990s as a time dominated by crime and chaos.
"It is very relevant for my generation—those who are in their late 20s, early 30s, because we didn't take part in those events directly and we do not remember them that well," Fokina says. "But it is also very relevant for schoolchildren today, because currently education in Russia is monopolized by the government."
Khodorkovsky, who came up with the project, rose to prominence in the 1990s as profits from oil giant Yukos made him the richest man in Russia. Sponsoring pro-democracy activists and confronting Putin on corruption also made him a major power player in the newly forming country. Three years into Putin's first term as president, Khodorkovsky faced dubious fraud charges and was sent to jail in 2005. He was pardoned in 2013, when he moved abroad, leaving a Russia now in its third term of Putin.
"When you're told the 1990s were corrupt and chaotic for 15 years, this becomes your memory—that is how our memory works. You forget what really happened," Fokina says. "We want to focus on a dynamic period of Russian history and show the good as well as the bad sides, concentrating on the new freedoms introduced to Russia and on how quickly these freedoms that we got and enjoyed were forgotten."
In New History, the user is shown images of Russian avant-garde artists, musicians, satirists and journalists who rose to prominence. The first lecture is given by journalist Yuriy Saprykin and focuses on a historic TV hoax that aired on Soviet state media on its last legs. In 1991, two young journalists pranked the country by "uncovering" in a deadpan mockumentary style that the Soviet Union's founder Vladimir Lenin had not only orchestrated the 1917 revolution under the influence of psychedelic mushrooms but was in fact a mushroom himself.
The three-hour documentary included a dry analysis of photographs by the two young men and reenactments of scenes of Lenin, ridiculously, picking mushrooms in the forest. So novel was the advent of parodying Lenin to the Soviet audience that it was taken at face value by many and prompted a confused outcry from viewers. The Communist Party was forced to clarify whether or not Lenin had been a mushroom days later, confirming that the Soviet Union's founder was in fact "a mammal". The hoax aired half a year before the USSR was formally dissolved and became a famous symbol for the effectiveness of the state media to shape the minds of the masses.
In the following lectures, students are told about various other developments in Russia's modern culture, from the slow takeover of the free press by the Russian state, to the influence of Quentin Tarantino on Russian directors. The scope is broad but the point revolves around promoting alternatives to life in Russia today. Materials show that not too long ago Russia had punk rockers, satirists and modern art galleries.
Some of the compiled reading details shows how figures staunchly supportive of the Kremlin and its conservative ideology today were actually torch bearers of the new cultural freedoms of the 1990s.
Among them is Ivan Demidov, one of Russia's most popular music TV presenters at the end of the last millennia, who is photographed with party shades and sparkling jacket, presenting one of his programs. Thirteen years later, he has ditched the Elton John look and founded the Christian Orthodox TV channel Spas, before chairing the youth wing of Putin's United Russia party and holding several state offices in succession.
Alexander Zaldostanov, head of the now infamously nationalist, pro-Putin Night Wolves biker gang, was once a fresh faced rocker sans state honor medals on his leathers, modelling his biker bar on a German institution and married to a German woman, according to Open Russia's file.
The content is solely in the Russian language, however Fokina says besides the language barrier, the project can be useful to non-Russians as well, particularly users from other former Soviet countries.
"We are strongly linked in our past with other ex-USSR states, even though we have developed in various different ways," she says. Ukraine and the emergence of other countries from the USSR will also be the focus of future lectures.
The site has ambitious expansion plans. With one 19-lecture course lasting a total of three hours already ready, a second course filmed and in the editing stages, and a third in the making, Khodorkovsky's Open University hopes to grow fast.
"We are aiming to reach around 200,000 registered users within a year," Fokina says. "We promote it largely via social media. Unfortunately, all major Russian papers have not mentioned the launch so it is not easy to get publicity."
Is Open Russia worried about cyber attacks or being blocked by Russia's Roskomnadzor watchdog?
"We have experienced attempts to block us and we were well prepared. However, we've only been going for 24 hours," Fokina says. "My main worry is for people still in Russia who are part of the project. I would absolutely hate it if something happened, God forbid, with them but I hope that nothing will. Obviously it is a worry."
According to Fokina, over half of the contributors to the project are living permanently in Russia and they have all been briefed on their rights under Russian law, in case they are harassed by authorities.
Roskomnadzor did not immediately respond to a request for comment on whether they were aware of the project.
Will the project be successful? Fokina believes it is the best way and the perfect time to start shifting the Russian attitude to the status quo.
"Over the past 30 years, people have been so busy fitting into the new reality of Russia, nobody stopped to look back at the events that preceded the dissolution of the USSR," she says. "Now that we are close to the point of change, it is good to stop and look back and think about mistakes made and good things that happened and were lost quickly in that dynamic period of time."