Putin Decree's Missing Line May Reveal Plan To Mobilize 1 Million—Report
In a rare televised speech on Wednesday, Russian President Vladimir Putin announced a partial mobilization of the country which, as Russian Defense Minister Sergei Shoigu later specified, could call up to 300,000 reservists to join Moscow's efforts in Ukraine.
The terms of the mobilization explained by both Putin and Shoigu were vague—possibly deliberately, as experts suggested—but even more puzzling was the fact that in the decree stating the Kremlin's decision there was one point missing off the text's list: point 7.
The original document issued by the Kremlin moves from points 1 to 6, but point 7 is completely hidden. After 6, the list jumps suddenly to 8.
It's hard to believe the absence of point 7 is simply a mistake, though it's still unknown why that specific clause in the text might have been intentionally skipped, and what it might have contained.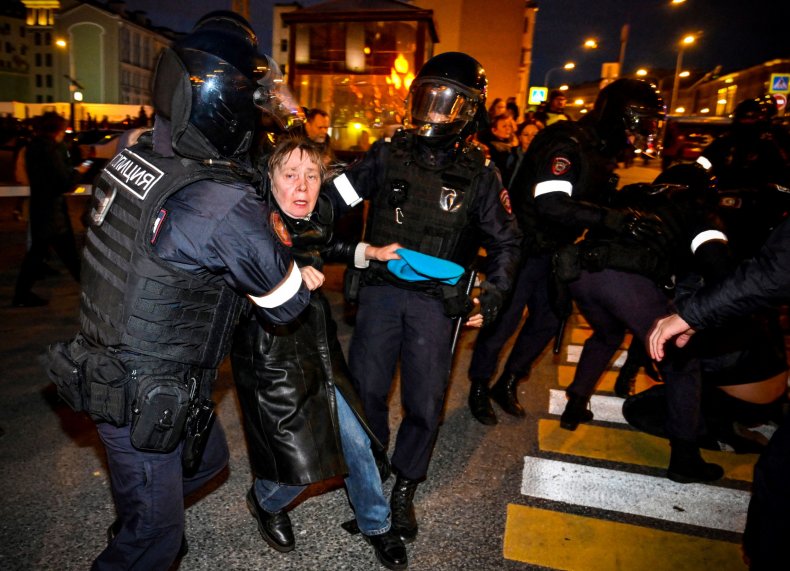 Novaya Gazeta Europe, an independent Russian newspaper well-known for its critical coverage of Russian society and politics, wrote that the seventh paragraph of the decree on mobilization would allow Russia's Ministry of Defense to call up one million people, instead of the 300,000 declared by Shoigu.
The Kremlin has denied the claim.
Presidential spokesperson Dmitry Peskov said that alleged plans to draft up to a million people into the Russian military are "a lie," as he told Russian state media RIA Novosti.
He had been previously reported saying the seventh point of the decree was intended for official use but referred to the mobilization of "up to 300 thousand people."
While the claim is unverified, the newspaper said its report was based on "a source in the presidential administration."
Novaya Gazeta said other ministries they contacted had also not been able to see point 7, which appears to be classified, despite those normally receiving the full text of official documents.
According to the newspaper, point 7 has been stamped "For official use," the highest level of categorized documents, according to Russian law. For its disclosure, in contrast to documents classified as "secret," "top secret" and above, as a rule, only disciplinary or administrative liability arises, Novaya Gazeta writes.
The newspaper is now looking to get in touch with anyone who might have access to the full text of the decree on condition of anonymity, in order to publish the document on its website.
According to information shared by Putin and Shoigu on the partial mobilization, the immediate call-up will concern up to 300,000 reservists who have previously served in the Russian army and have combat experience or specialized military skills.
Students and conscripts, those who have served mandatory 12-month terms in the Russian armed forces, are excluded from the partial mobilization call.