Russian President Vladimir Putin appears to have "overstretched" his military and does not have the troops necessary to "subdue" Ukraine, a former CIA station chief assessed on Saturday.
Russia launched a full-scale invasion of Ukraine on Thursday after weeks of warnings by Western European and U.S. officials that an attack was imminent. While many western officials predicted that Ukraine would fall quickly to Russia's military might, the Ukrainian military and ordinary citizens who have joined the battles have thus far fought back the invasion—outperforming many analysts expectations.
Daniel N. Hoffman served as a station chief and a senior executive Clandestine Services officer for the CIA, including stints in the now defunct Soviet Union. During an appearance on Fox News, he suggested Putin miscalculated badly with his invasion of Russia's Eastern European neighbor.
"Russia has overstretched," Hoffman said, comparing the current situation to military failures under the Soviet Union.
"Vladimir Putin took a great risk here. He's dealing with extended supply lines, which is having an impact—a negative impact on his troops ability to move. There are major rivers in Ukraine that also pose challenges and there are large cities. Russia just doesn't have the troops to subdue them," the former CIA official explained.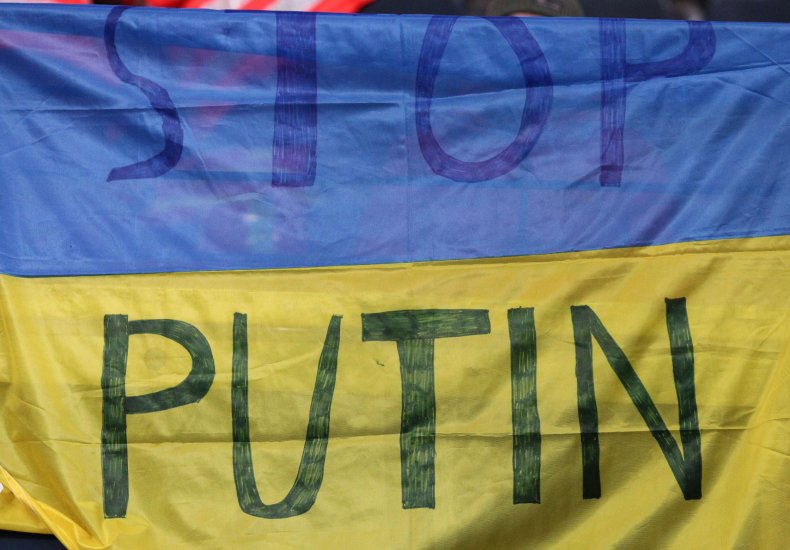 Hoffman went on to praise the bravery of Ukrainians and President Volodymyr Zelenskyy saying that they are "bravely demonstrating how committed they are to fighting for their freedom and independence."
He explained that the longer they can hold the Russians back, the more military aide and support they will be able to receive from the West and explained that this would further help Ukrainians "defend themselves against Russian aggression."
In a defiant Sunday Twitter post, Zelenskyy demanded that Russia be held accountable by the international community for its actions.
"Ukraine has submitted its application against Russia to the ICJ [International Court of Justice]. Russia must be held accountable for manipulating the notion of genocide to justify aggression. We request an urgent decision ordering Russia to cease military activity now and expect trials to start next week," he tweeted.
Putin and top Russian officials have claimed that Ukraine was committing "genocide" against Russian speakers in the Eastern Donbas region of the country, describing the leadership of the Eastern European nation as "neo-Nazis." However, Zelenskyy is Jewish and won his 2019 election in what analysts described as a "landslide"—with about three-quarters (73 percent) of the vote. At the time of his election, the prime minister of Ukraine was also Jewish.
Zelenskyy had seen his popularity among Ukrainians wane since he took office, but has drawn widespread praise from the population and the international community in the face of Russia's aggression. He refused Western government's offers to evacuate reportedly saying, "The fight is here. I need ammunition, not a ride."
Since then, he has released a series of videos from Kyiv rallying the country in the face of Putin's invasion. "We are not putting down arms. We will be defending our country, because our weapon is truth, and our truth is that this is our land, our country, our children, and we will defend all of this," the Ukrainian president said in a Saturday morning video.
Some U.S. lawmakers have expressed admiration and praise for him and the Ukrainian people.
"I join the world in awe of true heroes: the courageous President Zelensky, the brave Ukrainian soldiers, the citizen armies, the mothers cradling frightened children, and the journalists risking their lives to bring us truth. God bless them and God bless us to never forget," Senator Mitt Romney, a Utah Republican, tweeted Saturday evening.
Representative Liz Cheney, a Wyoming Republican, tweeted out Zelenskyy's quote refusing to evacuate his country. "'The fight is here. I need ammunition, not a ride.' Ukrainian President Zelensky," she posted Saturday morning.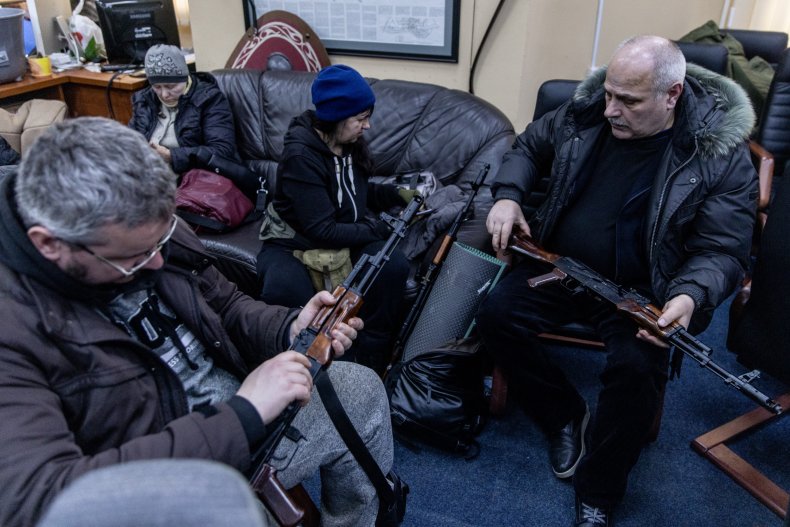 The U.S. and Western European nations have shown a united front in applying substantial punitive sanctions targeting Russia, as well as Putin and other top officials directly. They have also begun sending more weapons and other aide to Ukraine.
"We, the leaders of the European Commission, France, Germany, Italy, the United Kingdom, Canada, and the United States condemn Putin's war of choice and attacks on the sovereign nation and people of Ukraine. We stand with the Ukrainian government and the Ukrainian people in their heroic efforts to resist Russia's invasion. Russia's war represents an assault on fundamental international rules and norms that have prevailed since the Second World War, which we are committed to defending. We will hold Russia to account and collectively ensure that this war is a strategic failure for Putin," Western European nations, the U.S. and Canada said in a joint statement on Saturday.