Putin Eyes New Power Hold on Arctic
Russian President Vladimir Putin hailed the future launches of two nuclear-powered icebreakers on Tuesday in what he said were part of a push for "strengthening Russia's status as a great Arctic power."
Speaking at a St. Petersburg ceremony over video, Putin said that one of the icebreakers, the Ural, would start operating as early as December this year, while the other one, the Yakutia, would be transferred to Russia's icebreaker fleet at the end of 2024.
"Vessels of such a high ice class are of strategic importance to us," Putin said. "They are needed to study and explore the Arctic, ensure safe and sustainable navigation in this region, and increase traffic along the Northern Sea Route."
The Russian president added that developing "this most important transport corridor will help Russia more fully unlock its export potential and establish efficient logistics routes, including to Southeast Asia.
The Ural and Yakutia are part of a class of large and powerful icebreakers that are designed to withstand severe weather and can break through ice up to more than nine feet thick, The Moscow Times reported. With these launches, Putin would likely be exploring some key interests in the Arctic, according to experts.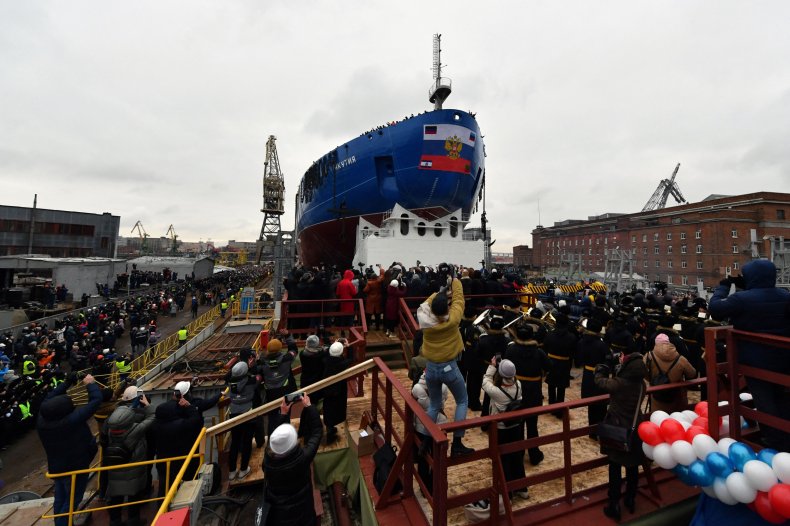 Dr. Stephanie Pezard, a senior political scientist at the nonprofit RAND Corporation think tank, told Newsweek that Russia sees the Arctic as a "very strategic region for them" for reasons that include its shipping potential. Because climate change has resulted in a reduction in sea ice, opening up new routes, Russia wants to demonstrate its control and presence in the Arctic, Pezard said.
Even before the introduction of the Ural and Yakutia, Russia has been making strides to rebuild an Arctic presence over the past 15 years or so, including by refurbishing old Soviet military bases that had largely been abandoned since the Cold War.
At the same time, Putin's ceremonial unveiling of the icebreakers could also be an attempt to signal that even though much attention is currently focused on the war in Ukraine, Russia remains active in other regions, Pezard added.
Sean Spoonts, a U.S. Navy veteran and editor-in-chief of Special Operations Forces Report (SOFREP), told Newsweek that Russia's nuclear-powered icebreakers will allow it to maintain a year-round presence in the Arctic. It is trying to expand its territorial influence in the Arctic, something that has positioned it as a competitor with Canada, Spoonts said.
As of 2022, Russia is the only country in the world that does have nuclear-powered icebreakers in its fleet, according to Russia's state-owned company Rosatomflot. Canada has the second-largest icebreaker fleet in the world after Russia. Last year, Canada announced that it was going to have shipyards construct two new icebreakers that "will have capacity and ability beyond that" of Canada's current largest icebreaker.
Currently untapped resources in the Arctic like oil and gas could be another pull for Russia, Spoonts said. Pezard noted that extracting a lot of these untapped resources would be costly and "technically difficult," so questions remain on whether doing so would be worth it.