Putin's Strategy for Ukraine War 'Bewildering': Military Analyst
A Center for Naval Analysis (CNA) Russia Studies Program military analyst evaluated Russia's war strategy in an interview with The Kyiv Independent. Michael Kofman critiqued Russia's strategy, calling Russia's retreat from Kherson "bewildering."
Russian General Sergey Surovikin announced a retreat from Kherson shortly after becoming the head of Russia's forces in Ukraine in October. Surovikin said the retreat was to "preserve the lives of our soldiers and the combat capability of the troop group." Last week, Ukrainian forces took control of the regional capital and celebrated by raising Ukrainian flags after Russia moved its forces to the other side of the Dnieper River.
In the Kyiv Independent interview published on Wednesday, Kofman spoke on how Russia is learning from its past mistakes when it comes to retreat, but he still critiqued some of the bigger decisions made within the Russian military. Kofman said Surovikin may have handled the Kherson retreat better than his predecessors—who abandoned Russian equipment while making a hasty exit from Izium and escaping Ukrainian attacks in Kyiv—but still called the decision "embarrassing."
"Putin's decision to annex territory that Russian forces do not control, and cannot defend, will be studied for years to come as an example of what not to do. It is one of the many bewildering aspects of Russian strategy, or lack thereof, in this war," Kofman said.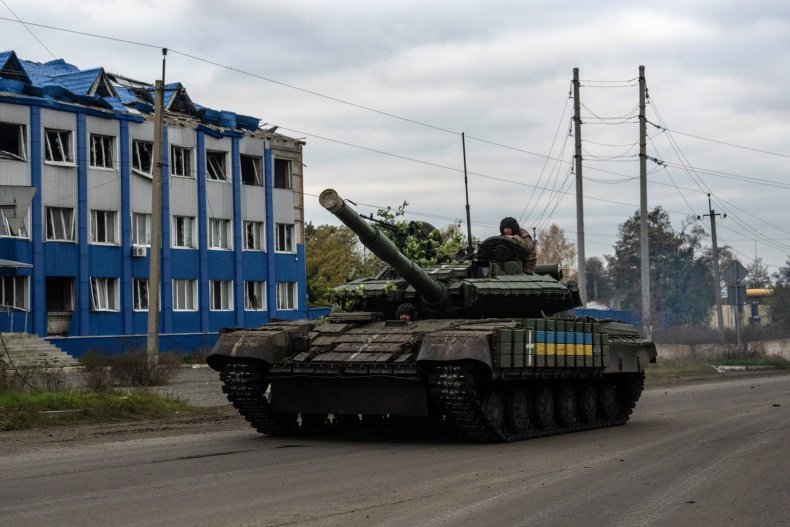 Ukrainian officials were skeptical of the Kherson retreat, worried that retreating troops might set traps for Ukrainian forces. Videos showed Ukrainian forces chasing Russian troops from the area with missiles and artillery strikes despite the retreat being an organized exit.
In an earlier interview with Newsweek, Center for Strategic and International Studies senior adviser Mark Cancian called the retreat "militarily sensible," albeit politically damaging to Russian President Vladimir Putin. The position exposed Russians to Ukrainian attacks on the west side of the Dnieper River, and if Ukrainian attacks had continued, Russia's position risked collapse. Instead, Russian forces organized a retreat to preserve its forces' lives and assets.
By transitioning to the other side of the Dnieper River, Russian forces can hold their line with fewer forces and redistribute the remaining forces elsewhere to aid the Kremlin's long-term strategy, according to Cancian.
Ukraine's reclamation of Kherson is viewed as a major victory, but Kofman expects further Ukraine military gains to be at a slower pace.
"It's hard to say," Cancian told Newsweek when asked where Ukraine might strike next.