Russian Troops 'Vulnerable' to Attack as They Retreat From Kherson—U.K.
Russian troops will be "vulnerable" to attack as they retreat from the western portion of the southern Kherson region in Ukraine, according to an assessment by the British Ministry of Defence.
The ministry said in its latest assessment of Russia's war against Ukraine that Defense Minister Sergei Shoigu's order to withdraw troops across the Dnieper River could leave Russian forces open to attack by Ukrainian soldiers.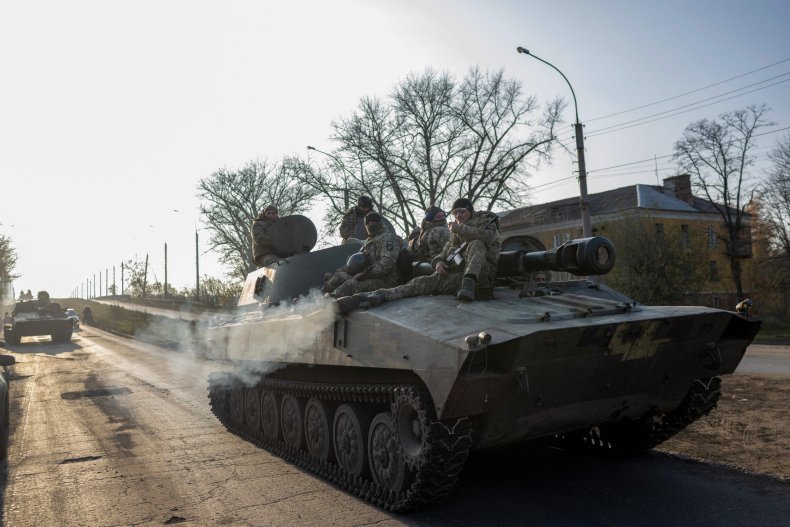 Sergey Surovikin, who became the new head of Russia's forces in Ukraine in October, said on Wednesday that his troops would be retreating to "preserve the lives of our soldiers and the combat capability of the troop group." The transfer "will be carried out in the near future," Surovikin added.
Shoigu said he listened to Surovkin's report and ordered the withdrawal of Russian troops. He agreed with Surovikin and added that it was important to save the lives of the military and prevent civilian casualties. The Kherson region has been under Russian control since March 2.
The British defense ministry said Thursday that in retreating Russian forces have destroyed multiple bridges and likely laid mines to slow and delay advancing Ukrainian forces.
"With limited crossing points, Russian forces will be vulnerable in crossing the Dnipro [Dnieper] River," it said, adding that it is likely that the withdrawal will take place over several days with defensive positions and artillery fires covering withdrawing forces.
The withdrawal was announced after weeks of advances by Kyiv toward the city, and as Russia moved to evacuate hundreds of thousands of its residents.
Mykhailo Podolyak, an adviser to Ukrainian President Volodymyr Zelensky, is among a number of Ukrainian officials to express skepticism about the Russian withdrawal.
He said that a significant number of Russian military personnel remain in the Kherson region, and that Kyiv sees no signs that Russia will retreat without a fight, despite the statements made by Shoigu.
Zelensky has also said that the announcement could be a trap to lure his troops into battle, and said that his forces are moving forward cautiously in Kherson.
"I definitely will not feed the enemy with all the details of our operations. In the south, in the east, wherever else, when there is our result, everyone will see it. Surely," Zelensky said in an evening address on Wednesday.
"Maybe, this doesn't sound like someone expects it to now. Maybe, not like in the news. But we have to understand: no one leaves places just like that unless they feel power. The enemy is not giving us gifts or making 'goodwill gestures'. We are fighting for it," Zelensky added.
Ukraine's Armed Forces will advance "very cautiously, attentively, without undue risk," he said.
"This is exactly how we are going to ensure the liberation of Kherson, Kakhovka, Donetsk, and other cities in our country," Zelensky added.
Newsweek has contacted Russia's foreign ministry for comment.