Putin Honors Pilots Who Downed U.S. Drone as 'Heroes'
The pilots of two Russian combat jets involved in bringing down an American MQ-9 drone over the Black Sea on Tuesday have been honored by their country.
The United States said that two Russian Su-27s dumped fuel over the drone in a "reckless and unprofessional manner," before one of the planes made physical contact with it, after which the drone became "unflyable and uncontrollable so we brought it down."
In a statement announcing awards, the Russian Ministry of Defense said the pilots had "prevented the violation" of a military exclusion zone established by Moscow, though they also insisted they "did not come into contact" with the U.S. drones or deploy their weapons.
Newsweek has reached out to the ministry for comment.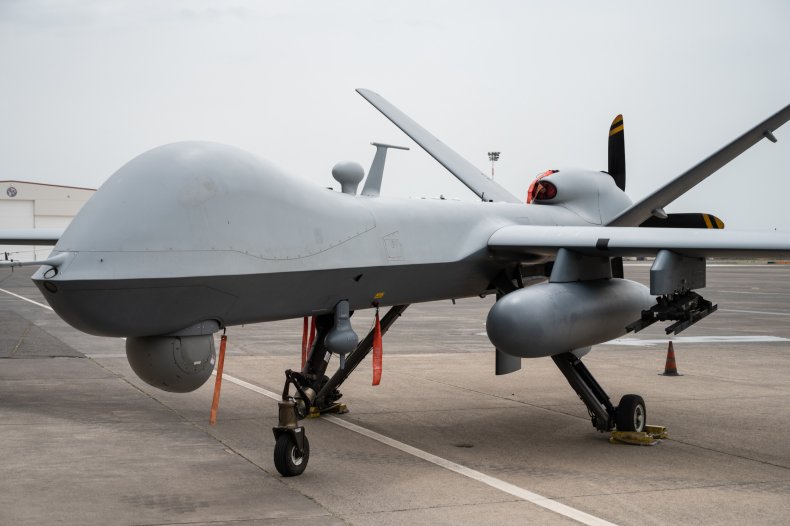 The Russian statement said the awards had been presented by Sergei Shoigu, the country's minister of defense and a key ally of Russian President Vladimir Putin. It said the U.S. drone violated the borders of an area established by Moscow "for the purposes of conducting a special military operation," the official Russian description for the invasion of Ukraine.
It continued: "In order to identify the intruder, fighters from the air defense forces on duty were lifted into the air. [The] MQ-9 went into uncontrolled flight with a loss of altitude and collided with the water surface. Russian fighters did not use airborne weapons, did not come into contact with an unmanned aerial vehicle and returned safely to their home base."
Anatoly Antonov, Russia's ambassador to the U.S., told Newsweek that it was "a shame" that America had lost its drone.
He added: "I repeat, for those who have not gathered themselves to look at the situation objectively: Our fighters did not come into contact with the American UAV. Russia did everything possible to prevent this kind of incident—it informed the international community in good time about the boundaries of the temporary airspace regime established for the special military operation."
On Thursday, the U.S. European Command released footage that appears to show a Russian Su-27 dropping liquid over the American drone, after which the camera cuts out, immediately before the collision reportedly took place.
In an accompanying statement it said: "Two Russian Su-27 aircraft conducted an unsafe and unprofessional intercept with a U.S. Air Force intelligence, surveillance, and reconnaissance unmanned MQ-9 aircraft operating within international airspace over the Black Sea on March 14, 2023.
"Russian Su-27s dumped fuel upon and struck the propeller of the MQ-9, causing U.S. forces to have to bring the MQ-9 down in international waters."
Nikolai Patrushev, head of Russia's Security Council, told state media that Russian authorities hope to be able to recover the drone.