Putin Trolls US, Says Russia Will 'Definitely' Interfere in 2020 Presidential Election
Asked about interference in the 2020 Presidential Election, Russian President Vladimir Putin joked that Russia would "definitely do it" during a panel at Russian Energy Week.
Possibly referencing the ongoing impeachment inquiry against President Donald Trump, which seeks to determine whether he recruited help from foreign leaders in his re-election bid and other dealings, or the Robert Mueller's special counsel investigation about suspicious links between Trump associates and Russian officials -- Putin joked about meddling in the next big U.S. election on Wednesday.
"I'll tell you a secret: Yes, we'll definitely do it," Putin sarcastically responded to NBC News when asked about possible Russian interference in the 2020 U.S. elections. "Just don't tell anyone."
"You know, we have enough of our own problems," Putin concluded. "We are engaged in resolving internal problems and are primarily focused on this."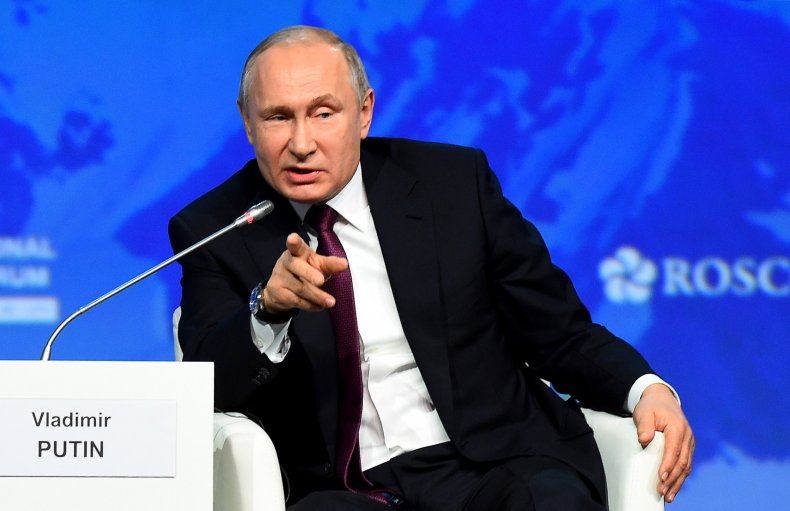 Putin was appearing on a panel at Russian Energy Week, a forum established by the Russian government to demonstrate "the prospects of the Russian fuel and energy industry and unlock the potential of international cooperation in energy," according to its website. The secretary of OPEC, General Mohammed Barkindo, along with dozens of Russian officials and other foreign agency heads also made appearances.
The Russian president also took aim at teenage climate activist Greta Thunberg while chairing a session at the event, according to reporting by Reuters.
"I may disappoint you, but I don't share the common excitement about the speech by Greta Thunberg," Putin said. "No one has explained to Greta that the modern world is complex and different and ... people in Africa or in many Asian countries want to live at the same wealth level as in Sweden."
Thunberg gave an impassioned speech to the United Nations on September 23, where world leaders held a summit on climate change in New York City. After chastising world leaders for not taking action on climate change, she also stared down Trump as he made an unexpected appearance at the summit.
Last year, Trump faced widespread criticism for seeming to side with Putin amid Mueller's investigations into the country's potential election meddling.
The investigation has "played right into the Russians—if it was Russia," Trump told Reuters, "They played right into the Russians' hands."
Ultimately, Mueller found no collusion between the Trump campaign and Russian officials, but failed to rule out possible obstruction of justice by the Trump administration.