Putin Keeps Trump Waiting: Russian President Is Late Arriving at Presidential Palace for Summit
Russian President Vladimir Putin landed in Helsinki, Finland, almost an hour late for his highly anticipated meeting with U.S. President Donald Trump today.
On Sunday evening, Trump arrived in Helsinki for a one-on-one meeting with Putin scheduled to last around 90 minutes. The two world leaders' meeting will be the first time a U.S. president has held an official summit with his Russian counterpart since 2010.
Despite the meeting's importance, Putin's plane arrived around 45 minutes late to Helsinki on Monday morning. That, in turn, pushed back Trump's departure to the presidential palace, the location for their meeting, reported CNN. Although it is unclear why Putin is late, last night the Russian president watched France win the World Cup at the finals in Moscow.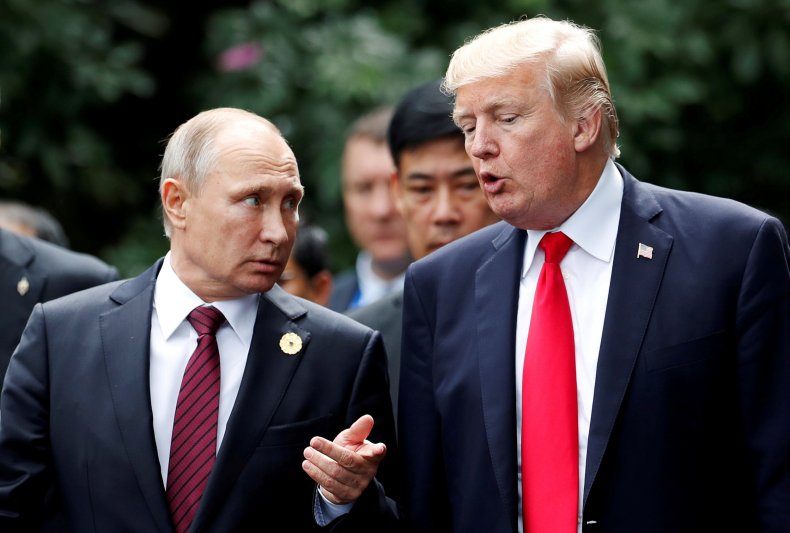 The Russian president has earned a reputation for being late to meeting other world leaders and important officials. In 2014, he kept Angela Merkel, Chancellor of Germany, waiting four hours and 15 minutes. He was also late to meeting Pope Francis a year later, as well as Queen Elizabeth in 2003.
Last night, Trump tweeted that he was "heading to Helsinki, Finland" and that he was "looking forward to meeting with President Putin."
Ahead of the meeting, the president also said that U.S. ties with Russia have "never been worse," blaming Robert Mueller's Russian collusion investigation for the friction.
"Our relationship with Russia has NEVER been worse thanks to many years of U.S. foolishness and stupidity and now, the Rigged Witch Hunt!" the president tweeted on Monday morning.
Last week, the U.S. Department of Justice indicted 12 Russian intelligence agents for their involvement in disrupting the 2016 presidential elections. The FBI's probe found that officials hacked into the Democratic Party's email servers and illegally downloaded thousands of private messages before leaking them to Russian websites.
Dmitry Peskov, a Kremlin spokesperson, said that Putin will likely deny accusations that Russia interfered in the U.S. elections. "Everything that happens, all these investigations and so on—this is an internal affair of the United States," Peskov told Russia Today. "We are puzzled with many aspects of these investigations in the part that concerns us and our country, but let's leave it behind the brackets."