Russian President Vladimir Putin suggested on Wednesday that Russia could help North Korea build satellites, telling reporters that leader Kim Jong Un shows a "great interest" in rockets.
"That's exactly why we came here," said Putin when asked by reporters if he would assist Pyongyang with developing its space and satellite program. He spoke as he gave Kim a tour around the Vostochny Сosmodrome, a spaceport in the far eastern Amur region of Russia.
Kim traveled from Pyongyang on an armored train and arrived in Russia on Tuesday morning. It marks the leader's first known trip outside North Korea since the start of the Covid pandemic. The pair are expected to discuss a possible arms deal and military cooperation during the visit. Russia and North Korea and widely believed in the West to be negotiating the supply of weapons for use by Russian forces in the ongoing war in Ukraine.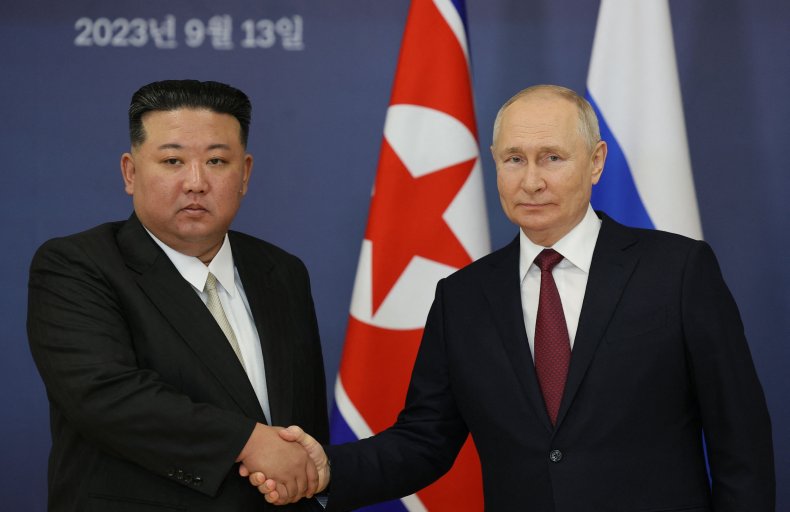 "The leader [of North Korea] shows great interest in rocket technology. They're trying to develop space, too," Putin told reporters. "We'll talk about all the issues without haste, there is time."
Newsweek has contacted Russia's Foreign Ministry via email for comment.
Kim has previously said developing military reconnaissance satellites was a priority for North Korea, and that they would be key in protecting national safety. In August, Pyongyang said it failed to put its first spy satellite into orbit. Three months earlier, another crashed into the ocean.
"The launch failed due to an error in the emergency blasting system during the third-stage flight," the National Aerospace Development Administration (NADA) said at the time, noting that another launch would be attempted in October.
North Korea first said in December 2022 that it had carried out an "important final stage test" for developing a military reconnaissance satellite, saying that preparations for its first one would be completed by April 2023.
Russia would be violating international sanctions should it provide North Korea with technology to build the satellites.
On Wednesday, Kim also told Putin that he will support Russia "in the fight against imperialism," as he praised Putin for engaging in a "sacred fight" against Western "hegemonic forces."
"Russia has risen to a sacred fight to protect its sovereignty and security...against the hegemonic forces. North Korea supports all Putin's decisions," Kim said. "We will always support the decisions of President Putin and the Russian leadership...and we will be together in the fight against imperialism."
Kim also said relations with Russia were a priority for North Korea, pointing to his friendship with Putin.
"Our friendship has deep roots, and now for our country the very first priority is relations with the Russian Federation, he said.
The North Korean leader expressed hope that his meeting with Putin "will be another moment to raise relations between Russia and [North Korea] to a new level."
Kremlin spokesman Dmitry Peskov said on Wednesday morning that a one-on-one meeting between Putin and Kim was underway.
U.S. State Department spokesman Matthew Miller told reporters on Monday that Putin's meeting with Kim shows he is "begging" for help in the 18-month-old war.
"Having to travel across the length of his own country to meet with an international pariah to ask for assistance in a war that he expected to win in the opening month, I would characterize it as him begging for assistance," said Miller.
Do you have a tip on a world news story that Newsweek should be covering? Do you have a question about the Russia-Ukraine war? Let us know via worldnews@newsweek.com.