'Putin Knows a Lot More Than the American Public Knows' About Trump's Dealings With Russia, Says Ex-CIA Chief Brennan
Former CIA Director John Brennan said in a Tuesday interview with MSNBC that President Donald Trump acts as though he has ulterior motives in his dealings with Russia.
Brennan, who has become one of Trump's staunchest critics in the national security establishment since stepping down as CIA chief in January 2017, was on Hardball With Chris Matthews discussing the lucrative real estate deal in Moscow that Trump had been planning while running for president in 2016.
Related: Former CIA Director agrees Donald Trump is a 'clear and present danger' to U.S. national security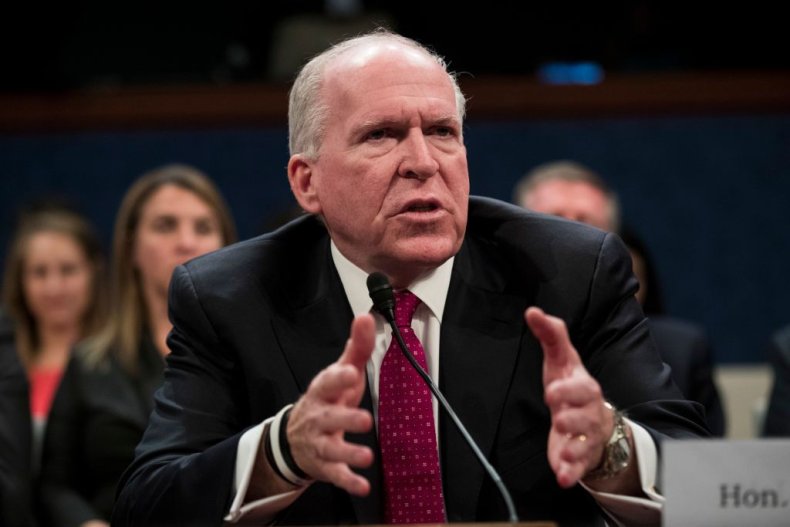 Brennan said Trump's relations with President Vladimir Putin and Russia since taking office have raised questions.
"Donald Trump's actions and behavior towards Russia and towards Putin are quite…quite puzzling in terms of 'What is he doing?' Is he trying to pay back? Is he trying to cover up? Is he trying to follow through on some commitments? And the FBI financial investigators are among the best in the world. And I am hoping and confident that they are going to come up with whatever transpired," Brennan said, referring to special counsel Robert Mueller's probe into Russian interference in the 2016 election and possible Trump campaign collusion.
Brennan went on to discuss Trump's relationship with Putin and his behavior after the summit between the leaders in Helsinki in June 2018.
"Yes, and it's quite clear that President Putin knows a lot more than the American public knows about what president Trump has done and said vis-à-vis Russia," Brennan said.
"There is some kind of special rapport relationship between the two of them. And I think Mr. Putin, who is an exceptionally well-trained KGB officer, intelligence officer, I think has exploited and cultivated this relationship and is taking full advantage of it. He [Trump] acts like he has an ulterior motive that is not apparent and whether or not he is trying cover up something, whether he is fearful of what Mr. Putin might do."
Brennan remarked that several of Trump's decisions would have delighted Russia.
"I think the Russians are laughing at what's happening here in the United States. Because we are in such disarray and because Mr. Trump is pursuing these mindless policies that I think are undermining national security interests," said Brennan. He cited a recent New York Times report that Trump has repeatedly threatened to withdraw from the NATO alliance, as well as the president's recent decision to withdraw troops from Syria, a move praised by Putin.
Asked by Matthews if he thought Trump was loyal, Brennan replied, "To himself he is."
Brennan, a national security analyst with the MSNBC, is a frequent critic of the president on Twitter and in interviews. Trump has described Brennan as a "partisan hack," and last August he removed Brennan's national security clearance, a move denounced by more than a dozen former intelligence directors.
The White House did not immediately respond to a request for comment on Brennan's claims.