Putin Made 'Catastrophic Misjudgments' in Ukraine: U.K. Military Official
The head of the British Armed Forces on Thursday said Russian President Vladimir Putin has "already lost" the war in Ukraine due to "catastrophic misjudgments."
Admiral Sir Tony Radakin, the chief of the defense staff, made the comments during an event hosted by the independent tank tank Institute for Government (IfG). His remarks came a day after a report claimed that declassified U.S. intelligence showed Putin had been misled by his own advisers about the Russia's struggles in Ukraine, which the Kremlin has since denied.
"Like all authoritarians, he allowed himself to be misled as to his own strength, including the effectiveness of the Russian armed forces," Radakin said.
He added that "in many ways, Putin has already lost. Far from being the far-sighted manipulator of events that he would have us believe, Putin has damaged himself through a series of catastrophic misjudgments."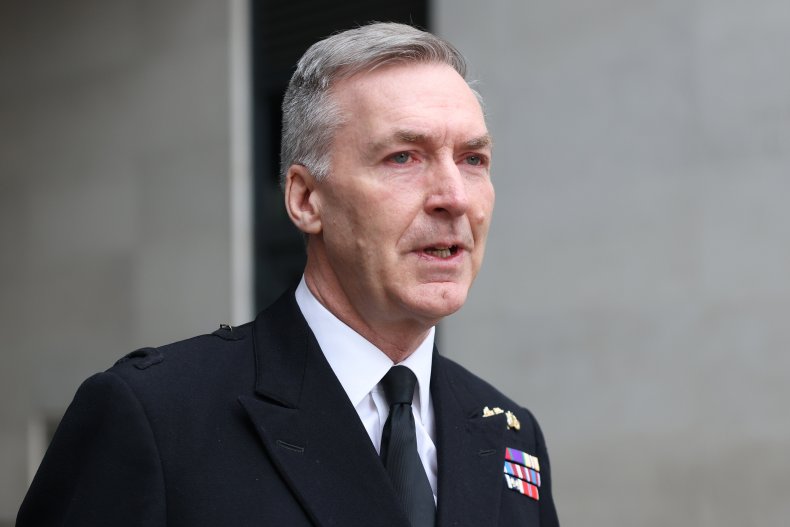 Radakin has held the position of chief of the defense staff since November 2021. Prior to his current role, the decorated admiral served as First Sea Lord—the head of the Her Majesty's Naval Service—from June 2019 to November 2021.
He indicated that while Russia's invasion may not be going as well as the Kremlin had hoped, the destruction to Ukraine is still dramatic.
"The scenes coming out of Mariupol and elsewhere are horrific, and the coming weeks will continue to be very difficult," Radakin said.
The military leader also gave a message of support to Ukraine while denouncing Putin.
"[Putin's] actions to date have done more to galvanize than divide and have shown Ukraine to have the one thing Russia conspicuously lacks: real friends," Radakin said.
Video of Radakin's remarks were posted on the IfG's YouTube channel.
Sir Jeremy Fleming, director of Britain's intelligence agency Government Communications Headquarters, gave a similar assessment of the Russian invasion during a Thursday speech at Australian National University. He said that intelligence about Putin's "failing" war showed Russian soldiers were refusing to follow orders and sabotaging their equipment.
"It increasingly looks like Putin has massively misjudged the situation. It's clear he misjudged the resistance of the Ukrainian people," Fleming said. "He over-estimated the abilities of his military to secure a rapid victory."
The United Kingdom has been among the countries involved in placing heavy economic sanctions on Russia. The country's department for transport has also been involved in searching for sea vessels belonging to Russian oligarchs with ties to Putin. Earlier this week, the agency announced it had seized a 192-foot, $42 million superyacht that belongs to an unknown Russian businessman.
Newsweek contacted U.K.'s chief of the defense staff and the Russian Foreign Ministry for comment but did not hear back from either in time for publication.