U.K. Seizes Russian Superyacht as 'Warning to Putin and His Cronies'
The United Kingdom has seized a Russian superyacht in British waters that reportedly had close connections to Russian President Vladimir Putin.
The 192-foot vessel, named Phi, is worth 38 million euros ($42 million) and belongs to an unknown Russian businessman, but he has not been sanctioned. Transport Secretary Grant Shapps said the seizure was "a clear and stark warning to Putin and his cronies," the BBC reported.
"The ship won't be going anywhere for the time being," he said. "People who have benefited from [Putin's] regime cannot benefit from sailing around London and the U.K. in ships like this."
The number of superyachts owned by Russia's wealthiest individuals has decreased as a result of heavy sanctions imposed by the European Union that have targeted billionaires close to Putin. The list of Russian luxury mega-yachts seized by authorities around Europe is expected to grow further as more billionaires are sanctioned by the EU and the ownership of some of the vessels is determined.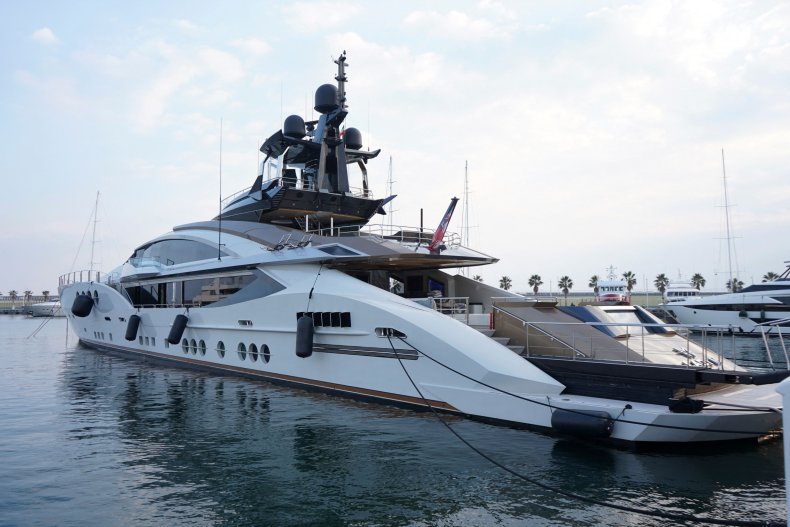 The ownership of Phi—a term also known as the golden ratio, a mathematical concept—was "deliberately well hidden," according to the BBC. The ship had Maltese flags to conceal its true origins and was registered to a company based in the Caribbean islands of St. Kitts and Nevis.
The vessel, which was in London for a superyacht awards ceremony, was scheduled to leave on Tuesday afternoon before it was seized by authorities, The Guardian reported.
"Detaining the Phi proves, yet again, that we can and will take the strongest possible action against those seeking to benefit from connections to Putin's regime," Schnapps said during a press conference.
The Phi was built by Dutch shipyard Royal Huisman and was sold in 2018. Her first voyage was in 2021, and it is the 521st largest yacht in the world, according to the website Super Yacht Times. The bright blue yacht has an "infinite wine cellar," a freshwater swimming pool and a "penthouse" apartment on the upper deck, according to Boat International.
The U.K. Department for Transport said it is looking at a number of other vessels and hopes its "strong stance sends an example to international partners." The country's National Crime Agency and the Border Force Maritime Investigation Bureau assisted in identifying and detaining the Phi, The Guardian reported.
Meanwhile, European authorities have seized several other superyachts belonging to Russian oligarchs. Spanish authorities detained a $140 million yacht owned by Sergei Chemezov, a former KGB officer and head of Russian state conglomerate Rostec. Italy has seized three yachts since the beginning of March, including Lady M, Lena and Sailing Yacht A.
More yachts believed to be owned by Russians are docked around Europe, such as a $700 million yacht in Italy that could belong to Putin.
Update 03/29/22, 9:50 a.m. ET: This story was updated with additional information and background.