Putin May Have a Plan to 'Fully Supplant' Wagner Group Near Bakhmut: ISW
The Russian Ministry of Defense (MoD) may be looking to supersede Wagner Group forces with its own troops as the long-term allies continue to make competing claims over Russia's advancements in eastern Ukraine, according to a U.S.-based think tank.
The Institute for the Study of War (ISW) noted in its latest assessment Tuesday night that the Russian MoD had claimed that its troops successfully captured Blahodatne on Tuesday, a Ukrainian village roughly six miles north of Bakhmut. The announcement, however, came three days after Wagner Group financier Yevgeny Prigozhin said that his private mercenaries captured the village.
As ISW writes, "Prigozhin is likely overcompensating for Wagner forces' reduced combat capabilities and reliance on conventional forces by claiming territorial gains before the [MoD] can feasibly claim them for Russian conventional forces."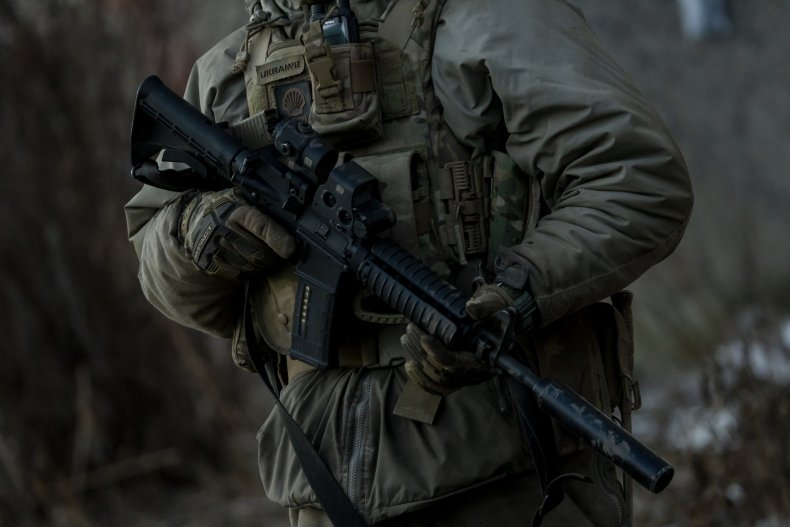 The think tank also reported that the Russian MoD may be attempting to "fully supplant Wagner forces near Bakhmut and frame the traditional Russian military command structure as the sole victor" around the city. The eastern Ukrainian city has been the target of Russian President Vladimir Putin for months, and has suffered some of the most intense battles along the front lines of the war in Ukraine.
According to Colonel Yevhen Yerin, head of the Ukrainian Press Center of the Defense Forces of the Tavrisk Direction, Putin's military has been conducting "unspecified force rotations" out of the Kherson region, and seems to be replacing its troops with Wagner mercenaries, reported the ISW.
Prigozhin, a longtime ally of Putin, has recently clashed with the MoD over credit for Russia's advances around the city of Bakhmut. Last month, Russian forces backtracked on an announcement that its troops had taken control of the town of Soledar after the MoD had failed to acknowledge Wagner's role in the success.
The ISW also previously reported that Prigozhin's mercenary group was "becoming a rival power center to the Russian military," but noted that Wagner is just as reliant on the MoD for its equipment along the front lines.
On Tuesday, the ISW reiterated that Prigozhin and other Russian officials were again "overestimating" Russia's capabilities to advance in the Donetsk region "in a short period of time." Instead, the think tank assessed, Ukrainian military command is likely to withdraw its troops from Bakhmut to save soldiers' lives, rather than Russian forces being able to "conduct a surprise encirclement" to capture the city.
Ukrainian President Volodymyr Zelensky called upon his Western allies, including the United States, to "speed up" their delivery of promised military aid on Sunday, noting that the situation around Bakhmut was "very tough."
In his nightly address, Zelensky said that Russia is "constantly" attacking the towns of Bakhmut and Vuhledar, adding, "enemy does not count its people and, despite numerous casualties, maintains a high intensity of attacks."
Newsweek has reached out to the Russian Press Service and Information Department for comment.