Putin Meets First European Leader Since Invasion, Told War 'Needs to End'
Austrian Chancellor Karl Nehammer is the first European leader to hold face-to-face conversations with Russian President Vladimir Putin since the invasion of Ukraine.
Nehammer tweeted that he would be meeting with Putin on Monday, making it clear that Austria was militarily neutral, but added that an investigation into alleged war crimes must be conducted. As the first leader of the West to meet with Putin, Nehammer did so in the hope of bringing an end to the invasion. This comes two days after traveling to Kyiv for talks with Ukrainian President Volodymyr Zelensky.
Nehammer described his conversation with Putin as "very direct, open and tough," according to Euro News. Following the meeting, Nehammer said that he was "rather pessimistic" about the success of negotiations.
"There should be no illusions. President Putin has massively entered into a logic of war and is acting accordingly 'in the hope of registering' rapid military success," Nehammer told reporters Monday.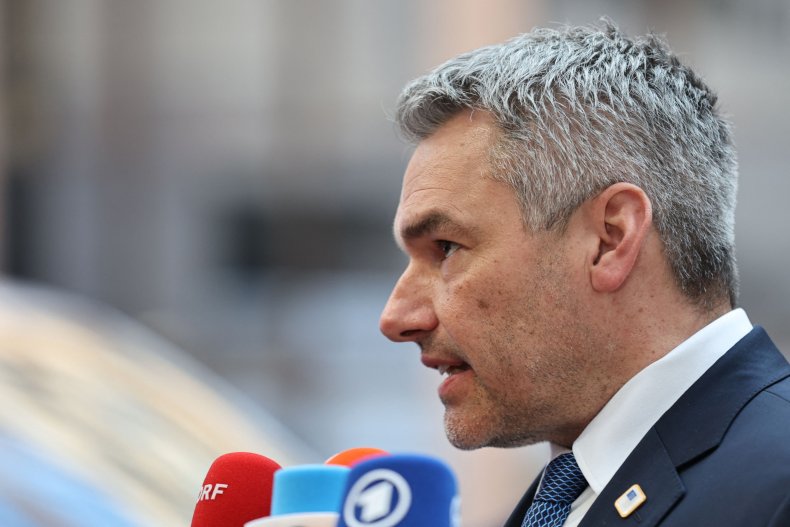 Despite mounting evidence to the contrary, Russia has denied all war crimes. Nehammer told Putin that the consequences of targeting civilians in the war against Ukraine are to come.
"I spoke about the serious war crimes in Bucha and other places and said that all those responsible must be brought to justice," the Austrian chancellor said.
Nehammer said it was important to speak with Putin in person to stress that the West's sanctions against Russia would become tougher as the war continues.
"[Telling him] once will not be enough. Ten times will not be enough. It might have to be done 100 times but I think it is necessary to do everything to ensure there is peace again and people in Ukraine can live in safety," Nehammer said.
Nehammer also noted that there is "very little interest on the Russian side in a direct meeting" with Ukraine's president, but said there may be hope due to Putin's continued interest in the Istanbul peace talks.
Nehammer has also been criticized by Austrian leaders for his visit with Putin.
A member of the Austrian Parliament, Ewa Ernst-Dziedzic, said she could not agree with the visit.
"No, I cannot condone a visit to Putin," Ernst-Dziedzic wrote on Twitter. "This has nothing to do with diplomacy. This is also not an agreed roadmap for negotiations. Putin will use this for his propaganda."
Reinhard Heinisch, a professor of comparative Austrian politics at the University of Salzburg, wrote on Twitter, "Let's hope there is more to the Austrian chancellor #Nehammer's visit to Putin than has been said and meets the eye. Austria has all too often served the role of Moscow's useful idiot in the past."
Newsweek reached out to the Russian Federation and Nehammer for comment.