Vladimir Putin's NATO Gamble in Ukraine Is Backfiring, Says Ambassador to EU
Vsevolod Chentsov: Russia fueling "more and more support" in Ukraine for joining NATO
Europeans increasingly refer to "Russia crisis" instead of Ukraine
"Germany can do more...countries like Germany have leverage."
Russian President Vladimir Putin's aggression towards Ukraine is backfiring on the Kremlin's strategic goals in several ways, according to one of Kyiv's top diplomats in Europe.
Vsevolod Chentsov, Kyiv's representative to the EU, told Newsweek that the threat of a new invasion is uniting Europe behind Ukraine, increasing the level of public support for joining NATO, and eroding any Kyiv-Moscow ties that have survived years of war.
"Unintentionally, the Kremlin is pushing us in the right direction," Chentsov said from Brussels, where Ukrainian diplomats are pushing for more diplomatic, economic and military support from EU and NATO member states.
Putin has the world on edge, waiting to see if he will again order his troops to invade Ukraine and launch a new phase of a nearly eight-year-long war.
But the Kremlin is swimming against regional currents. Each round of escalation pushes Ukraine and Ukrainians further West towards the European Union and NATO—the very outcome Putin is threatening war to avoid.
Ukrainians and the Russian leadership increasingly see two different realities.
In Russia, Putin and his allies still consider Ukraine a constituent of historical Russia, part of the country's sphere of influence, and a springboard for any enemies—the U.S., NATO, and Europe—to attack.
The Russian annexation of Crimea in 2014, the ongoing Russia-backed separatist war in Donbas, and Moscow's relentless campaign of cross-border hybrid warfare have undermined pro-Moscow sympathies in Ukraine.
A November poll of 5,000 adults published by Ukraine's Rating Sociological Group found that 62 percent of Ukrainians in territories not currently occupied by pro-Russian separatists want the country to join the EU, while 58 percent also want to join NATO.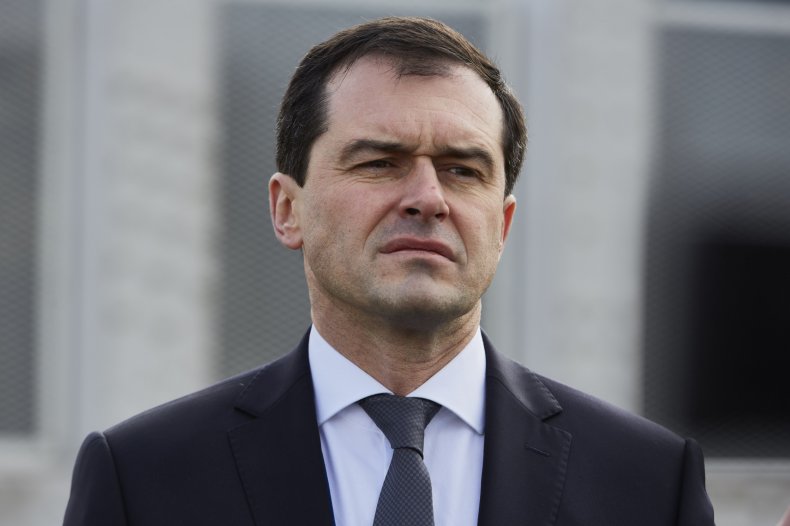 In 2019, President Volodymyr Zelenskyy told Western partners that "fully-fledged membership in the EU and NATO" is the "priority of our foreign policy." The latest escalation in tensions has only entrenched this goal.
"When we are talking about NATO, definitely because of the Russian action and because of the Russian threat, there is more and more support in Ukraine," Chentsov told Newsweek. "Russia is definitely cutting our remaining links."
Russia's aggressive posture—more than 100,000 troops backed by artillery, armor, anti-aircraft systems, and electronic warfare equipment remain along Ukraine's borders, with more arriving daily—has made Chentsov's job easier.
"In general terms, definitely Russia is helping because of their aggressive and irrational—very often—steps," the diplomat told Newsweek. "Even those who sympathize with them because of trade relations or other considerations are not equipped with relevant arguments" in support of Moscow.
Chentsov said European politicians now increasingly refer to the "Russia crisis," not the "Ukraine crisis." The narrative is shifting with a realization that Moscow poses a threat to the entire bloc, not only to non-member partners along Russian borders, he said.
"It should help them to translate this understanding into policy, both towards Ukraine and towards Russia," the ambassador added. This translation, Chetsov hopes, will limit what he said was "cynical" hesitance to back Ukraine against Russia.
"I don't want to speculate that in such a situation the EU should immediately say: 'We'll take them into the EU,'" Chentsov said of Kyiv's membership ambitions.
"I would love it to happen, but I don't know whether it is possible in these circumstances. But this Russian behavior should limit those countries saying: 'Well, if we bring Ukraine closer, what will Russia think?'"
Such fears certainly appear to be shifting. In recent weeks, Estonia, Latvia, Lithuania, the Czech Republic, and Poland have all sent weapons or agreed to do so. The U.S. and U.K. have also delivered arms, while Canada has sent troops to train Ukrainian forces. Turkey recently angered Moscow by sending Ukraine anti-tank drones.
But several EU nations have been accused of dragging their feet on Ukraine for fear of damaging trade and political ties with Moscow. Italy, Austria, and Hungary are among them.
Hungarian Prime Minister Viktor Orban is even planning to meet Putin in Moscow next week.
Germany is the most problematic for Ukraine advocates. Successive German governments have pushed ahead with the Nord Stream 2 natural gas pipeline to Russia, despite warnings it will allow Putin to hold the continent hostage and further isolate Ukraine.
More recently, the new German coalition government blocked Estonia from exporting German-made weapons to Ukraine and sought energy exemptions from the Western sanctions package being prepared in case Russia does invade.
On Wednesday, the German government approved the transfer of 5,000 helmets to Ukraine. Kyiv Mayor Vitali Klitschko dismissed the offer as a "joke" and jested that Berlin might send pillows next.
"Germany can do more," Chentsov told Newsweek. "Whatever Moscow says about their readiness to face new sanctions, sanctions bite. And countries like Germany have leverage."
Berlin is also part of the Normandy Format—alongside France, Russia, and Ukraine—formed to resolve the war in Donbas. This responsibility makes Germany's hesitance even more concerning.
Germany and other EU nations must consider whether Russia can ever be a reliable partner, Chentsov said. "There are a lot of questions to be answered," the ambassador explained, "If not now—because it's a hot phase of escalation—then very soon."