Putin Offers Rare Apology to Israel After Official's Anti-Semitic Comments
Russian President Vladimir Putin apologized to Israeli Prime Minister Naftali Bennett after Russian Foreign Minister Sergei Lavrov suggested this week that Adolf Hitler was part Jewish.
The apology came on Thursday, Israeli media outlets reported.
"Israel PM office says: Putin apologized to PM Bennett for Russian Foreign Minister Lavrov's anti-semitic remarks;" tweeted Amichai Stein, a journalist with Israel's KAN News.
"Bennett thanked Putin for the president's attitude toward the Jewish people and the memory of the Holocaust," Stein added.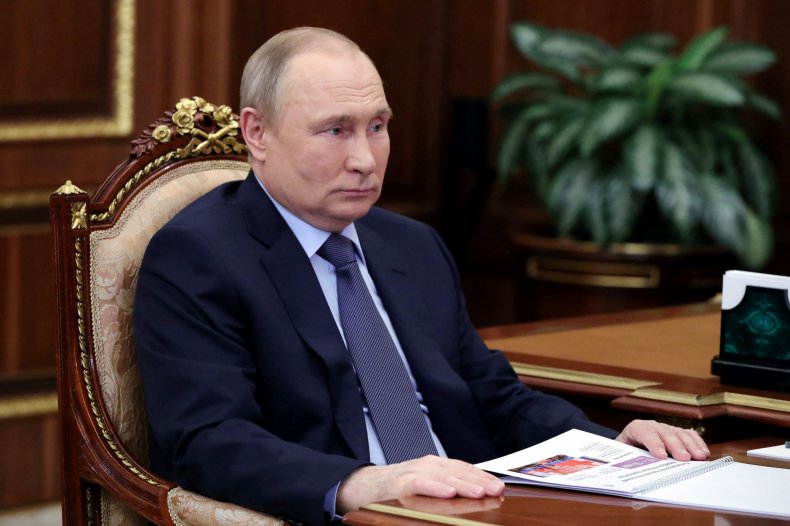 In an interview with the Associated Press this week, Lavrov was asked by an Italian news channel about its argument that it has invaded Ukraine to "denazify" the nation. The channel pointed out that Ukrainian President Volodymyr Zelensky is Jewish, the Associated Press reported.
"So when they say 'How can Nazification exist if we're Jewish?' In my opinion, Hitler also had Jewish origins, so it doesn't mean absolutely anything. For some time we have heard from the Jewish people that the biggest antisemites were Jewish," Lavrov said, according to the AP.
Israel immediately condemned the comments, with Israeli Foreign Minister Yair Lapid saying Lavrov made an "unforgivable and outrageous statement as well as a terrible historical error."
Responding to the comments on Monday, Bennett said: "Lies like these are meant to blame the Jews themselves for the most terrible crimes in history, which were committed against them, and thus free the oppressors of the Jews from their responsibility," the Jerusalem Post reported.
According to the Post, on Thursday, his office said: "The Prime Minister accepted President Putin's apology for Lavrov's remarks and thanked him for clarifying his attitude towards the Jewish people and the memory of the Holocaust."
Following the criticism it received over the remarks, the Russian Foreign Ministry defended its remarks. In a post on Twitter linking to a longer statement, the ministry said Lapid's statement "contradicts history and largely explains the policy by the current Government of Israel to support the neo-Nazi regime in Kiev."
"For some reason, the Western press, and some of our own liberals, still debate the question of whether there are neo-Nazis in Ukraine, with Vladimir Zelensky's origin cited as a substantial argument. Of course, not only does this argument not hold water, but it is also misleading. Unfortunately, history does include tragic examples of Jews collaborating with the Nazis," the ministry stated.
Also this week, Russia claimed that Israeli mercenaries were fighting with a Ukrainian regiment that Russia regularly refers to as proof of the Nazi influence in the country.
Newsweek has reached out to the Israeli prime minister's office and the Russian Foreign Ministry for comment.
This is a breaking story and it will be updated.