Putin Pledges Nuclear-Capable Missiles for Belarus as Ukraine War Grinds On
Russian President Vladimir Putin told Belarusian President Alexander Lukashenko Saturday that Russia will provide Belarus with nuclear-capable missile systems.
According to Reuters, during a meeting in St. Petersburg, Russia, Lukashenko raised concerns about the "aggressive" and "confrontational" actions of neighboring countries Poland and Lithuania. He also discussed nuclear-armed flights near the Belarusian border being conducted by the U.S.-led NATO alliance, and reportedly asked Putin to help his country with a "symmetrical response."
Reuters reported that Putin said such a response wasn't necessary, but that his country would transfer "Iskander-M tactical missile systems to Belarus, which can use both ballistic and cruise missiles, both in conventional and nuclear versions."
Last month, the Russian president sold nuclear-capable Iskander missiles and S-400 missile systems to Belarus.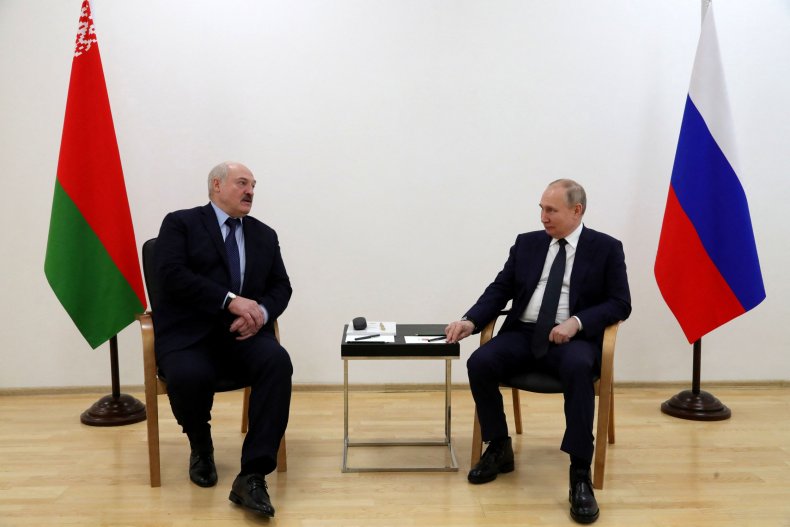 "We made an agreement with Putin. We bought from you a number of these Iskanders and S-400s we needed, and armed our Army," Lukashenko said at the time. "Now we have a completely different army with such weapons. At the very least, this weapon can cause unacceptable, colossal damage."
Belarus has been one of Russia's closest allies since Putin invaded Ukraine in late February.
On Saturday, Ukrainian intelligence officials claimed that Russia fired missiles from Belarus in an effort to "drag" its ally into the war.
"This is the first case of an air strike across Ukraine directly from the territory of Belarus. Today's shelling is directly related to the efforts of the Kremlin authorities to drag Belarus into the war in Ukraine as a direct participant," the Main Intelligence Directorate of the Ministry of Defense of Ukraine said in a statement.
Last week, Mark Voyger of the Transatlantic Defence and Security Program at the Center for European Analysis, noted that the Belarusian military is scheduled to hold training exercises on the Ukrainian border later this month as well as next month, which has raised concerns.
"The concern is that Putin has been trying to put pressure on [Belarusian President Alexander] Lukashenko and force him to take a more aggressive stance to launch more aggressive actions out of Belarus, involving Belarusian troops," Voyger told Express UK.
"So far, we've seen the Russian troops enter Belarus and then in February they attacked Ukraine from the North. But in this case, Russia is suffering from shortages of soldiers so any additional troops would add greatly to their potential," he added.
Newsweek has reached out to the Russian Foreign Ministry for comment.