Putin Expands Russia's Nuclear Submarine Fleet as NATO Sounds Alarm
The Russian Navy will be replenished with two new nuclear submarines by the end of the year, an official has said.
Alexei Rakhmanov, the head of Saint Petersburg-based United Shipbuilding Corporation, made the announcement in an interview with Russia's state-run news agency RIA Novosti published on Monday.
He said Sevmash, Russia's largest shipbuilding corporation and the country's only producer of nuclear-powered submarines, will give the Russian Navy two of the newest submarines—the strategic Imperator Alexander III, and the multi-purpose Krasnoyarsk.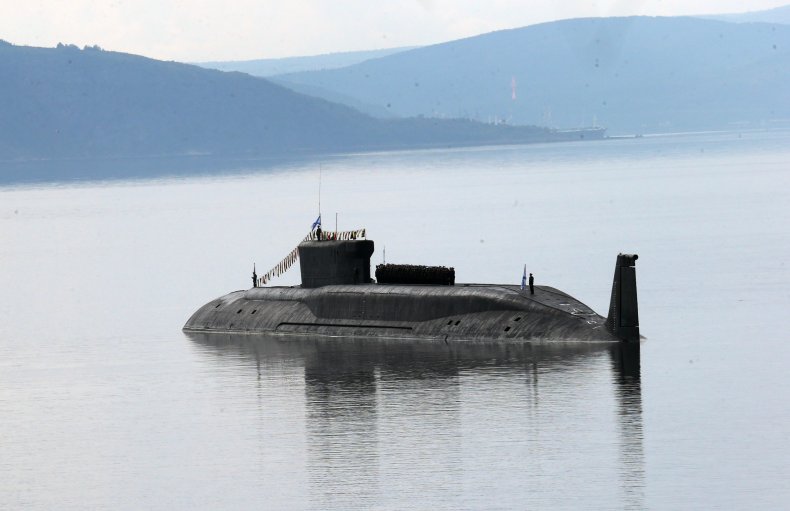 Russia first set the Imperator Alexander III afloat on December 29, with President Vladimir Putin partaking in the ceremony. According to Russia's state-run news agency Tass, the Borei class submarine is capable of carrying 16 Bulava inter-continental ballistic missiles.
Sevmash's CEO told Tass in an interview published on November 1 that the Krasnoyarsk was undergoing sea trials.
NATO militaries are increasingly sounding the alarm over the activity of Russia's submarine fleet amid the ongoing war in Ukraine, Business Insider reported. French President Emmanuel Macron said on January 20 he wanted his country to "acquire a capacity to control the seabed" to depths of 19,600 feet, to protect "critical underwater infrastructure."
Russia has been working to improve its submarine fleet since the collapse of the Soviet Union. Putin said in December that the country would be building more nuclear-powered submarines, "which will ensure Russia's security for decades to come."
"Sevmash has picked up a rhythm, thanks to which it is now again handing over to the customer one or two nuclear submarines a year," Rakhmanov told RIA Novosti.
Rakhmanov separately told Russian state-owned news agency Sputnik that the Russian navy will receive four new warships by July.
"A number of orders have been transferred for this year, including the non-nuclear submarine Kronstadt, the Admiral Golovko frigate, as well as corvettes Mercury and Rezkiy [Sharp]. All these ships will be handed over to the fleet in the first half of the year," Rakhmanov said.
In April 2022, Russia lost the flagship of its Black Sea Fleet, the Moskva missile cruiser. It sank hours after Ukraine claimed to have dealt significant damage to the vessel with a missile strike. Russia denied the claims, saying that any damage was caused by fire on board that led to some ammunition detonating.
The Pentagon later said that it had concluded Ukraine struck the Russian warship with a missile, causing it to sink.
Andrei Illarionov, an economist and former policy adviser to Putin, said at the time that the loss of the Moskva warship would have been a "very, very painful blow" for the Russian military.
Do you have a tip on a world news story that Newsweek should be covering? Do you have a question about the Russia-Ukraine war? Let us know via worldnews@newsweek.com.