Putin to Give Navy Hypersonic Missiles as Russia Beats U.S. in Arms Race
Russia has completed testing of its long-range Zircon hypersonic cruise missile, and is set to put the weapon into use by the Russian Navy by the end of the year.
State-run news agency TASS cited a source close to Russia's military department as confirming the latest developments, which come as Moscow's war in Ukraine grinds on.
"State tests of the product have been completed, it is expected that in the next five months the surface Zircon will be adopted by the Navy," the source said.
Earlier, senior Russian military official Alexander Moiseyev, commander of the Northern Fleet, said that the May 28 test launch of the Zircon hypersonic missile was carried out at the maximum range.
It was launched in the Barents Sea in the Arctic, and struck a target in the White Sea, off Russia's northwest coast, some 625 miles away, according to Russia's Defense Ministry.
The official was cited by TASS as saying that the Admiral Golovko frigate would become the first to be armed full-time with the Zircon.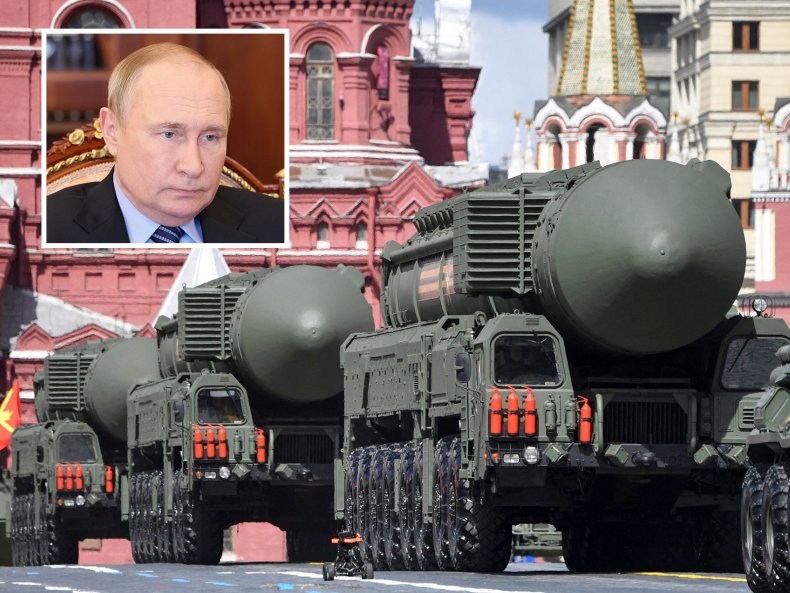 Russian President Vladimir Putin said in February 2019 that the Zircon hypersonic cruise missile is capable of travelling at nine times the speed of sound, and as having a range of more than 1,000 kilometers (625 miles). He has said that its use will significantly boost Russia's military capability.
The Zircon is one of multiple hypersonic weapons being developed in the country. Russia plans to deploy the weapon on Russian cruisers, frigates and submarines, to target both ground positions and enemy vessels.
The United States, as well as China, is also racing to develop hypersonic weapons. The U.S. has actively pursued the development of the weapons since the early 2000s. The U.S. Department of Defense's budget request for hypersonic research for FY2023 is $4.7 billion—up from $3.8 billion in its request for FY2022, amid concerns that the country is lagging behind in a global superpower arms race.
Russia said in March that it had used its newest Kinzhal hypersonic missiles for the first time in the Ukraine war. Russian Defense Ministry spokesperson Major General Igor Konashenkov said that Kinzhal missiles had been used to target a military warehouse in the west of Ukraine.
Hypersonic missiles, unlike ballistic missiles, do not follow a ballistic trajectory, and are able to move while on course to their destination. According to the Associated Press, Russian officials have boasted that existing anti-missile systems are unable to intercept Zircon hypersonic cruise missiles.
Retired United States Air Force General John Hyten has said that hypersonic weapons could enable "responsive, long-range, strike options against distant, defended, and/or time-critical threats [such as road-mobile missiles] when other forces are unavailable, denied access, or not preferred."
The U.S., after a number of failed attempts, successfully tested a hypersonic missile off the coast of California on July 12, marking the end of the booster test phase of Lockheed Martin's AGM-183A Air-launched Rapid Response Weapon.
"This was another important milestone for the Air Force's first air-launched hypersonic weapon," Brig Gen. Heath Collins, Armament Directorate programme executive officer, said in a statement.
"The test successfully demonstrated booster performance expanding the operational envelope. We have now completed our booster test series and are ready to move forward to all-up-round testing later this year."
Russia has continued to carry out tests of its hypersonic weapons amid Putin's ongoing war against Ukraine. The Russian leader has previously suggested that the Zircon missile would enable his warships to strike "decision-making centers" within minutes.