Putin Says 'Necessary Conditions' May Arise for Ukraine Negotiation
Russian President Vladimir Putin says that "necessary conditions" could arise and spur negotiations to end the war in Ukraine.
Putin said on Monday that it would be possible to restart stalled peace talks between the nations but expressed frustration that Ukraine was "refusing to discuss anything" with Russia after Moscow's recent suspension of a deal to allow the exporting of grain from Ukrainian ports.
In July, Russia agreed to end its Black Sea blockade of the grain shipments following negotiations with Ukraine that were brokered by the United Nations (U.N.) and Turkey. The agreement was broken over the weekend after Russia accused Ukraine in an attack on Russian warships in Crimea.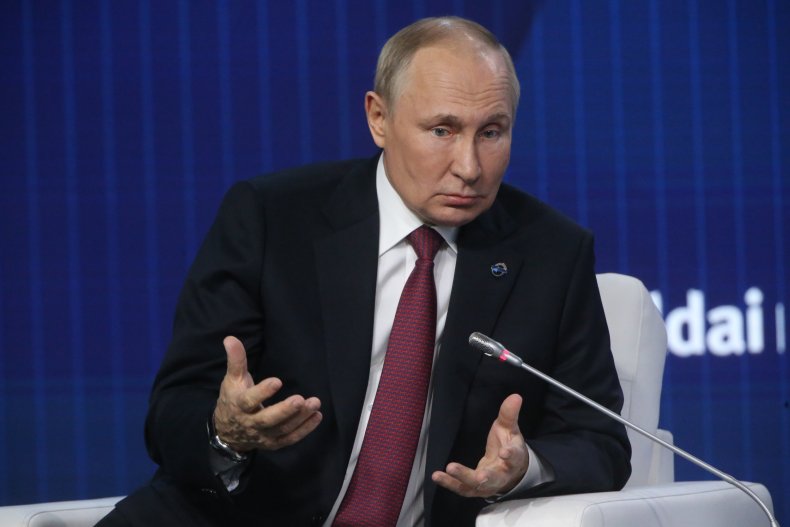 The Russian president insisted during a press conference in Sochi that Russia's "good will" regarding its desire to end the war in Ukraine was "beyond any doubt," according to Ukrainska Pravda. Putin blamed Ukraine for throwing the grain deal "into the bin."
"We reached an agreement with them in Istanbul, but they've thrown all of that into the bin," he said. "And now they're refusing to discuss anything with us. How can we talk about possible agreements if the other side has no desire to even talk to us? Well, we can wait."
"Maybe some necessary conditions will eventually arise; we have made our good will known," he added. "It is beyond any doubt and won't change."
Putin did not specify the conditions that would be required for negotiations to begin. However, Russian Foreign Minister Sergei Lavrov mentioned at least two vague conditions for potential peace talks during an interview with Russian state media outlet RIA Novosti on Saturday.
Lavrov said that Russia was "ready to listen to our Western colleagues" if a new request for negotiations was made. He said that the West would need to "fully take into account the interests of the Russian Federation and its security" and "offer us some serious approaches that will help defuse tensions."
Russia has previously stated that its conditions for ending the war include Ukraine ceasing any attempts to join NATO and maintaining a position of "neutrality" on international affairs.
Putin has also demanded that Ukraine recognize Russian-occupied Crimea as part of Russia. Any new territorial demands would likely include four additional regions of Ukraine that the Russian president claimed to be annexed in September.
Putin spokesman Dmitry Peskov said on Saturday that any negotiations to end the war in Ukraine would need to be hosted in the U.S., which he said has a "deciding vote," according to Russian state media agency Tass.
In September, Ukrainian President Volodymyr Zelensky laid out what he said were five non-negotiable conditions for a peace agreement in a pre-recorded video message to a meeting of the U.N. General Assembly.
Zelensky's conditions included new punishments for Russia, security assurances and the restoration of "territorial integrity" that would include recognizing all of Ukraine's pre-war borders, likely including Russian-occupied Crimea.
Newsweek has reached out to the Russian government and the Embassy of Ukraine in Washington, D.C., for comment.