The State Department has characterized Russian President Vladimir Putin's meeting with North Korean leader Kim Jong Un as Moscow "scrounging around" for low-quality weapons to support its war on Ukraine.
Department spokesman Matthew Miller told journalists at a Wednesday briefing that the Russian dictator was "begging" for military support from Pyongyang in meetings between the two leaders in the eastern port city of Vladivostok.
Putin and his Defense Minister Sergei Shoigu had been expected to propose new weapons deals with Kim and his entourage, with artillery platforms, ammunition, and spare parts thought to be at the top of the Kremlin's shopping list. The North Korean leader, observers have suggested, would be looking to access Russian technology in return.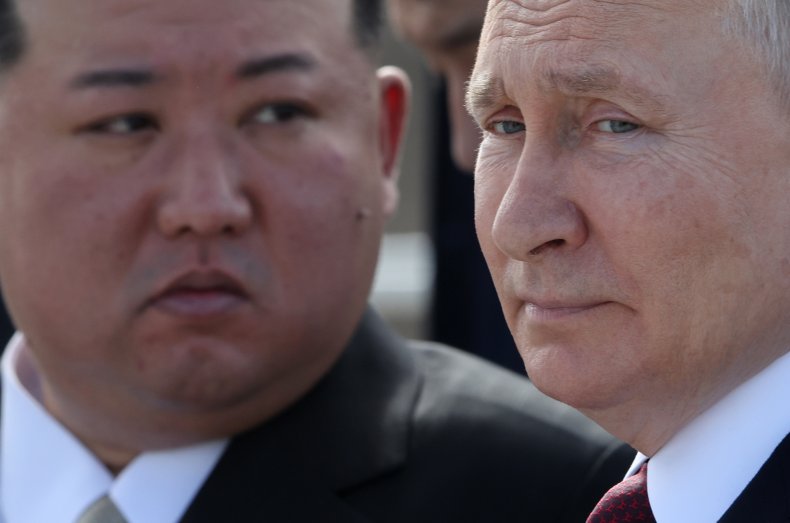 Miller framed the discussions as a sign of Moscow's desperation. "It says something about the overall context of how this war is going for Russia," he told reporters.
"A year and a half ago, Vladimir Putin launched this war thinking he was going to restore the glory of the Russian empire; failed in all of his maximalist, imperialist aims, and now a year and a half later, after losing tens of thousands of Russian soldiers and spending billions and billions of dollars, here he is begging Kim Jong Un for help," Miller said.
Pushed on why he characterized the Putin-Kim summit as "begging," Miller responded: "I don't think that, at the beginning of this war, Vladimir Putin would have anticipated that a year and a half in he would have to be scrounging around[...]including with international pariahs like Kim Jong Un, asking for assistance."
Newsweek has contacted the Russian Foreign Ministry by email requesting comment.
Miller added that touted Russian assistance to North Korea may "violate [United Nations] Security Council resolutions that Russia itself voted for. So, I mean, you can use whatever word you want to characterize it, but I will stand by the words I used."
At their meeting on Wednesday, Kim expressed "unconditional support" for Putin in his "sacred fight" in Ukraine. The state-run Korean Central News Agency declared that bilateral ties, "consolidated in trials of history generation after generation and century after century are further developing into the invincible comrade-in-arms relations."
Kim toured Russia's most modern space facility during his visit, Reuters reported. Asked whether Russia would help Pyongyang build satellites, Putin replied: "That's why we came here. The leader of [North Korea] shows great interest in rocket engineering; they are also trying to develop space."
Kim has prioritized domestic development of spy satellites—an important military field in which Pyongyang lags badly behind the U.S. and its allies. Both of North Korea's attempted satellite launches to date have failed.
Satellite development overlaps with Pyongyang's research to advance its ballistic missile program, which is the subject of international sanctions. Regular ballistic missile test launches have perturbed neighboring South Korea, Japan, and their American allies. Pyongyang has been banned from ballistic missile test launches under U.N. sanctions.
Miller noted that Putin's commitment to assist Kim's satellite program hints at a violation of U.N. measures. "I would say it is troubling when you see the Russians talking about cooperating with North Korea on programs that would violate U.N. Security Council resolutions that Russia itself voted for," he said.
"We're going to watch very closely what comes out of this," he added. "There are possibilities of weapons flowing two different ways here, right? So, with respect to either direction, we would watch very closely and be concerned, and will not hesitate to impose sanctions if and when it's appropriate."
Miller said the U.S. is not hopeful of a sudden detente with Pyongyang. "Based on their behavior over the last two and a half years, no, I would not expect them to engage in diplomacy with us," he said. "But the door always remains open from our side."