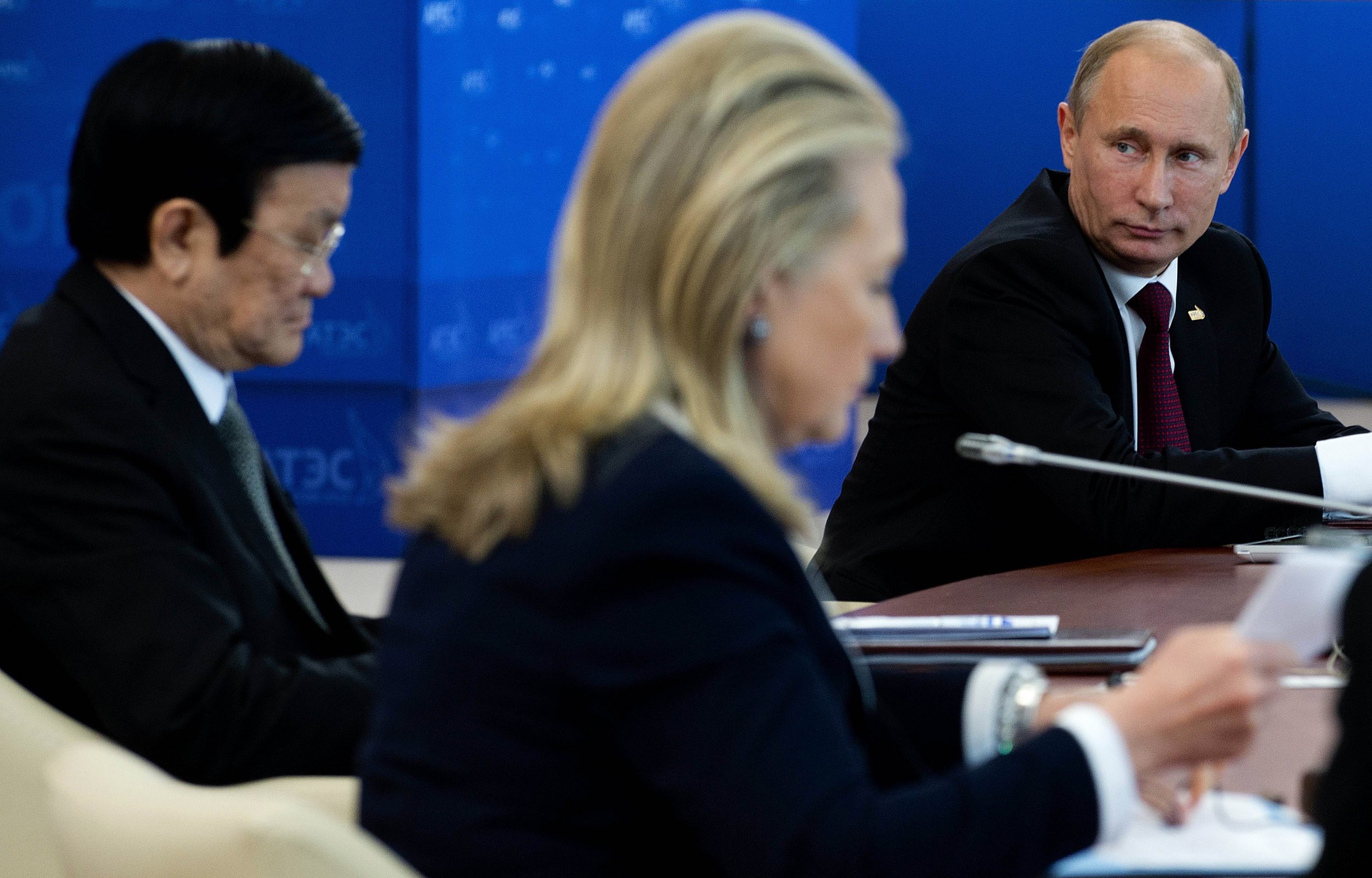 Russian members of parliament have requested that President Vladimir Putin imposes sanctions on former U.S. Secretary of State Hillary Clinton over the arrest of a Russian pilot six years ago, national daily newspaper Izvestia reports.
Clinton, who is currently the frontrunner to win the Democratic Party's nomination for president, called on Russian authorities to release Ukrainian pilot Nadiya Savchenko last week. She has backed the U.S. and Ukrainian government's claims that charges on Savchenko are politically motivated and that her detention is illegal.
The case has gathered much traction as European lawmakers signed a petition last week, urging that Putin be placed under personal sanctions for his treatment of Savchenko.
Opinion: The Tide Is Going Out on Putin
Members of Russia's lower house of parliament (Duma) have now drafted a similar request over the detention of a Russian pilot in Liberia six years ago. At the time Russia's Foreign Ministry accused the U.S. Secret Service of arresting civilian pilot Konstantin Yaroshenko illegally. Liberia's police said they had arrested Yaroshenko, who was handed to the U.S. alongside four other non-Russian men, all five of whom were accused of drug smuggling.
Members of Russia's Communist Party have addressed a letter to Putin and to Foreign Minister Sergey Lavrov to impose sanctions on officials who took part in the decision to detain and convict Yaroshenko.
"Americans like to stir up a hype around human rights violations across the world, but they themselves spit on these rights," Sergey Obukhov, one of the signatories said. "It is clear that weak countries will be silent in the face of the illegal persecution of their own by the U.S. but Russia is a strong country."
Viktor Vodolaktsiy from Putin's United Russia party gave his backing to the initiative, while Oleg Paholkov from the centre-right A Just Russia said members of his party would also be likely to back this move.
Besides Clinton, who was U.S. Secretary of State at the time, the proposal for sanctions also targets New York's Southern District attorney Preet Bharara, New York District Court judge, Jed Rakoff and Gueye Sam the head of the African department of the U.S. Drug Enforcement Administration.
A parliamentary vote on introducing the sanctions list has not been officially scheduled in Russian parliament and Putin's spokesman Dmitry Peskov did not address the issue in Monday's daily morning press briefing.