Putin Tells Western Nations That He's Just Getting Started With Ukraine
Russian President Vladimir Putin warned Western nations that he's only just beginning with his internationally condemned invasion of Ukraine.
Moscow launched the full-scale assault on Ukraine on February 24, drawing swift backlash from countries around the world. The U.S. and its NATO allies quickly rallied to support Kyiv with billions of dollars in humanitarian assistance and military aid as it defends itself against Putin's unprovoked aggression. While Russia largely failed in the initial weeks of the war, Moscow's forces have made gains in the eastern region of Ukraine in recent weeks.
"Nothing has been seriously started yet," Putin said Thursday, Ukraine's Pravda online newspaper reported.
"Today we hear that they want to defeat us on the battlefield. Well, what can you say. Let them try," the Russian leader added.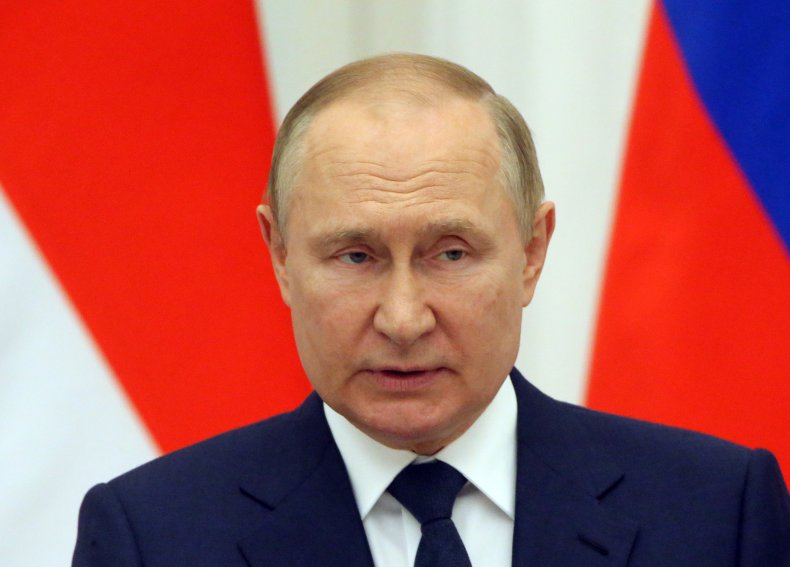 Putin and other Moscow leaders have bizarrely claimed that Kyiv is led by Nazis in a bid to justify their invasion of Ukraine. In reality, the Eastern European nation's President Volodymyr Zelensky is Jewish and had family members killed in the Holocaust genocide perpetrated by the German Nazis in World War II. When Zelensky was first elected in 2019—with nearly three-quarters of the vote—Ukraine's prime minister was also Jewish.
Russia and Ukraine are currently digging in for what analysts assess will likely become a long and protracted war. Putin and his allies reportedly initially believed that they could quickly take control of large swaths of Ukraine and topple Zelensky's government, thinking that many Ukrainians would welcome their arrival. To the contrary, the invasion turned many previously pro-Russian Ukrainians against Moscow.
Ukraine's forces, with the support of the U.S. and other Western allies, was able to repel the initial Russian advance. As a result, Putin set his sights on shoring up Moscow's control of the eastern Donbas region of Ukraine, with his troops seeing greater success in that more limited effort.
Meanwhile, analysts have continued to warn that Putin could have goals beyond Ukraine. The Russian leader has referenced the long-defunct Russian empire as well as the former Soviet Union as he's touted his efforts to take control of Ukraine. As a result, some other former Soviet states are concerned about potential plans by Moscow to target them as well.
More than 6 million Ukrainians are estimated to have been displaced within their country by the war. More than 5 million more have managed to flee their nation to neighboring countries as the war continues.
Newsweek reached out to Ukraine's foreign ministry for comment.