Putin Orders 'Tit-For-Tat' Weapons Development After Trump Withdraws From Historic Nuclear Treaty
Russian President Vladimir Putin has called for a "tit-for-tat" response after President Donald Trump moved to formally withdraw the United States from the Cold War–era Intermediate-Range Nuclear Forces (INF) Treaty.
The United States is "actively working on creating ground-based missiles with the range capability of over 500 kilometers [310 miles], which is outside the treaty-stipulated limitations. In this situation, the Russian president has set the task for the Defense Ministry to take tit-for-tat mirrored measures," Russian Defense Minister Sergey Shoigu said Tuesday, according to Russia's Tass news agency.
Shoigu said Russia would work to develop a "ground-based version of the sea-launched Kalibr system with the long-range cruise missile." He added that it was "necessary to increase the firing range of ground-based missile systems being developed today."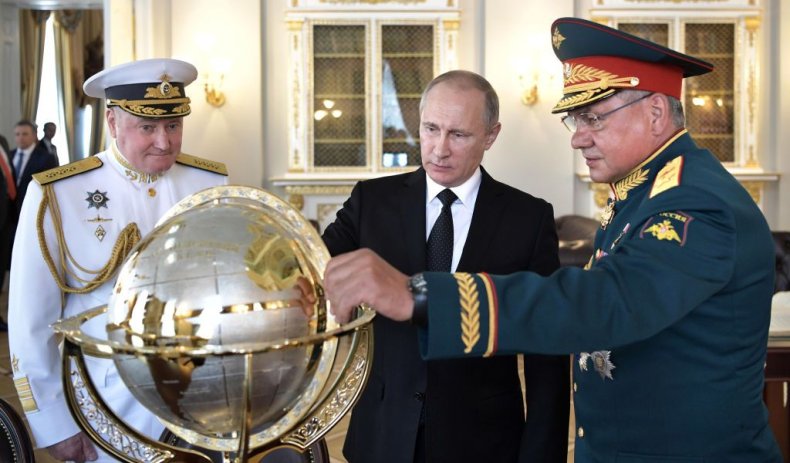 The INF agreement was signed in 1987 by President Ronald Reagan and Soviet Union leader Mikhail Gorbachev. It aimed to eliminate short medium-range (310 to 620 miles) and intermediate-range (620 to 3,420 miles) land-based ballistic and cruise missiles and their launchers from both nations. At the end of last week, the Trump administration announced it would withdraw from the decades-old pact, accusing Moscow of violating its terms. Russia has also accused the U.S. of violating the deal.
"We cannot be the only country in the world unilaterally bound by this treaty or any other," Trump said. "We will move forward with developing our own military response options and will work with NATO and our other allies and partners to deny Russia any military advantage from its unlawful conduct."
On Monday, Russian Foreign Minister Sergey Lavrov warned that Washington was aiming to destroy "the entire arms control system" and said "a new era has begun." He pointed out that experts were suggesting that the U.S. would also end the Strategic Arms Reduction Treaty (New START), which is set to expire in 2021. New START was signed in 2010 during the Obama administration and updated the former START I treaty signed by President George H.W. Bush in 1991. The agreement aimed to cut the number of strategic nuclear missile launchers by half while creating a new inspection and verification system.
"Extending New START is a no-brainer. More nuclear weapons does not result in more security," Derek Johnson, executive director of Global Zero, an international movement for the elimination of nuclear weapons, said in a statement emailed to Newsweek.
"These weapons are inherently dangerous: The longer we tolerate their existence, the more likely we are to see them used. The steady drawdown of Cold War stockpiles in pursuit of global zero is vital to the national security interests of the United States, its allies and the world," Johnson said.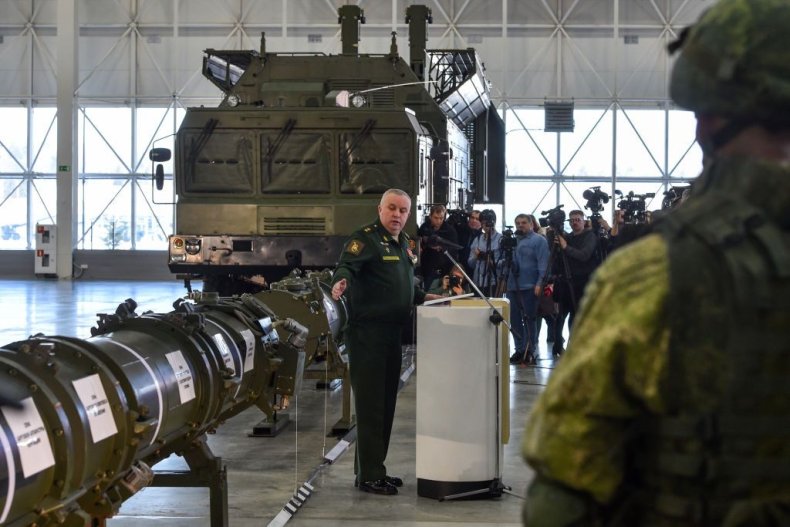 On Tuesday, Robert Wood, the U.S. disarmament envoy, told a U.N.-sponsored Conference on Disarmament in Switzerland that Washington would reconsider its withdrawal from the INF Treaty if Russia returned "to full and verifiable compliance," the South China Morning Post reported. "This is Russia's final opportunity to return to compliance," Wood warned.
But Moscow has alleged that the U.S. has failed to provide any evidence of how it has violated the agreement. "Not a single hard fact has been provided to us," Lavrov said on Tuesday, according to Tass.
Meanwhile, a new survey conducted by the University of Maryland showed that two-thirds of American voters, including 55 percent of Republicans, object to the U.S. withdrawing from the nuclear pact.
"Concerns about Russian cheating, while substantial, were not strong enough to override support for this treaty-based effort to control nuclear arms," Steven Kull, director of the Program for Public Consultation, told The Daily Beast in regards to the poll.