Putin Backs Trump Over Impeachment Charges He Says Were 'Dreamed Up' by Democrats
Vladimir Putin has voiced support for President Donald Trump over his impeachment, which the Russian president has blamed on political infighting within the Democrats.
At his annual televised question-and-answer session by journalists and citizens around the country, Putin was asked about what he intended to do before the end of Trump's presidency to strengthen dialog with the U.S., in particular regarding START (the Strategic Arms Reduction Treaty).
Putin did not accept the premise of the question, which he thought suggested that the Trump presidency was drawing to an end. "I'm not sure about that," Putin said about Trump's removal from office, pointing out that the Republican-majority Senate would not want to remove its representative from power for what in, "my opinion, are absolutely contrived reasons."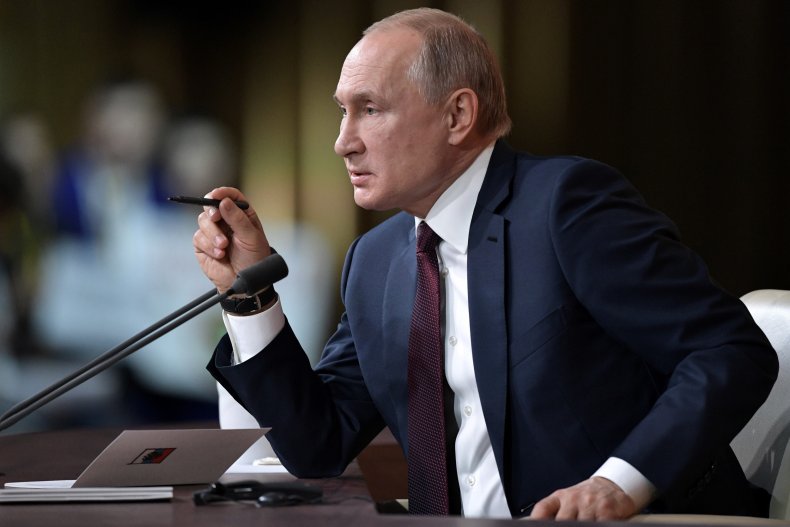 Continuing with his criticism of Trump's impeachment, Putin said the process was simply a "continuation of an internal political struggle" within the Democrats and that the party "that lost the election…is achieving results through other ways and means."
"By charging Trump with collusion with Russia, then it turning out that there was no collusion, cannot form the basis for impeachment. Now pressure on Ukraine has somehow been dreamed up," Putin said, according to a transcript posted on the Kremlin website.
Radio Free Europe noted that the question about Trump was not posed by a journalist but by Dmitri Simes, who heads Center for the National Interest, which used to be known as the Nixon Center.
On the START treaty, Putin said he was prepared to extend it but that he was waiting for the U.S. response to the proposals.
"And if there is no START-3, then there will be nothing in the world that can restrain the arms race. And this, in my opinion, is bad," Putin said.
In a statement to Newsweek, a senior White House administration official said: "The United States remains committed to effective arms control that advances U.S., Allied, and partner security, is verifiable and enforceable, and includes counterparts that fulfil their obligations.
"The administration is evaluating the possibility of an extension of the New START Treaty that is in line with the President's direction to think more broadly than New START, both in terms of including China, and also on what is covered."
During the wide-ranging marathon phone-in lasting for 4 hours and 18 minutes, Putin was also asked about his future after 2024, when his second term as president ends, and when under the Russian constitution, he will be forced to step down.
"One thing that could be changed about these [presidential] terms is removing the clause about 'successive' [terms]. Your humble servant served two terms consecutively, then left his post and had the constitutional right to return to the post of president, because these were not two successive terms," he said.
Even though there was a summer of protests across the country following regional elections in which some independent candidates were banned, not one question was asked about this discontent that rocked the country, Radio Free Europe reported.
This story has been updated to include a White House statement.