Awkward Video Shows Putin Being Told of Errors With Troop Mobilization
A video of a top Russian official telling Vladimir Putin about "significant problems" with the mobilization he ordered last year to boost troop numbers invading Ukraine has gone viral.
Putin had a poker face when told how reservists had been illegally mobilized and some had not been paid as he sat opposite Russia's Prosecutor General Igor Krasnov at the Kremlin on Tuesday.
"More than 9,000 citizens who were illegally mobilized were returned home, including those who, due to their health, should not have been mobilized in any way," Krasnov said.
"Vladimir Vladimirovich, mobilization has not been carried out for a long time," continued Krasnov who said the process had revealed "a lot of significant problems, which have acted as a lesson for many."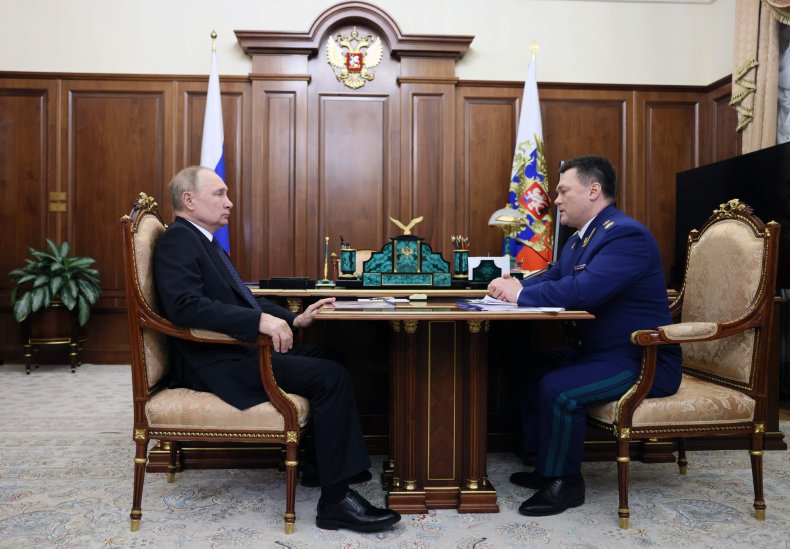 "It forced us to revise approaches to the organizing drafting lists," he said, adding that there were soldiers who also had issues with payments owed to them.
Krasnov alluded to issues with providing troops with basic equipment like bulletproof vests and uniforms, although he said that "most of the problems have already been resolved." Putin told Krasnov "to continue monitoring" the issue of mobilization.
The clip, tweeted by Ukrainian internal affairs adviser Anton Gerashchenko received more than 271,000 views as of Wednesday morning. The exchange was broadcast on the rolling news channel Russia-24 and a transcript was available on the Kremlin website, suggesting that Moscow intended it for public consumption.
The growing criticism of a botched mobilization from military bloggers—including anecdotes from disgruntled Russian citizens—appears to have made its way to mainstream Russian state TV channels, forcing the Kremlin to take note.
Kremlin propagandists have taken pains not to criticize Putin directly and those lower down the chain of command were blamed for numerous reports of troops being sent with little or no training, and draftees including those with serious medical problems.
British defense officials said on Monday that "Russian authorities are likely keeping the option of another round of call-ups under the 'partial mobilization' which Putin has not officially rescinded.
This is because the Russian leadership is seeking to recruit a "high number of personnel" while minimizing domestic dissent to undertake a future offensive, widely predicted to take place before spring.
András Tóth-Czifra, senior analyst at risk intelligence firm Flashpoint told Newsweek: "We will see some mobilization this year, as we know very little about how many people Russia has successfully mobilized since September." The firm has examined open-source intelligence since the start of the war.
Tóth-Czifra said that even before September's mobilization drive, "regional governors were tasked out to recruit various volunteer battalions to send to Ukraine.
"That was an effort that delivered some results, but definitely not the numbers that they needed and wanted."