Putin Warns of Widening Conflict If Countries Impose No-Fly Zone in Ukraine
Russian President Vladimir Putin said Saturday that he would view any country that declares a no-fly zone over Ukraine as a participant in the "armed conflict."
"That very second, we will view them as participants of the military conflict, and it would not matter what members they are," he said according to the Associated Press, which first reported the news.
Putin, who was speaking at a meeting with pilots, added that "any move" in the direction of a no-fly zone "will pose a threat to our service members."
Ukrainian President Volodymyr Zelensky has called on NATO to impose a no-fly zone over his country, and has criticized the organization for declining to do so.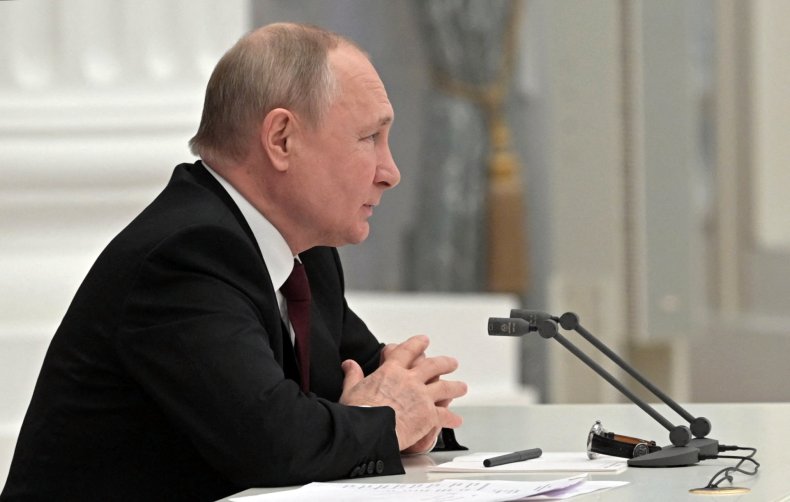 "All the people who will die starting from this day will also die because of you. Because of your weakness, because of your disunity," he said during a speech on Friday, adding, "Is this the NATO we wanted? Is this the alliance you were building?"
NATO has said that it won't police a no-fly zone over the country over fears that the move could instigate war with Russia.
"The only way to implement a no-fly zone is to send NATO fighter planes into Ukrainian airspace and then impose that no-fly zone by shooting down Russian planes," NATO Secretary General Jens Stoltenberg said, adding, that doing so could "end up with something that could end in a full-fledged war in Europe."
During a press conference on Friday, when asked if the U.S. would consider imposing a no-fly zone, Secretary of State Antony Blinken said that the U.S. has a responsibility to "ensure that the war doesn't spill over even beyond Ukraine."
He added that "President Biden has been clear that we are not going to get into a war with Russia. But we are going to tremendous lengths with allies and partners to provide the Ukrainians with the means to effectively defend themselves."
During the meeting on Saturday, Putin said that the sanctions that Ukraine's allies have imposed on Russia are "akin to a declaration of war," the New York Times reported. The president also warned that Ukraine could lose statehood if it continues to fight his invasion.
"The current leadership needs to understand that if they continue doing what they are doing, they risk the future of Ukrainian statehood," he said, according to the Times.