Putin Youth Movement Created to Teach Russian Children National Principles
Russian President Vladimir Putin has signed a law creating a patriotic youth movement that seeks to teach Russian children national principles.
The Russian leader has been asked to head the supervisory board of the youth movement, which the country's parliament says will "prepare young people for a full life in society." It is described as an "all-Russian social and state movement of children and youth."
The development comes more than four months after Putin launched an invasion of neighboring Ukraine. According to Lev Gudkov, head of the Levada Center, Russia's only independent public opinion agency, some 35 percent of high school and university students think negatively of Putin's war, CS Monitor reported.
Measures rolled out by the Kremlin to combat anti-war sentiment include flag-raising ceremonies, singing the national anthem, and a Russia-oriented course on modern history for Russian students, beginning in September.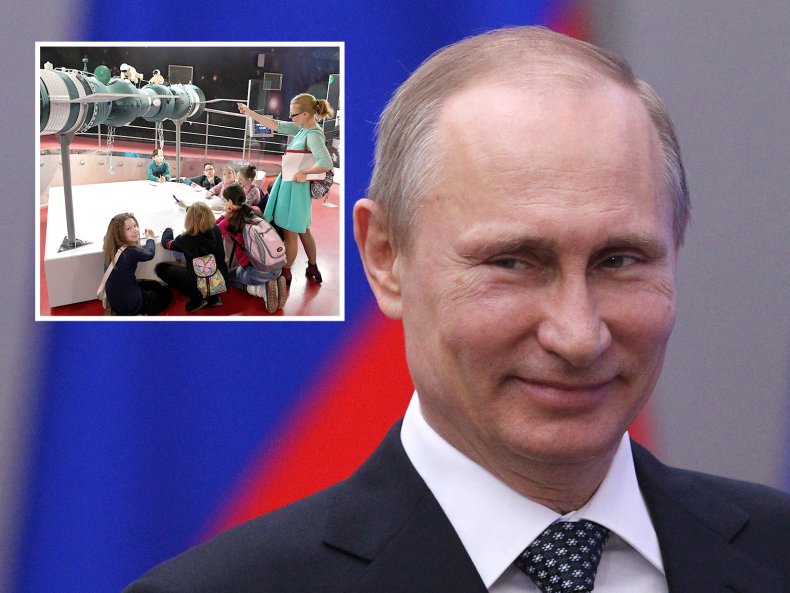 Other goals of Putin's youth movement include promoting state police among children and youth, participating in their upbringing and professional orientation, organizing children's leisure, and creating opportunities for their comprehensive development and self-realization, according to Russia's state-run news agency TASS.
Children aged six and above are able to join the movement on a voluntary basis, while adult mentors will organize their upbringing and leisure.
Russian lawmakers approved legislation on July 6 to create the youth movement.
An annotation to the law, published on the website of Russia's Federation Council, or Senate, states that the movement was developed to ensure a unified state policy on the education of children and youth in educational organizations, associations, movements, communities and clubs, as well as to "build a continuous trajectory of their development based on the values of Russian society."
Putin first considered creating the movement after Diana Krasovskaya, a student at a school in Sevastopol, suggested that he form a group that would unite children nationwide, TASS reported.
"It is necessary to think about this topic," Putin said at the time.
"An all-Russian movement of children and adolescents is being created," parliament's lower house, the State Duma, said in a statement when the legislation was approved earlier this month.
The movement will be funded by the state, and regional governors are expected to be closely involved in the organization's work, AFP reported.
Aryom Metelev, who chairs the committee on youth policies at the State Duma, said youth camps and education facilities will be handed over by the Kremlin to the organization to "facilitate the development of the child."
"The state must create conditions that contribute to the comprehensive spiritual, moral, intellectual and physical development of children, to the learning of patriotism, civil responsibility and respect for adults," the authors of the legislation said.
Children and youth studying under programs of general, vocational and higher education are able to join the movement, according to the State Duma.
Soviet values were previously taught to children in the USSR through youth organizations: the Little Octobrists, Young Pioneers, and the Komsomol.
Newsweek reached out to Russia's foreign ministry for comment.