Putin's 'Incredible Offer' to Trump Must Be Shut Down Immediately, Says Ex-U.S. Ambassador
Russian President Vladimir Putin may have "suckered" President Donald Trump with an offer to let Moscow pursue Kremlin critics in the U.S., so Washington must quickly make clear this will not happen, a former U.S. ambassador has said.
In one of several unexpected remarks after his meeting with Putin, Trump struggled to say he believed his own intelligence agencies and not Putin on whether Russia interfered in the U.S. election. In the press conference, Trump trailed off praising Putin's "strong and powerful" denial, before praising the Russian leader's "incredible offer" to allow U.S. investigators access to 12 Russian officials indicted for election meddling.
Putin then added that the offer hinged on Russian law enforcement receiving reciprocal access to people in the U.S. "whom we suspected of illegal activities on Russian territory." Putin personally named critic Bill Browder as one of these people and the U.S. government has not yet made clear whether the president is seriously considering the offer.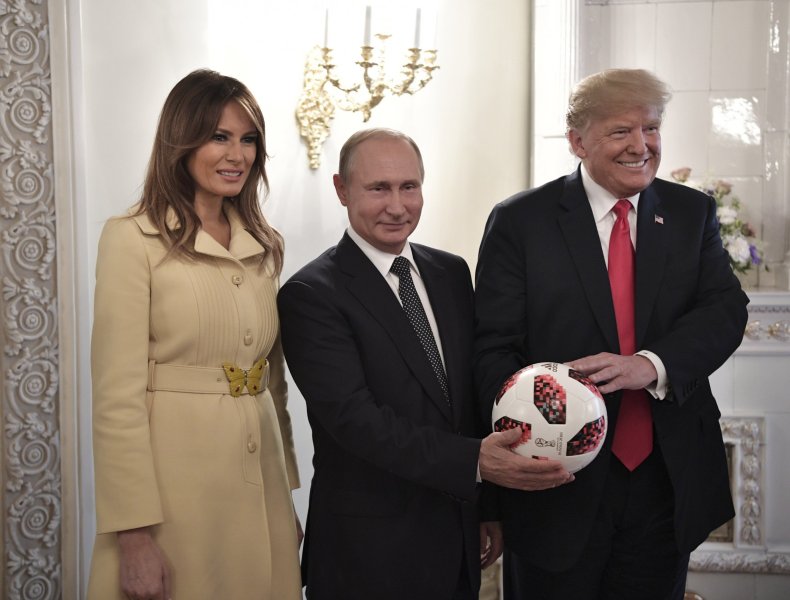 "The Administration needs to kill this outrageous proposal before it gets any legs," former U.S. Ambassador to Israel Daniel Shapiro wrote on Twitter. "My 11-year old knows the offer is ludicrous and unacceptable. Russia will provide nothing on the 12 operatives, use any visit to gather intel on the investigation, & try to elevate garbage charges against Putin's opponents to the level of Mueller's well-documented allegations."
Since the press conference, Trump has disavowed his ambivalence in Putin's presence that Russia interfered in the U.S. election, backtracking on the claim that he did not see why Moscow would do that. In Russia, however, hopes that Trump would allow its investigators on U.S. soil, in exchange for some access to the Russian officials indicted in meddling in the vote that got him elected, have not abated. The Russian Prosecutor General's Office announced on Tuesday that it would like to question 11 U.S. intelligence officers, businessmen and diplomats, including former Ambassador to Russia Michael McFaul, state news agency Itar-Tass reported.
"Under no circumstances can the U.S. government permit, or even contemplate, making those who have served the US government faithfully available to the spurious 'investigations' of our adversaries," Shapiro said, calling on the White House or the State Department to "shut this down now."
Read More: Trump's performance in Helsinki was a resounding success, according Russia's state media
"They need to make clear that there will be no cooperation with Putin's transparent intel. op. disguised as mutual aid to parallel investigations & no exposing (Michael McFaul) or other U.S.G. officials to Russian questioning," he added.
When Russian state media suggested McFaul must be "nervous" at the allegations, he responded on Twitter, saying that "I am not nervous. I am outraged. I am also sad for your country; that you have a president who would invent such ridiculous fantasies all to silence a critic in America."
The White House and the State Department did not immediately respond to a request for comment.