Trump-Putin Summit: Russian Media Declares Success for 'Master' Putin
President Donald Trump is on the receiving end of global public outcry over his soft performance at the meeting with Russian President Vladimir Putin. But the one place where he might actually enjoy the press he is receiving is Russia; a country where the state-dominated media has hailed their meeting in Finland as a major coup.
Trump and Putin met in the Finnish capital of Helsinki after Trump repeatedly expressed a desire to hold a public reception with Putin. In the press conference after their meeting, Putin appeared to compromise on nothing.
Trump, however, openly cast doubt over the efficacy of U.S. intelligence agencies, blamed Washington for spoiling relations, issued no criticism of Moscow's annexation of Crimea in 2014, and even praised the Kremlin twice for hosting the soccer World Cup.
The event caused outrage from members of both major political parties in the United States. But, in Russia, the meeting was celebrated with Putin widely praised.
"Success in Four Hours," read the front page of pro-government newspaper Izvestia. "The Ball Is in Trump's Court," declared Russian parliament's official newspaper, Parlamentskaya Gazeta, urging Trump to take Putin's words to Washington.
"Vladimir Putin felt like the master of the situation," the newspaper remarked, saying Trump has been "forced to admit," that the U.S. was to blame for poor relations with Russia. Solving the war in Ukraine was not a matter of Russia recalling its troops but Trump putting more pressure on Kiev to relent, the publication added. "The American president, by all accounts, accepted the lecture."
The general consensus in the Russian media was heavily in Putin's favor, but seemed to vary in how far they went in condemning Trump. According to Izvestia the summit was "a minor miracle performed by Trump," because of the doubts cast over his ability to avoid making such large concessions to Putin.
"In my view the meeting was as rewarding as it could have been," Russian Senator Alexey Pushkov told state network Rossiya 1 on its 60 Minutes programme, airing live after the summit. "The gain for us is huge. I don't think somebody won or lost," he added, boasting that the U.S. "expected large concessions from Putin" but received nothing.
The story about Russian meddling in the U.S. election and the Trump campaign's alleged collusion with Moscow "has exhausted itself," Pushkov concluded.
"For all this time Trump did not say one word that could have been insulting to Russia, President Putin and our relationship. I am very grateful to him," Vyacheslav Nikonov, a lawmaker from Putin's United Russia party, also said on the programme, praising the U.S. president for his friendly tone and his remark that Russia is not an opponent but a "good competitor."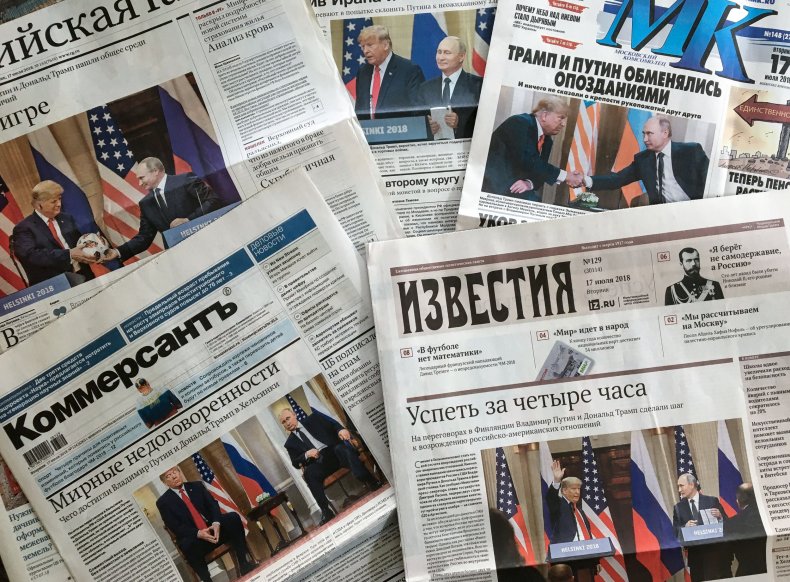 Russia's Foreign Minister, Sergey Lavrov, announced that the meeting was "fabulous" and Nikonov agreed, adding that the outrage it has caused in the U.S. is but "another indicator" of its success. "Did the world today become better today," Nikonov said, smiling to loud applause from the studio audience. "It did. Did it become safer? It did. Will today's meeting go in history books? It will."
Trump's decision not to spend much time discussing Crimea or the security of NATO allies that border Russia, such as Poland, delighted Moscow as well.
"Trump did not say a word about this," Rossiya 1 anchor Yevgeny Popov announced with a smile, as the 60 Minutes panel discussed U.S. commitments to European partners.
Petr Tolstoy, another lawmaker from Putin's United Russia said on state-run Kanal 1 and its news review show Time Will Tell, "We do not care about them and Trump does not care," to roaring applause. "Did you look into his eyes? He absolutely does not have Ukraine or Poland in his eyes. It is just not on his agenda.
"Donald Trump was elected to spit on the U.S. establishment. The people of America, in this way, spat in the face of the Washington establishment."
Tolstoy also noted that Trump had spent the days before the summit resting at his retreat in Scotland while Putin had multiple meetings and closed out the World Cup the night before. "In this insane and tight schedule, our president looked much fresher and more confident than Donald Trump," he argued.
Read More: Trump and Putin's meeting was "better than super," says Russia. It was "fabulous"
The Kremlin-propagated view of Trump as a leader against the current standard policy on Russia was summed up in a cartoon by state news agency RIA Novosti.
In the cartoon, Trump, carrying a ladder, is walking down a road that leads to the Kremlin but encounters a wall inscribed with the words "propaganda," "Russophobia" and "the media" obstructing his path.
Many publications were hard pressed not to concede Putin did not come out on top. Putin "outplayed" Trump at Helsinki, Moscow-based newspaper Moskovskiy Komsomolets wrote.
The same paper expressed shock, asking what happened to the man who unloaded at U.S. allies during visits to NATO and the U.K. just the week prior. "Where was the brash and boorish Trump who ruthlessly attacked [German Chancellor] Angela Merkel several days ago, undercut [British Prime Minister] Theresa May's political position and violated the court protocol at a reception with Queen Elizabeth II?
"Why, at the press conference after the meeting of the leaders of the Russian Federation and the U.S.A. did we see a quiet, unassuming Trump… next to VVP (Vladimir Vladimirovich Putin)?" the paper asked.
"Putin Arrived at the Meeting with Trump In The Form of a Spy," another piece by the newspaper declared, referring to Putin's easy dismissal of allegations of Russian meddling in the U.S. election.
"On this matter Trump is on our side and not the American side," Andranik Migranyan, a professor at Moscow's top diplomatic university, told Kanal 1, as he said the meeting went "better than expected. This is already a super success."
Notably, Putin received much less vitriol than U.S. ally Germany for a pipeline deal with Russia which Trump publicly denounced in front of allies last week. "Here Putin looked like a bigger businessman and diplomat than even Trump," Migranyan said, allowing Trump to call him a "competitor," rather than denounce him.
The clearest indication of Putin's resolve was the handshake between the two leaders, according to pro-Kremlin tabloid Komsomolskaya Pravda, during which Trump attempted no "clever maneuvers" like he has with leaders of U.S. allies, psychologist Alexander Neveev said.
"It is a testament of Putin's mastery of judo, where almost every approach with an opponent begins with an attempt to put you out of balance." At the end of the day, Putin sat comfortably in his chair. "It is impossible to put him in a vulnerable position," Neveev concluded.