Putin's Nuclear Threats Shouldn't Deter Western Leaders: Poroshenko
A former Ukrainian leader is urging Western nations not to be deterred by Russia's nuclear threats from helping his country.
Petro Poroshenko, who preceded Volodymyr Zelensky as president of Ukraine, from 2014 to 2019, spoke on the issue during an interview with Current Time published Saturday. In it, he insisted that Putin can only be dealt with by using force.
"Putin only understands force, [and he] will go as far as the world allows him," Poroshenko said. "We can't create a precedent for the world—and even more so in Europe—where one state can forcefully change [borders]."
On the subject of nuclear weapons, Poroshenko called Putin's various statements and speeches about the potential for nuclear warfare empty threats, and urged nations of the world not to be intimidated by them as they continue to help Ukraine. Putin, he said, fears the consequences of using nuclear weapons.
"He will be hindered by fear if he thinks of using weapons of mass destruction because Putin [knows] he will be destroyed by retaliatory strikes," the former president said.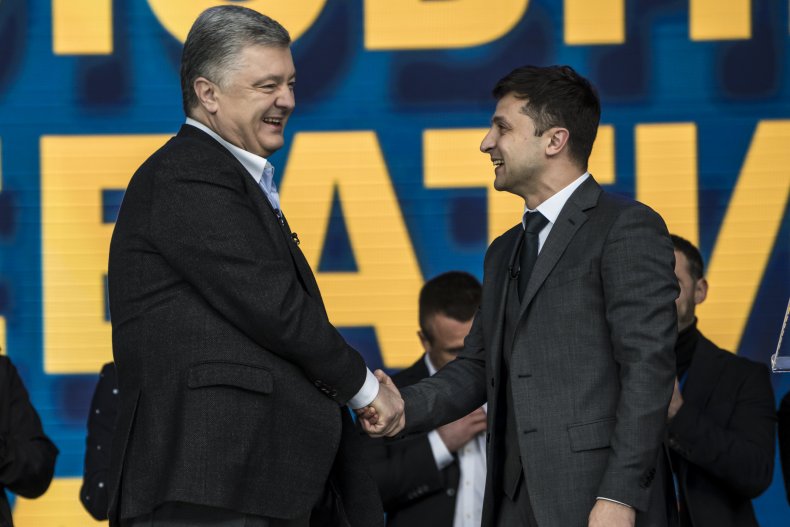 The conflict in Ukraine began in late February, when Putin sent his forces into the neighboring nation after months of troop build-up at the border. The invasion, intended to be swift, is now approaching three months in length, with Russia having failed to achieve any of its initial goals.
Fighting between Russian and Ukrainian forces is now focused around the eastern Donbas regions. Multiple rounds of peace talks between the two nations have fizzled out, with the nations unable to meet a compromise on conditions for a ceasefire. Poroshenko added that he believes the "territorial integrity and sovereignty" cannot be compromised as part of peace talks.
"Putin wants to remove Ukraine as a state from the world map," Poroshenko said. "It's impossible to talk about anything else apart from a cease-fire, the withdrawal of Russian troops, and a solution to the humanitarian situation. The territorial integrity and sovereignty of a country can't be subject to compromise."
Speaking earlier in May, Bob Menendez, chairman of the U.S. Senate Foreign Relations Committee, warned that the risk of Russia deploying nuclear or chemical weapons will only increase as Putin grows more desperate over the invasion of Ukraine.
"Well, one of my concerns is that, ironically, the more success that the Ukrainians have, the greater the risk that Putin will do something because he's losing and has to save face at home," Menendez told host Bret Baier during an appearance on Fox News Sunday. "And so the potential of a chemical, biological or tactical nuclear weapon may grow as a result of that."