Putin's Russia Is Last Major Country Yet to Congratulate Biden on Winning 2020 Election
Russian President Vladimir Putin is the last major world leader yet to congratulate Joe Biden on winning the 2020 election, following China's recognition on Friday of the president-elect's victory.
Putin won't congratulate Biden until legal challenges to the U.S. election are resolved and the result is official, according to the Associated Press.
Dmitry Peskov, a spokesman for the Russian leader, told reporters on Monday that this year's election is different from those in past years.
"Obviously, you can see that certain legal procedures are coming there, which were announced by the incumbent president. Therefore, this situation is different, so we consider it correct to wait for the official announcement," Peskov said.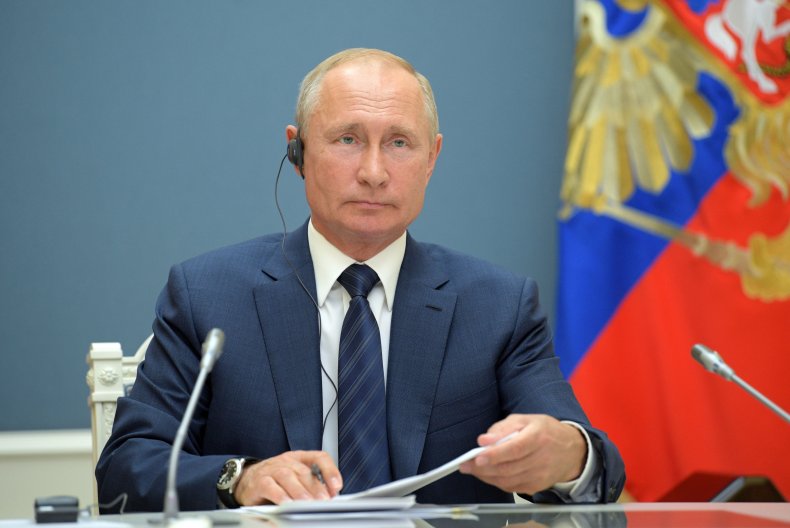 The Chinese Communist Party congratulated Biden on Friday, although it noted Trump's legal battles against the election results.
"We respect the American people's choice and extend congratulations to Mr. Biden and Ms. Harris," Foreign Ministry spokesperson Wang Wenbin told reporters, according to China's state-run Global Times newspaper. "We also understand that the U.S. election result will be decided in accordance with U.S. laws and procedures."
Other world leaders, including British Prime Minister Boris Johnson, French President Emmanuel Macron, German Chancellor Angela Merkel and Israeli Prime Minister Benjamin Netanyahu, as well as Saudi Arabia's royal family, have also congratulated Biden since his victory was projected last Saturday.
On Sunday, Russian opposition leader Alexey Navalny sent a congratulatory message to the president-elect as well. Navalny was poisoned with a nerve agent in August and is recovering in Germany. Putin's government has denied responsibility for the poisoning, but Navalny has blamed Putin directly, as has Biden.
"Once again, the Kremlin has used a favorite weapon—an agent from the Novichok class of chemicals—in an effort to silence a political opponent," Biden said in a statement posted to his campaign's website. "This outrageous and brazen attempt on Mr. Navalny's life is just the latest incident in a long history of murder and poisoning of dissidents, investigative journalists, anti-corruption activists, and opposition leaders under the Putin regime."
Biden also vowed to "do what Donald Trump refuses to do: work with our allies and partners to hold the Putin regime accountable for its crimes."
Putin and Trump have repeatedly spoken favorably about each other. Following the 2016 election, the Russian leader quickly congratulated Trump on his win over Democratic nominee Hillary Clinton.
In a statement at the time, the Kremlin said, "Putin expressed hope for joint work to restore Russian-American relations from their state of crisis, and to address pressing international issues and search for an effective response to challenges concerning global security."
During the first two years of Trump's presidency, an investigation led by special counsel Robert Mueller sought to determine if Trump's campaign conspired with Russia to interfere in the 2016 election.
The investigation and U.S. intelligence agencies concluded that Russia had interfered in the election to benefit Trump's campaign but didn't conclude that Trump or his campaign colluded with Russia. However, multiple campaign officials and Trump associates were charged and convicted as a result of Mueller's probe.
Newsweek reached out to the Kremlin as well as the Russian Embassy in Washington, D.C., for comment, but they did not respond in time for publication.