Putin's 'Sarmat' Nuclear Missiles Compared to U.S. 'Minuteman' Rockets
Russia reportedly failed to launch an intercontinental ballistic missile (ICBM) test code-named "Satan 2" while U.S. President Joe Biden was in Ukraine.
Two U.S. officials told CNN that Russia's launch of the Sarmat missile was known by the U.S. in advance through channels associated with the Strategic Arms Reduction (START) treaty, with one official calling it "routine."
It occurred as Russian President Vladimir Putin delivered a major speech to his citizens that included the announcement that Russia would temporary stop following the treaty as a means to further evaluate nuclear arsenals of NATO nations.
Putin said Russia has only suspended its participation, adding that "before returning to the discussion of this issue, we must understand for ourselves what such countries of the North Atlantic alliance as France and Great Britain" have in "their strategic arsenals."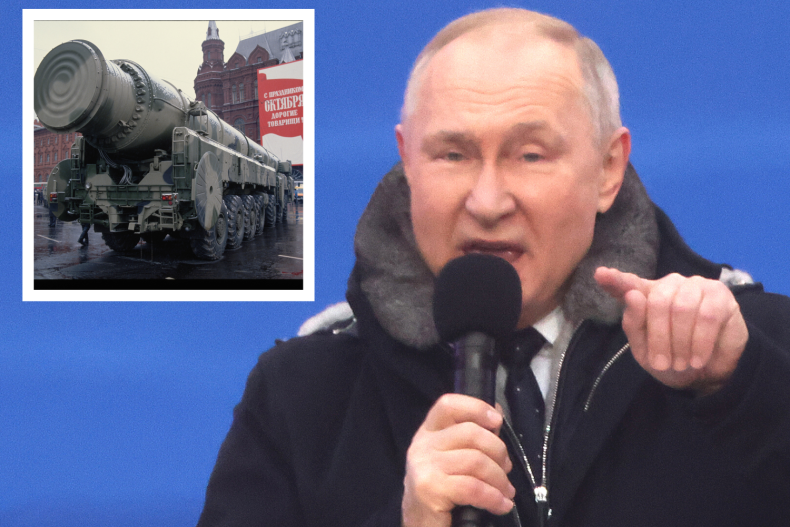 On Thursday, Putin said the missile developed in 2018 will be deployed this year, according to reports by Reuters and Al-Jazeera.
"We pay special attention, as before, to strengthening the nuclear triad," Putin said in a state-televised address on Thursday to mark Defender of the Fatherland Day, known in Soviet Union times as Red Army Day. "This year, the first launchers of the Sarmat missile system will be put on combat duty."
U.S. Secretary of State Antony Blinken maligned the decision.
"The announcement by Russia that it's suspending participation in New START is deeply unfortunate and irresponsible," Blinken said Tuesday at the U.S. Embassy in Athens, Greece. "We'll be watching carefully to see what Russia actually does. We'll, of course, make sure that in any event we are postured appropriately for the security of our own country and that of our allies."
The RS-28 Sarmat ICBM, code-named "Satan 2" by NATO, was developed by the JSC Makeyev Design Bureau and replaced the R-36 Voevoda, code-named "Satan."
JSC CEO Vladimir Degtyar last summer told Russian state-owned news agency Tass that the Sarmat missile "has no equals in the world" and "will leave its silo under any conditions and fulfill its task with 100 percent certainty."
The missile is 116 feet long, weighs 220 tons and can reportedly carry up to 15 light nuclear warheads as part of an MIRV (Multiple Independently Targetable Re-Entry Vehicles), according to the Center for Strategic and International Studies.
The "Satan 2" has an estimated range of between 6,200 and 11,180 miles (10,000 to 18,000 kilometers).
The U.S. LGM-30 Minuteman missile in comparison weighs about 79,400 pounds and has a 5.5-foot diameter, about 4 feet smaller than the Satan 2. The Minuteman can travel about 8,100 miles (13,000 kilometers).
The 'L' in LGM is the Department of Defense designation for silo-launched; 'G' means surface attack; and 'M' stands for guided missile, while the 30 stands for the Minuteman series of missile and the G after "30" is the current Minuteman III.
A U.S. Air Force spokesperson told Newsweek that the current ICBM force consists of 400 Minuteman III missiles at the 90th Missile Wing at F.E. Warren AFB, Wyoming; the 341st Missile Wing at Malmstrom Air Force Base, Montana; and the 91st Missile Wing at Minot Air Force Base, North Dakota.
The active-force inventory is 400, with no missiles available for reserves or the Air National Guard. Figures haven't changed since last September.
The Federation of American Scientists think tank reported in 2022 that Putin has 5,977 nuclear warheads in his arsenal. The U.S. has 5,428 and, together, the two nations own about 90 percent of the world's nuclear warheads.