Putin's Top Ally in Europe Disappoints Him Once Again
Hungary, a NATO member, is expected to vote in favor of Sweden joining the military bloc.
Russian President Vladimir Putin has said preventing NATO's expansion was one of the reasons for invading Ukraine.
Hungarian Prime Minister Viktor Orbán, a longtime Putin ally, has pushed back against EU sanctions against Moscow. He has also criticized NATO's military support of Ukraine.
Hungary, the European Union country most aligned with Vladimir Putin, is set to make a move that goes against the Russian president's agenda.
On Tuesday, Deputy Speaker of the Hungarian Parliament Csaba Hende told reporters that his country is expected to vote in favor of Sweden joining NATO. Allowing the country into the military bloc would be a major blow against Putin, who has cited the prevention of NATO expansion as one of his reasons for starting the war in Ukraine.
Hungarian Prime Minister Viktor Orbán has long been a staunch ally of the Russian leader. He has publicly pushed back against EU sanctions designed to punish Moscow for the war in Ukraine and has tried to thwart NATO's military support of Kyiv.
Orbán has previously said that Hungary, which is a NATO member, had reservations about the recent bids by Sweden and Finland to join the alliance. However, Hende—who is in Orbán's right-wing Fidesz party—now says Hungary supports at least one of those bids.
"We made it clear that the Hungarian government, the Hungarian president, the prime minister and most of the Hungarian parliamentarians clearly support Swedish NATO membership," Hende told the Swedish news agency TT, according to the Associated Press.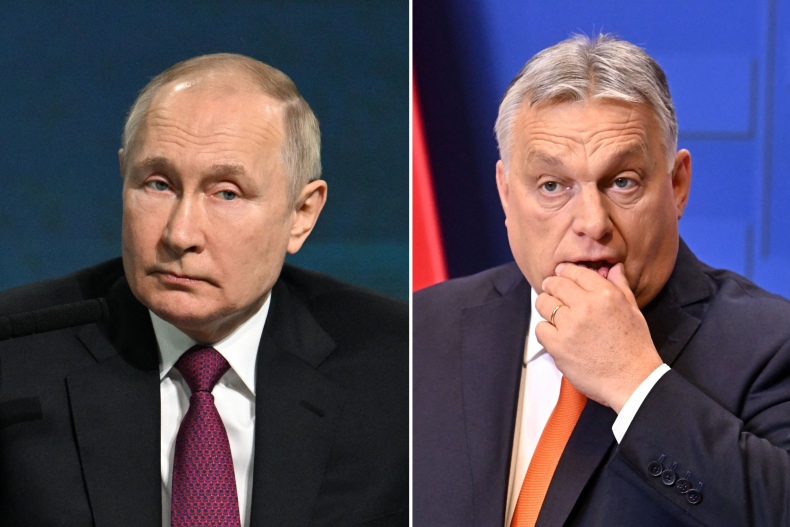 Along with speaking out against the EU sanctions against Russia, Orbán has shown his solidarity with Putin by referring to Ukrainian President Volodymyr Zelensky as an "opponent" weeks after Russian forces invaded Ukraine in February 2022.
Yet Orbán's actual support for Putin doesn't always match his public statements, according to some. William Reno, a professor and the chair of the political science department at Northwestern University, told Newsweek in a story on Orbán that the prime minister doesn't always follow through on his words.
"Orbán threatens to block EU and NATO assistance to Ukraine but usually drops veto threats at the last minute," Reno said.
Meanwhile, there's some uncertainty about how much weight Putin truly puts on NATO expansion, at least in terms of it being a cause for starting the invasion.
John Spencer, a retired U.S. Army major and chair of Urban Warfare Studies at the Madison Policy Forum, told Newsweek that he doesn't believe Putin's statements about NATO expansion.
"I think that's just a false narrative," Spencer said. If expansion truly was a reason for the Ukraine invasion, Putin will have "grossly lost" once Finland and Sweden join the alliance, especially given that the former shares an 830-mile border with Russia, he said.
Hende's comments about Budapest ratifying Sweden's NATO bid came after he met with members of the Swedish government in Stockholm. He said Hungary's vote on the matter is expected to take place near the end of March. Hende and his delegation are expected to visit Finland soon.
The Associated Press reported that NATO Secretary-General Jens Stoltenberg was asked about Hende's remarks by reporters in Brussels.
"They are sending a positive message and recommending ratification. So, of course, we still have some way to go, but we are making progress," Stoltenberg said.
Newsweek reached out to the Russian Ministry of Foreign Affairs via email for comment.