Is Viktor Orban Putin's Greatest Hope?
Hungarian Prime Minister Viktor Orban has consistently sought to disrupt the EU's sanctions against Moscow and NATO's military support of Kyiv.
He has hinted that the matter of NATO expansion is not resolved and his rhetoric has spread uncertainty in the alliance.
So, does Orban offer Vladimir Putin hope for dividing Europe and NATO—or will he fall in line with the countries that pay Hungary's bills?
Hungarian Prime Minister Viktor Orban is a troublesome ally. The populist has spent much of 12-year stint railing against his partners and allies in the European Union and NATO, cultivating ties with their strategic adversaries, and reveling in the outrage of liberal mainstream media at home and abroad.
Orban's mutinous rhetoric—and his regular expressions of sympathy for Moscow—has taken on new weight since Russian President Vladimir Putin ordered his troops into Ukraine on February 24, 2022. In the 12 months since, Budapest has consistently sought to disrupt the EU's sanctions retaliation against Moscow and NATO's ever-expanding military support of Kyiv.
As Hungarian parliamentarians begin deliberations on the expansion of NATO to include Finland and Sweden—which could prove one of the most significant consequences of Russia's war—Orban now has another chance to derail Western strategy.
Hungary's National Assembly—dominated by Orban's right-wing Fidesz party—is expected this week to start the approval process, though the Finnish and Swedish bids will be discussed separately. Repeated delays, which Orban critics have claimed are efforts by Budapest to gain more leverage, mean a final vote will not be taken until later this month.
Turkey, not Hungary, is causing most of the uncertainty around NATO's expansion, and Hungarian lawmakers are eventually expected to give the green light. But amid the constant delays in Budapest, Orban and his allies have hinted that the matter is not resolved.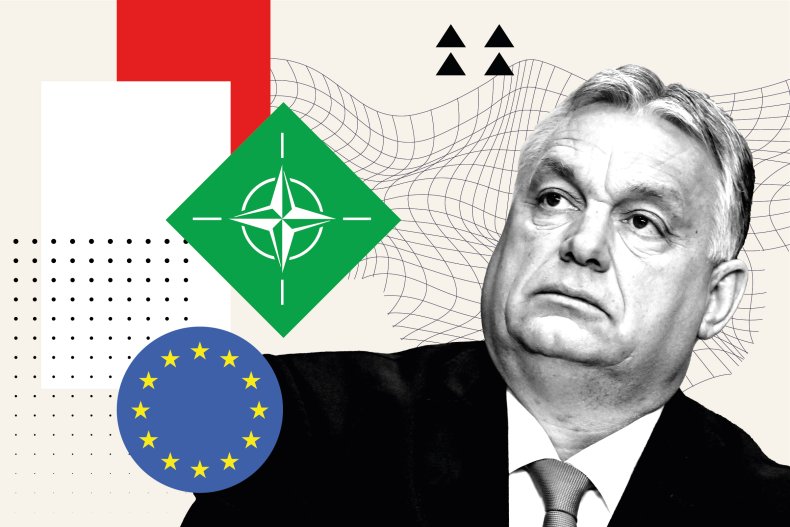 A 'Disloyal' Ally
On Friday, Orban said in an interview that "while we support Sweden and Finland's accession to NATO in principle, we first need to have some serious discussions."
Stockholm and Helsinki have been central to the EU's efforts to rein in Orban's degradation of Hungarian democratic institutions in recent years, a fact the prime minister has not forgotten.
"How, this argument runs, can anyone want to be our ally in a military system while they're shamelessly spreading lies about Hungary?" Orban said.
Some $23 billion is at stake for Budapest—EU funds frozen over concerns related to judicial independence, academic freedom, the rights of LGBTQ people and Hungary's asylum system. Another $6 billion in grants from the EU's COVID-19 recovery fund has also been tied to Hungarian reform.
Kimmo Kiljunen, an MP representing Finland's Social Democratic Party—to which Prime Minister Sanna Marin belongs—and a member of parliament's defense and foreign affairs committees, told Newsweek he believes past disputes are the crux of the Hungarian hold-up.
"Last autumn, they had already scheduled the discussion of the membership," Kiljunen, who also chairs the Finnish Delegation to the Council of Europe, said, recalling that Hungarian colleagues explained previous delays by citing the avalanche of legislative work needed to satisfy EU rule of law concerns.
"That was a hidden message to us. Finland has been one of the leading countries, and during its own presidency these rule of law issues and the related conditionalities were top of the agenda for the EU....My feeling is that the delay by Hungary, and I'm sorry to say so, is purposeful."
Ultimately Kiljunen remains positive.
"Principally, I cannot see that happening at all," he said of the suggestion that Budapest will sink Finland's bid. "Particularly because they have so many times convinced our authorities, our members of parliament—we have been in constant contact. I am quite sure they will eventually sign it."
Indeed, while loud, Orban's protests against sanctions, weapons provisions to Ukraine and the continuation of Kyiv's fighting defense have rarely proved substantive.
"We should not overestimate Orban's role in the whole conflict," Peter Kreko, a Hungarian political scientist and the director of the Political Capital institute, told Newsweek. "Orban, even if reluctantly, has mainly been following this unified Western response. His rhetoric is a bit misleading.
"Yes, he removed some names from the sanctions list, including Patriarch Kirill, including some Russian oligarchs. But voting for 10 rounds of sanctions while speaking out against the sanctions is a bit of a contradiction. Threatening the elevation of the sanctions is a constant part of the increasingly bitter fight between the European Commission and the Hungarian government."
Orban has long been criticized as a Putin ally, a Trojan horse for Moscow's influence within the EU and NATO. The prime minister has done plenty to burnish this reputation since last February, describing Ukrainian President Volodymyr Zelensky as an "opponent," calling for a ceasefire and peace talks against the wishes of Kyiv and its Western backers, and declaring that EU sanctions on Russia have failed.
"In times of war, rhetoric matters a lot," Kreko said. "He shaped the Hungarian public opinion in a direction where it became much more receptive to Russian conspiracy theories....In the European Council, in the EU more broadly, and in NATO he is regarded as somewhat of a disloyal ally.
"It's fair to say that when it comes to diplomacy, when it comes to rhetoric, Orban is clearly speaking out against Western unity. But when you take a look at the actions, it makes the situation more nuanced. I don't think Orban has been a very effective spoiler, and I don't think he could really alter the Western response....I don't think Putin has a very useful ally in him."
Putin's Best Hope?
While some observers question how much Orban's allegiance might actually serve Putin, the prime minister has remained vocal in his support for Russia while claiming Ukraine's Western allies escalated the war.
During his state-of-the-nation address on February 18, Orban vowed to maintain relations with Russia and said "the West didn't isolate the conflict [in Ukraine] but elevated it to a pan-European level.
"We are maintaining our economic relationship with Russia, and in fact, we recommend that the entire Western world do the same, because, without relations, there will not be a ceasefire nor peace talks."
Mujtaba Rahman, Europe managing director at Eurasia Group, told Reuters in a February 24 story that much of Orban's political maneuvers are likely made in part to appease partners like Russia, which is one of Hungary's biggest energy suppliers.
Orban has spent the past year trying "to undermine support for the EU, NATO and Ukraine and brainwash the Hungarian public into supporting Russia," Rahman said. "In short, it's a political charade."
Michael Kimmage, who previously held the Russia/Ukraine portfolio on the State Department's policy planning staff, told Newsweek that "Orban's game is definitely much more about domestic politics than foreign policy when it comes to Ukraine."
Kimmage cited the presence of western Ukraine's ethnic Hungarian minority as an audience for Orban's rhetoric and his brand of nationalism.
The Hungarian-speaking Ukrainian group is "an issue that pushes Orban a bit against the Ukrainian government," he said. "I think, more than anything, he just needs that sort of aura of being against Brussels, being against the EU."
However, Kimmage added, "Hungarians are not deeply pro-Russian."
Orban's influence also faces a limit, which Kimmage said is partially Putin's doing.
"In this sense, Putin is kind of a victim of his own perspective," he said. "He kind of sees the world as composed of a handful of great powers—the United States, Russia, China—and he tends to look at these smaller countries as pawns on the chessboard. So maybe that's a constraint in terms of how much he can get out of Hungary."
William Reno, professor and chair of the political science department at Northwestern University, told Newsweek that ultimately "Orban doesn't offer Putin much hope for dividing Europe and NATO."
"Orban threatens to block EU and NATO assistance to Ukraine but usually drops veto threats at the last minute," Reno said, noting Hungary's economic dependence on the EU.
Despite Hungary recently announcing it will not allow lethal weapons to pass through its territory to Ukraine and Orban's "skeptical noises about NATO enlargement," Reno feels the prime minister won't risk upsetting Europe by blocking Ukraine aid.
"Orban knows who pays Hungary's bills," he said.