The Real Game Turkey Is Playing With NATO
Deteriorating Turkish-Swedish ties have imperiled the proposed expansion of the NATO transatlantic alliance, which stands as one of the most significant geopolitical changes prompted by Russia's ongoing full-scale invasion of Ukraine.
A standoff over Sweden's tolerance of domestic Kurdish activist organizations has descended into a fierce culture war, following controversial protests in Stockholm during which a far-right politician burned a Quran and supporters of militant Kurdish groups, considered terrorist in Turkey, marched through the capital.
"They won't see any support from us on the NATO issue," Turkish President Recep Tayyip Erdogan said after the protests. Ankara also suspended trilateral Sweden-Turkey-Finland talks designed to address obstacles to Turkish ratification of the proposed dual accession.
Now juggling the emergency response to catastrophic earthquakes and facing an expectedly tight election contest in May, Erdogan has shown no indication of reviving the NATO issue. It now appears there will be no resolution on Finnish-Swedish accession until after the coming presidential and parliamentary polls.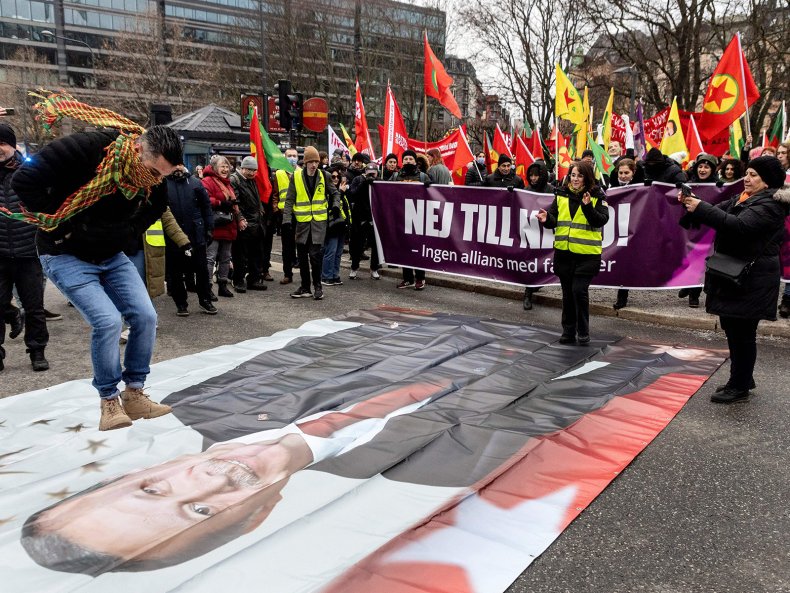 What is proving a frustrating delay for Sweden and Finland might offer opportunities for Turkey. Erdogan, who has earned a reputation as a cunning opportunist, will likely be looking to leverage NATO's discomfort.
Most observers believe Sweden and Finland will eventually join the alliance, but it is hard to judge the length of the delay. Many leaders hoped 2022's NATO summit in Madrid would be a baptism of the two new members, but now they are looking to the alliance's July meeting in Vilnius, Lithuania.
"Things will fall into place, with full membership for both, likely in Vilnius in early July," Alexander Stubb, Finland's former prime minister, wrote on Twitter in January. "Both countries are analysing all possible options, but base case still the same—join NATO together. There is no point to react to hypotheticals. Both ratifications are still pending."
Meanwhile, Swedish, Finnish, and American officials will be mulling how to win Erdogan—or his successor—over.
Kimmo Kiljunen, an MP representing Finland's Social Democratic Party—to which Prime Minister Sanna Marin belongs—and a member of parliament's defense and foreign affairs committees, told Newsweek the deadlock is about Ankara.
"The leading politicians on this issue have the very clear opinion that actually it's not about Swedish terrorist laws or anything else," said Kiljunen, who also chairs the Finnish Delegation to the Council of Europe. "This is a process where Turkey is trying to get more and more concessions by delaying and delaying."
Kurdish Conundrum
Turkey has railed against NATO allies that harbor Kurdish activists and groups considered terrorists by Ankara. Stockholm has long been a center for exiled Kurdish organizations, and a fundraising hotspot for militant Kurdish groups fighting in Syria and the Kurdistan Workers' Party (PKK) that has waged a decades-long guerrilla campaign in Turkey. The U.S. and EU also list the PKK as a terrorist organization.
Sweden has already tightened its anti-terror legislation to help crack down on militant groups, lifted a 2019 arms embargo on Turkey, and extradited at least one terrorism suspect. Rich Outzen, a non-resident senior fellow at the Atlantic Council think tank, wrote in January that Ankara wants more.
"Stockholm's progress has not met the minimum expectations in Ankara, which wants more and faster extraditions, as well as action against public pro-PKK activities," Outzen wrote. "With accession the sole lever for gains in Sweden's counter-PKK efforts, the Turks will not approve accession without more substantive progress."
The negotiations will influence the situation in Syria, where the PKK-linked People's Defense Units (YPG)—which proved vital allies of the U.S. and NATO in their fight against the Islamic State group (ISIS)—still hold swathes of land along the Turkish border under the umbrella Syrian Democratic Forces coalition. Turkey has long threatened a new offensive into Kurdish-held territory and may look to blunt protests from NATO allies by tying any planned operations to its approval for accession.
NATO Culture War
The extradition issue is a thorny one. Turkey is also still hunting those affiliated with U.S.-based preacher Fethullah Gülen, whom Ankara blames for a failed 2016 coup. In January, Sweden's highest court refused an extradition request for journalist Bülent Keneş, who Turkey claims was one of the coup plotters. Since the failed coup on July 15, 2016, more than 300,000 people have been arrested in Turkey over suspected ties to Gülen.
"Turkey both confirms that we have done what we said we would do, but they also say that they want things that we cannot or do not want to give them," said Ulf Kristersson, Sweden's prime minister. Extradition issues, he added, were "handled within Swedish law."
The fury over the Stockholm Quran burning have exacerbated the already charged situation. Erdogan has demanded that Sweden criminalize such acts. "As long as you allow my holy book, the Quran, to be burned and torn, and you do so together with your security forces, we will not say 'yes' to your entry into NATO," Erdogan said in a speech on February 1.
Swedish politicians have distanced themselves from the protests and condemned the action, but Foreign Minister Tobias Billstrom stressed that "religion is not part of the agreement" reached with Ankara on NATO accession.
Meanwhile, Swedish police have reported an uptick in threats. "The development means that Sweden is expected to be in greater focus than before for violence-promoting Islamism globally," police said in a statement released on Wednesday.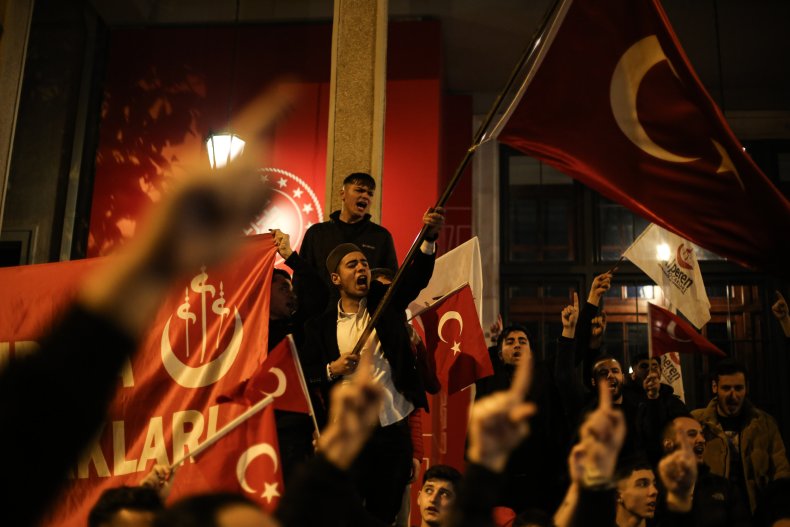 A January poll by the Dagens Nyheter daily showed little appetite for compromise among Swedish voters. The country should abide by its own laws even if it means delaying NATO accession, 79 percent of respondents said, versus 10 percent who said Stockholm should pursue membership as fast as possible regardless of legal concessions.
The Swedish right has been urging Kristersson not to bow to Ankara's threats. Aron Emilsson, a member of parliament for the right-wing Sweden Democrats, which support the government coalition, and the party's foreign affairs spokesperson, told Newsweek that the diplomatic freeze with Turkey was "regrettable."
"However, Sweden's security and resilience, together with our unwavering support for freedom of speech, is the most important thing to us," Emilsson added. "We will never bow to Islamist forces, hybrid threats or pressures regardless of whether they come from foreign or domestic political interests."
Kiljunen said the debate raises pressing questions about NATO ideologies. "It's a value-driven organization: human rights, democracy, the rule of law," he said. "Why should we reduce our standards on those values in order to join NATO?"
U.S. F-16s
The U.S. has publicly tried to separate itself from the trilateral negotiations, framing the accession as an issue only for Sweden, Finland and Turkey. But Turkey's longstanding request for new F-16 fighter jets and upgrade kits for its existing fleet have become tied up in NATO enlargement. The White House asked Congress to approve the $20 billion deal in January.
But some U.S. lawmakers are looking to head off any play from Ankara on this front, vowing that no F-16 sales to Turkey would be approved until Swedish-Finnish accession is confirmed.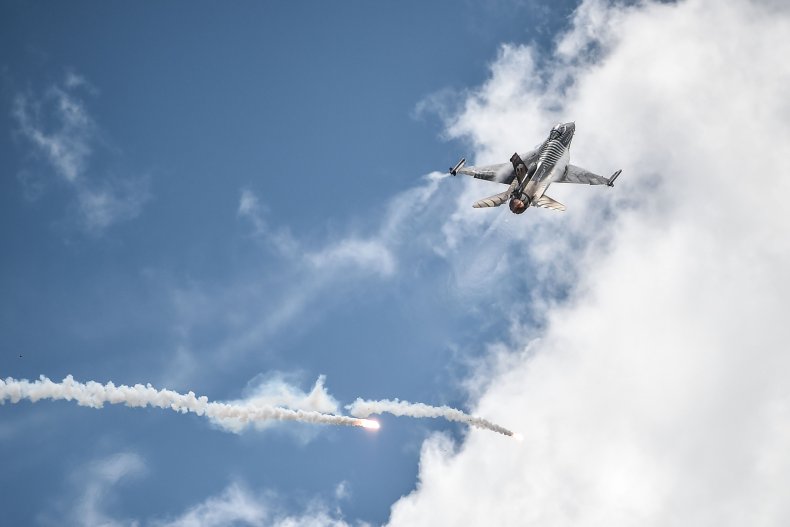 "Once the NATO accession protocols are ratified by [Turkey], Congress can consider the sale of F-16 fighter jets," Sens. Jeanne Shaheen (D-NH) and Thom Tillis (R-NC) wrote in a recent letter to President Joe Biden, which was also signed by a bipartisan group of 25 additional senators. "A failure to do so, however, would call into question this pending sale."
Turkish Defense Minister Hulusi Akar, cited by daily Milliyet, said the F-16 was not his country's only option, adding: "We expect common sense to prevail, for the United States to evaluate the issue as a whole and decide, and act accordingly."
Other bilateral issues may also seep into the enlargement debate. In 2022, Erdogan complained that the U.S. had given unfair preference to Greece over simmering tensions between the two Aegean neighbors.
Talks are also still ongoing over Turkey's removal from the F-35 fighter jet program. Ankara had ordered more than 100 of the fifth-generation fighters but was excluded from the project after its purchase of S-400 anti-aircraft systems from Russia, a move the U.S. said endangered classified information about the F-35.
Election Season
Erdogan and his Justice and Development Party have long maintained national security as a central plank of its electoral offering. May's looming parliamentary and presidential elections will likely be no different—though those contests may now be overshadowed by the devastating earthquakes this this week struck the southeast of the country, killing thousands.
Erodgan is likely to play up his crackdown on Kurdish militant groups, his pursuit of Gülen's network and his defense of Islam to appeal to voters. A Twitter poll conducted by state-run Anadolu Agency in late January showed that 92 percent of respondents opposed Swedish accession following the Quran burning and PKK protests.
Turkey's six-party opposition has yet to name its nominee to lead the challenge against Erdogan in May, but it could be a political risk to break with the government's established and seemingly popular block on Swedish NATO membership. Even if Erdogan is defeated, there is no guarantee of a quick change of course.
"This is a campaign issue," Kiljunen said, urging patience in Helsinki and Stockholm rather than kneejerk concessions.
Emilsson concurred. "We need to be patient," he said. "Erdogan says one thing today with the Turkish election coming up and may say another thing tomorrow."
"We see it as a delay, but not as a closed door. Twenty-eight out of 30 NATO countries have ratified Sweden's and Finland's application in unparalleled short time, and we know that Sweden's and Finland's contribution to NATO is welcome."