Politician Who Sparked Swedish Riots Plans to Burn More Qurans
After a weekend of riots in Sweden that followed anti-Muslim rallies by far-right politician Rasmus Paludan, he said that he intended to burn more copies of the Quran.
Riots broke out across several cities in southern Sweden on Friday and continued through the Easter weekend in response to anti-Islam rallies hosted by Paludan, the leader of the Danish far-right political party Stram Kurs. At these events, Paludan burned several copies of the Quran, the holy text of the Islamic faith. Paludan posted photos of the acts to the party's Facebook page, where he made the pledge to burn more, CNN reported.
Swedish authorities reported that 26 police officers and 14 members of the public were injured in riots on Friday in the cities of Linköping and Norrköping, where Paludan had planned to hold more events. A total of 26 people were arrested in the two cities, including four minors. At least three people were injured and required medical attention in Norrköping. Other instances of unrest were reported in Stockholm, Orebro, Landskrona and Malmo.
"Three people seem to have been hit by ricochets and are now being cared for in hospital," local police wrote in an online statement. "All three injured are arrested on suspicion of crime."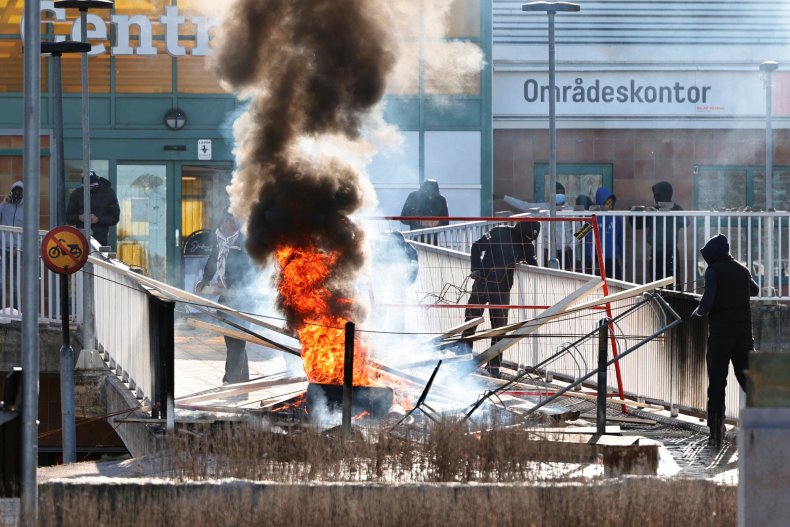 Police are currently investigating whether the riots broke out in response to the planned Quran burnings or for another reason. A police spokesperson told CNN that people with "links to criminal gangs" are suspected of using the heated situation to cause trouble. They also confirmed reports that officers used weapons on rioters, though did not confirm the use of teargas.
"What happened in Linköping and Norrköping is completely reprehensible and will never be accepted," Swedish National Police Chief Anders Thornberg said in a statement. "I have made sure that the employees who were injured have been taken care of. We live in a democratic society and one of the most important tasks of the police is to ensure that people can use their constitutionally protected rights to demonstrate and express their opinion. The police should not choose who has that right, but always intervene if a crime occurs."
In a Facebook post, Paludan said that events planned in the two cities had been canceled over concerns that local police would be "completely incapable of protecting themselves and me," The Washington Post reported.
"If I was seriously injured or killed due to the inadequacy of the police authority, then it would be very sad for Swedes, Danes and other northerners," Paludan's statement read.
Newsweek reached out to Stram Kurs for comment.