Python Strangles Forest Officer as He Poses For Selfie With It Wrapped Around His Neck
An Indian forest ranger was almost strangled to death by an 18-foot python in West Bengal after he placed it on his shoulders and posed for a selfie.
In a video of the incident, Sanjoy Dutta, a forest ranger from Baikunthapur Forest, in Jalpaiguri, can be seen draping the enormous snake across his shoulders as he posed for selfies and photos while surrounded by dozens of locals. Suddenly, the reptile wrapped its body around his neck and attempted to strangle him.
The crowd screamed in horror as the snake tightened its grip before another ranger pulled on its tail, forcing it to release Dutta. The ranger managed to escape unharmed, and unperturbed, by the incident. "Leave it, nothing will happen," he said in the footage while he walked away.
Moments earlier, Dutta had just saved the python from a village in West Bengal. The reptile was later released into a forest.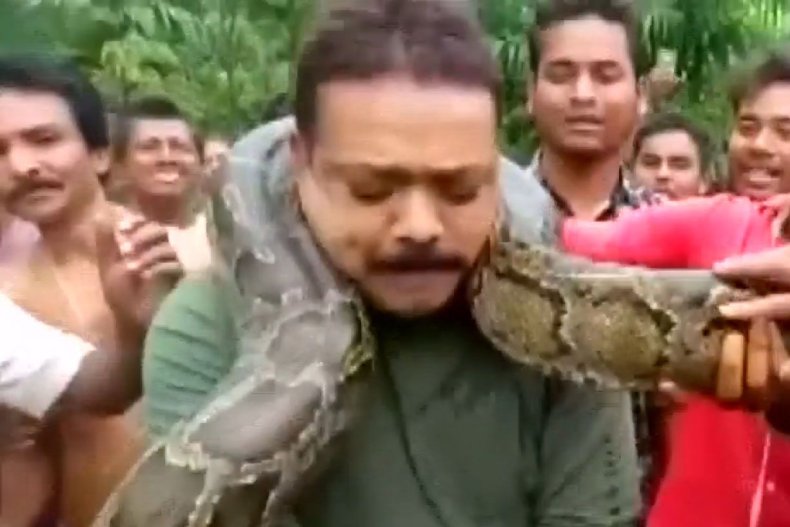 Ravi Kant Sinha, the state's chief wildlife warden, criticized Dutta for placing the snake on his shoulders, saying it set a bad example. "It is not justified. If forest officers do such tricks, who will stop the common people from following them?" he said, SDE News reported
State Forest Minister Binay Krishna Barman echoed the sentiment. "This officer is very enthusiastic. Care should be taken during rescues or he will invite danger," he said.
In a similar incident last week, the body of an Indonesian woman was cut out of a 23-foot python after it swallowed her whole. Wa Tiba, 54, disappeared near a vegetable plot, where authorities found the snake that had devoured her.
"Residents were suspicious the snake swallowed the victim, so they killed it, then carried it out of the garden," local police chief Hamka told Agence France-Presse. (Like many Indonesians, he has only one name.) "The snake's belly was cut open, and the body of the victim was found inside."