With the 2022 midterms still nearly 18 months away, there are already nearly two dozen congressional candidates who have been linked to the QAnon conspiracy theory, with the final figure expected to rise further.
According to analysis from Media Matters, there are currently 21 candidates who have either openly expressed support or promoted the radical movement which believes there exists a secret cabal of high profile Satanic, child-eating pedophiles and that their savior-like figure of Donald Trump will still somehow return as president.
Among the current list of congressional candidates are two incumbents running for re-election—Rep. Lauren Boebert from Colorado and Rep. Marjorie Taylor Greene from Georgia. Anthony Sabatini, an incumbent member of the Florida House of Representatives and a Republican candidate running in Florida's 11th Congressional District, is also among the Media Matters list having tweeted a link to a QAnon website in May 2020.
Newsweek contacted those who have been linked to QAnon for their view on the movement and asked if they want to disavow it now they are running for office.
Of those who returned comments, most denied having any affiliation with the conspiracy theory while dismissing the reporting from Media Matters, a left-wing media organization.
Others are still unwavering in their support of the movement which the FBI lists as a domestic terrorist threat.
Greene is the most high-profile candidate to be linked to QAnon, having expressed support for it as far back as 2017. She is running again in Georgia's 14th congressional having won the last election in 2020 unopposed.
Greene has long been criticized for her support for QAnon, as well as spreading a host of other conspiracy theories including suggesting the 9/11 attacks and the school shootings at Marjory Stoneman Douglas High School in Parkland, Florida, and Sandy Hook Elementary School in Newtown, Connecticut, were fake.
She also previously said that California wildfires were started by a "Jewish space laser."
Greene has since attempted to distance herself from the conspiracy theory which began life on the fringes of the internet in late 2017. Ahead of a House vote in February to strip her of committee assignments due to her inflammatory and violent comments, Greene admitted that she believed "things that weren't true" when she started following QAnon online but now disavows the movement.
In a statement to Newsweek about her inclusion in the list of QAnon candidates, Greene's spokesman said: "Media Matters is a radical left wing activist group that continuously lies about conservatives and shouldn't be taken seriously by anyone.
"Congresswoman Greene emphatically denounced all conspiracy theories during her floor speech in February."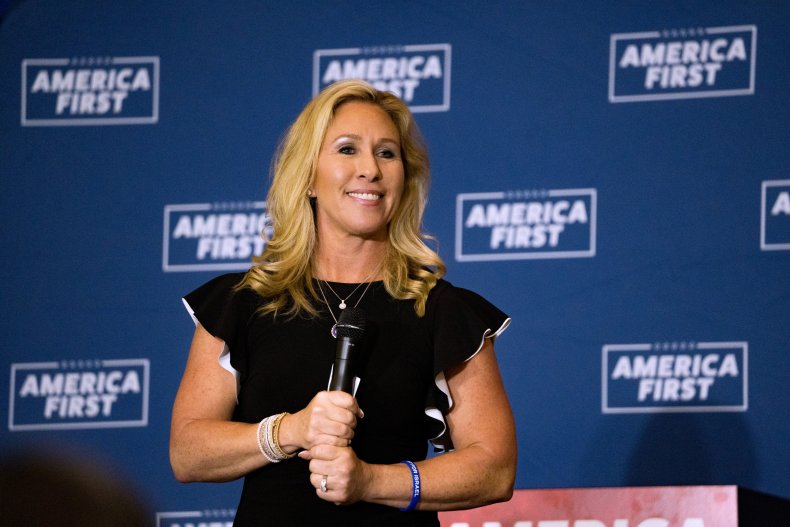 Other candidates accused of supporting QAnon dismissed Media Matters' reporting rather than QAnon when asked for comment on their inclusion.
Jo Rae Perkins is a Republican candidate running for the U.S. Senate in Oregon, where she unsuccessfully ran in 2020. Perkins is one of the most outspoken supporters of QAnon, openly expressing support for it during her previous campaign as well as tweeting phrases and slogans linked to the movement.
Perkins told Newsweek that the majority article in Media Matters was "written out of context" or is "a misstatement of facts."
She declined to comment on what aspects of the reporting—such as mentioning how she posted a video of her holding a sticker with the abbreviated QAnon slogan "WWG1WGA" (Where we go one we go all) while thanking "Q and the team" after winning the GOP candidacy, or stating in January 2020 that supporting QAnon was part of her campaign strategy—were taken out of context.
Many of the extreme beliefs and theories behind QAnon stem from thousands of coded and cryptic messages which first appeared in October 2017 on controversial message board site 4chan, before eventually appearing on 8chan and later 8kun.
The drops were written by a mysterious figure known as "Q" who claims to have a high-ranking government clearance. These messages or "drops" would be interpreted by QAnon followers to form the basis of its extreme beliefs.
Mindy Robinson, an independent candidate running in Nevada's 3rd Congressional District under the "Patriot Party of Nevada", said she is a QAnon supporter in the way she hopes to stop child trafficking and protect them from pedophiles, rather than following or decoding the "drops" on 4chan, 8chan and 8kun.
Robinson said the death of billionaire pedophile Jeffrey Epstein in August 2019, who was known to friends with a number of high profile figures, is proof that elite child abusers exist and need to be stopped.
"It is not a 'conspiracy theory' to think these people exist and that it's not prevalent in Hollywood and elitist circles," Robinson said.
"I'm pretty sure the whole Jeffrey Epstein situation proved how very real the problem was. It's also not a 'conspiracy theory' to think compromised government officials protect and cover up child sexual trafficking rings....you want to talk about how it was allowed to go on so long until Trump got into office, or how what should be the most-watched-after prisoner in the country managed to 'kill himself' while the camera magically 'malfunctions'?"
Robinson said she has no reason to disavow her support of QAnon as wanting to protect children should not be considered a dangerous thing.
"Who's it really dangerous too? Pedos, corrupt government officials, and every degenerate Hollywood celebrity on Epstein's flight logs? Honestly, all this very specific persecution and purging of Q accounts across the platforms, only proves their point that the powers that be are indeed capable of suppressing and controlling all dissenting opinions against them," she told Newsweek.
"If the Left thinks it's only 'crazy conspiracy theorists' that don't trust the government, want to protect children from sexual trafficking, and don't want to be forced to inject some untested vaccine into them....I hate to tell you this, but that's most normal people."
QAnon supporters have managed to entice people into supporting some of their more extreme beliefs with their "Save the Children'' campaigns and hashtags.
The phrase helps attract people unaware about the Satanic cannibal aspects of the conspiracy theory, despite the movement being largely ineffective against actual prevention of child sex trafficking and abuse.
Mike Cargile, a Republican candidate running in California's 35th Congressional District who ran in the same district in 2020, said the Media Matters article is "insulting," to him, but only because he feels it did not properly detail his support of QAnon and its apparent attempts to stop child trafficking.
Speaking to Newsweek, Cargile also attacked Media Matters for being partially funded by billionaire philanthropist George Soros, who is often the target of antisemitic conspiracy theories.
"Their article should have listed QAnon candidates in a hierarchy of being dangerous to the Communist Soros agenda being implemented here in the United States and I should have been at the top of the list! Not somewhere in the middle" Cargile said.
"The fact that they simply resorted to a simple alphabetical listing by State is again a portrayal of any journalistic aptitude.
"I have done interviews ad nauseam on this issue," he added. "The QAnon allegations in the areas of human/child trafficking and Satanic practices are very real and have yet to be investigated by any 'real' journalists."
Cargile also suggested that those who describe QAnon as a conspiracy theory are "not only supporters, knowingly or unknowingly, of these evil activities but may also be participants in them" as well.
"Based on the very little we know of the Epstein/Maxwell cases, you could apply that characterization to the halls of power of literally every government and industry globally.
"I close my response with a simple invitation: Prove me wrong."
Mark Pukita is a Republican candidate running for the U.S. Senate in Ohio who was reported by Media Matters to have tweeted QAnon hashtags. He has also appeared on the QAnon show RedPill78, presented by influential QAnon figure Zak Paine.
Pukita said he now denounced the conspiracy theory, claiming it was "a fictitious construct that was made public and got out of hand."
He added that the idea of "Q" is "as real as Media Matters is a legitimate media watchdog organization, which means it isn't and they aren't."
He added: "I am entertained by those who get so worked up about the whole topic of Q. It was something made up by someone who got even Congress to pay attention. Amazing.
"It's so easy to allude to 'Q' and get those on the left to become almost unhinged. It's actually a bit pathetic."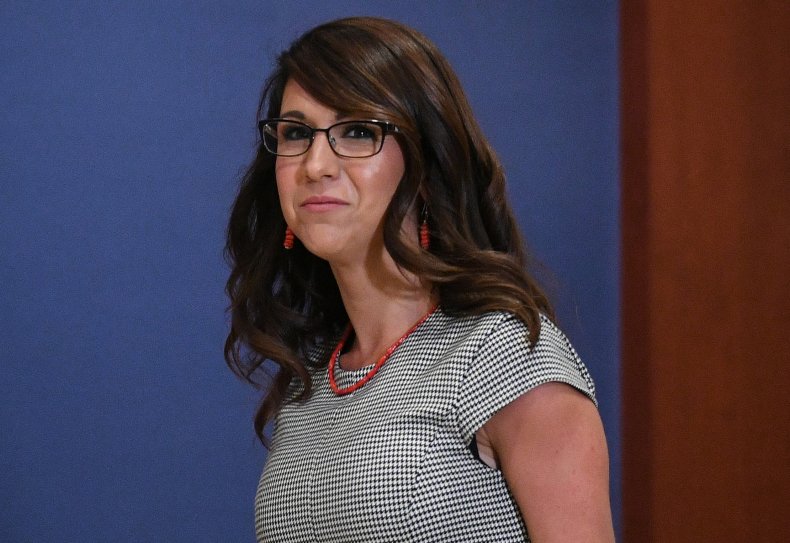 The candidate went on to suggest how the theory formed and how its supporters may be attracted to the idea of a high-ranking official secretly releasing sensitive material online.
"Q is a mental construct for someone hoping there are good people in our intelligence community. They see inappropriate behavior and are conflicted as to how to take action," he told Newsweek. "In their head, they picture these people as patriots who live by their oath to defend America.
"They are in organizations that are highly politicized and if they raise any issues about activities like unmasking, they'd be forced out. They have nowhere to go to have a candid discussion about improprieties because they don't know who to trust, especially if their direct superior isn't worthy of trust.
"So, they drop subtle hints in, let's say, staff meetings or presentations, waiting for a senior 'officer' (used loosely here as someone higher in the organization than them) to ask them to explain themselves.
"This might be someone, let's say, like the NSA Director, who is extremely booked for months in advance. Maybe years before someone understands the hints.
"Maybe someone took something like this and used it as the basis for the entire Q situation. It grew in popularity. It got out of hand."
Last year, with a HBO series on QAnon concluded that the person who played a major part in writing the messages was not someone with high-level security clearance from the government but actually Ron Watkins, the former administrator of 8kun.
There has not been a new "drop" from Q since December 8, 2020, with Watkins announcing that he would be stepping down as the 8kun administrator on Election Day in November.
Elsewhere, J.R. Majewski, a Republican candidate running in Ohio's 9th Congressional District, has also openly expressed support for QAnon, including also appearing on RedPill78 and wearing a QAnon T-shirt while appearing on a segment on Fox News.
"The QAnon conspiracy theory has about as much credibility as Media Matters. I do not subscribe to either for those obvious reasons," he told Newsweek.
Majewski made national news last year after painting his entire front lawn into a huge blue "Trump 2020" banner.