QAnon Followers Express Disappointment on Social Media After Inauguration Passes Without Incident
Followers of the extreme pro-Trump conspiracy theory QAnon expressed disappointment on Wednesday after Joe Biden was officially sworn in as the 46th President of the United Sates.
For weeks, supporters of the theory anticipated Biden's inauguration would lead to a "Great Awakening," – or a day when Donald Trump would finally expose a global network of elitists running a 'deep state' government and sex trafficking ring, and remain in office for a second term.
But when the inauguration ceremony passed without incident, some believers were left feeling cheated and disappointed by the false theory.
In QAnon chatrooms online, users wrote that they felt "sad and confused" that the plan didn't come to fruition, while others expressed anger at Trump for "failing" them.
"It's over and nothing makes sense...absolutely nothing," one user wrote.
Others expressed that the movement was "over," and urged their fellow believers to "wake up."
"It simply doesn't make sense that we all got played," said another user on one of the biggest QAnon channels on Telegram.
Even Ron Watkins – a leading figure of the movement who has been suspected to be behind the conspiracy theory itself – told his supporters to "go back to our lives" and posted a note of resignation on the messaging app Telegram Wednesday.
"We have a new president sworn in and it is our responsibility as citizens to respect the Constitution," he wrote. "As we enter into the next administration please remember all the friends and happy memories we made together over the past few years."
But others attempted to grasp at threads and simply told their fellow "anons" to hang on and wait for future, unspecified developments.
"Hold the line for a few more hours and maybe even a few more days if they pull some mystery card out and extend it to Friday," one user wrote. "Do not get discouraged by shills and negativity."
Just after Biden was sworn into office, @MajorPatriot, a prominent QAnon influencer who Trump retweeted multiple times before his account was suspended, maintained his support of the theory by writing, "We have just witnessed the biggest crime ever committed in the history of the United States all on live television."
Other accounts on Telegram even tried to spin the narrative that Biden's inauguration was part of the plan all along.
"The more I think about it, I do think it's very possible that Biden will be the one who pulls the trigger," one account wrote in a QAnon channel.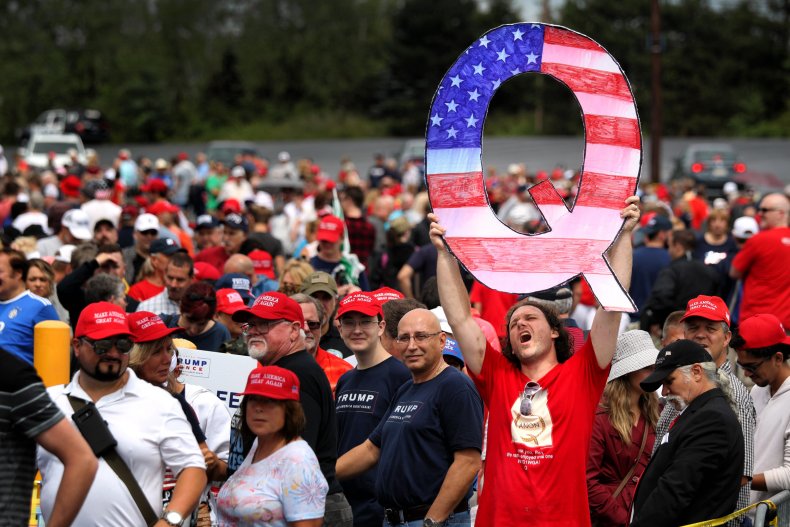 Experts have previously told Newsweek that those who ardently follow the theory are not likely to give up, and will instead adapt their mindsets to the new circumstances.
"I wish Biden's inauguration would make QAnon go away, but that's not how conspiracy theories work," Ethan Zuckerman, associate professor of public policy, communication and information at the University of Massachusetts at Amherst, told Newsweek.
"There's always a way to perpetuate the narrative even if predictions don't come true, given that this is at root a militant spiritual/religious movement. That conspiracy 'logic' has been at the root of Q posts, which began with failed prophecies," added Jack Z. Bratich, associate professor in the journalism and media studies department at Rutgers University and author of Conspiracy Panics: Political Rationality and Popular Culture.
Wednesday's inauguration passed with few disruptions, following increased security measures after deadly riots unraveled at the U.S. Capitol on January 6.
Former President Donald Trump refused to attend the ceremony and instead flew to his resort home in Palm Beach, Florida.
"We must meet this moment as the United States of America. If we do that, I guarantee you we will not fail," Biden said in an appeal to Trump supporters during his inaugural speech. "I promise you I will fight as hard for those who did not support me as for those who did."