QAnon Followers Gleeful Over Prison Term for Jacob Chansley, Call Shaman an 'Amazing Actor'
QAnon followers have reacted with glee to the sentencing of Jacob Chansley, better known as the QAnon Shaman, for his role in the storming of the Capitol—claiming he is "an amazing actor" rather than a true believer in the radical movement.
Conspiracy theorists with tens of thousands of QAnon followers on social media distanced themselves from Chansley after he was sentenced to 41 months in prison for his actions on January 6.
In a post viewed more than 10,000 times on encrypted messaging app Telegram, user Crypto Ape wrote: "Mr. Angeli [another name used by Chansley] is an amazing actor who plays whatever role his owners tell him to play."
John Sabal, known online as QAnon John, shared part of a poster for an upcoming Reno 911! comedy special called "The Hunt for QAnon," which features a character wearing Chansley's familiar horned headdress and face paint.
In a post shared with his 70,400 followers, Sabal wrote: "It's absolutely no coincidence that 'QAnon Shaman' was sentenced to 41 months in federal prison and then this gets announced? Are you f***ing kidding me?
"Not to mention he is featured on the promo. A crystal clear message is being sent here."
Other QAnon followers on Telegram speculated that Chansley was an FBI plant or an "antifa" activist sent to disrupt the protest ahead of the riot.
However, Jim Watkins—the father of Ron Watkins, who has been accused of founding the QAnon conspiracy movement—appeared to express support for Chansley.
In a Telegram post, Watkins shared a photo of himself and Chansley with the caption: "Maybe you should quit worrying on who's a patriot and who's not. Leave that to the almighty God."
Chansley is one of the hundreds of people who were charged after the violence at the Capitol. His striking appearance and photos of him inside the Senate chamber attracted widespread attention in the aftermath of January 6.
As shown in the below graphic by Statista, of the 601 people who have been charged with an offense related to the Capitol riot, 122 have pleaded guilty so far.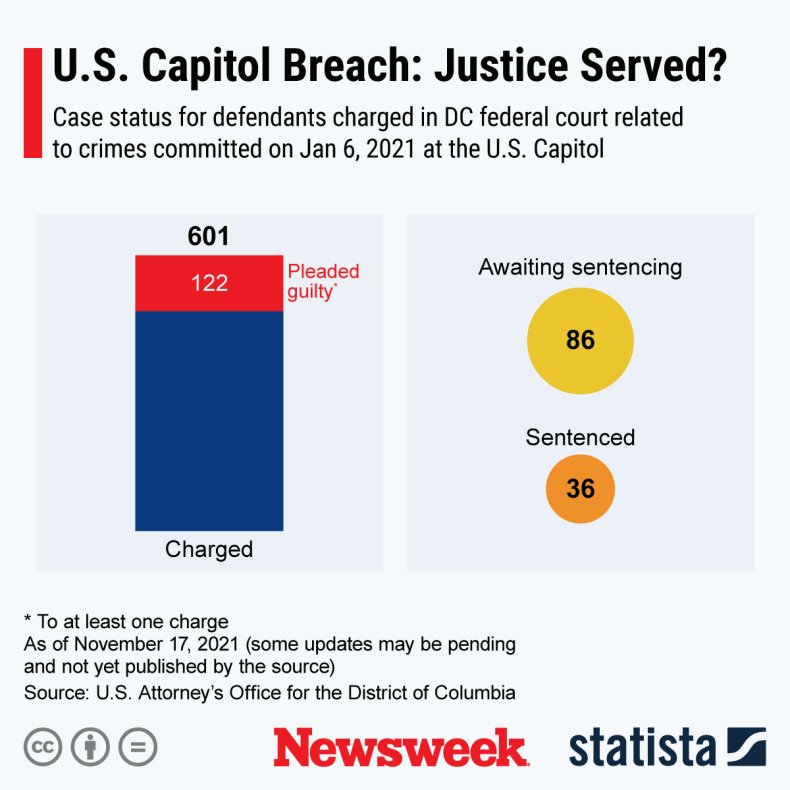 Following his arrest in January, Chansley pleaded guilty to one count of obstruction of an official proceeding, a charge that has a maximum penalty of 20 years in prison as well as a fine of $1 million.
Chansley had served nearly 320 days in solitary confinement since his arrest because of COVID-19 protocols.
During Wednesday's hearing, he said: "I may be guilty of this crime, but I am in no way, shape, or form a dangerous criminal. I am not a violent man. I am not an insurrectionist. I am certainly not a domestic terrorist. I am a good man who broke the law."
Chansley added that he believed he was "nothing like these criminals" he was incarcerated with.
Prosecutors did acknowledge that Chansley had expressed remorse, but said in the immediate aftermath of January 6 he was a "man gloating over victory in battle."