QAnon Founder Returns After Roe v. Wade Ruling: 'Remember Your Oath'
The message board user known as Q who inspired the QAnon conspiracy theory, has posted for the first time in more than 18 months.
Someone with access to Q's login credentials posted a message on 8kun, the internet community where Q last message was made in December 2020.
"Shall we play a game once more?" said the first post which was signed Q followed by the other equally cryptic messages "Are you ready to serve your country again?" followed by "remember your oath."
In response to one user's question about the long hiatus, Q replied, "it had to be done this way."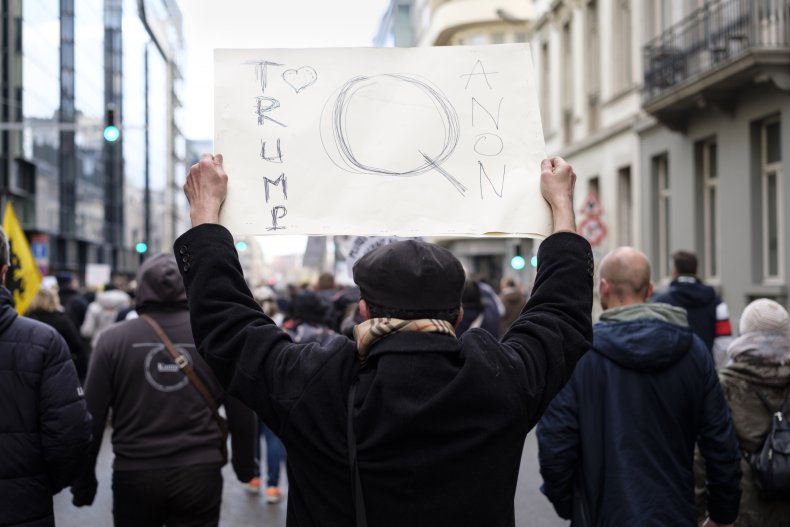 The messages were written in the same format as thousands of earlier Q posts which are known as "Q Drops" which spawned the pro-Donald Trump movement QAnon. Its followers believe the messages outline a conspiracy driven explanation of the world.
This includes the idea that Satanic, cannibalistic pedophiles in the Democratic Party, finance and other institutions are controlling the world and worked against former U.S. President Donald Trump during his term in office.
There was speculation on social media as to the timing of Q's purported return, which took place on the same day as the Supreme Court made the historic decision to eliminate the universal right to abortion.
Extremism and conspiracy theory expert Marc-André Argentino tweeted that the Q posts will "potentially have positive implications for the congressional candidates who have endorsed Q.
"This might also encourage some QAnon adherents to show up at protests and counterprotests this weekend in light of the Roe v. Wade decision."
"The timing of this is beneficial to the QAnon movement as it overlaps with Roe v. Wade being overturned," he wrote.
"The timing of this plays in favor of Q and QAnon influencers who can point to the months of failed prophecies and say see this is what we were waiting for."
QAnon was linked to the U.S. Capitol riots currently being investigated by the January 6 committee. A number of government agencies have also issued internal warnings of domestic terrorism regarding supporters of the conspiracy theory.
There are also 65 current or former congressional candidates who have supported the theory, according to Media Matters.
The watchdog groups also said the conspiracy enjoys support among a number of gubernatorial candidates in the 2022 election cycle, as well as people seeking offices that have control over state elections.
QAnon also has the backing from prominent Trump supporters, including former national security adviser Michael Flynn and MAGA lawyers Lin Wood and Sidney Powell.