QAnon-Linked GOP Candidate, Under Fire for RBG Meme, Calls Rival 'Satanist'
A Republican Senate candidate facing criticism for posting a meme about the late Supreme Court Justice Ruth Bader Ginsburg, called her Democratic rival a satanist and "baby killer" on Sunday night.
Lauren Witzke of Delaware claimed Sen. Chris Coons (D-DE) would attempt to a stop a new "pro-life" justice being nominated to the Supreme Court to replace Ginsburg following her death on Friday night.
Witzke, a GOP candidate and an alleged former QAnon conspiracy supporter, added that she was coming for Coons' seat as she faced a deluge of criticism for making "classless" remarks about Ginsburg less than a week after winning the Delaware GOP primary.
"[Chris Coons] is going to do everything in his power to STOP the confirmation of our new PRO-LIFE SCOTUS," Witzke tweeted. "When I called Chris Coons a 'Christian-hating baby killer' — I was 100% correct. I'm coming for your seat, Satanist."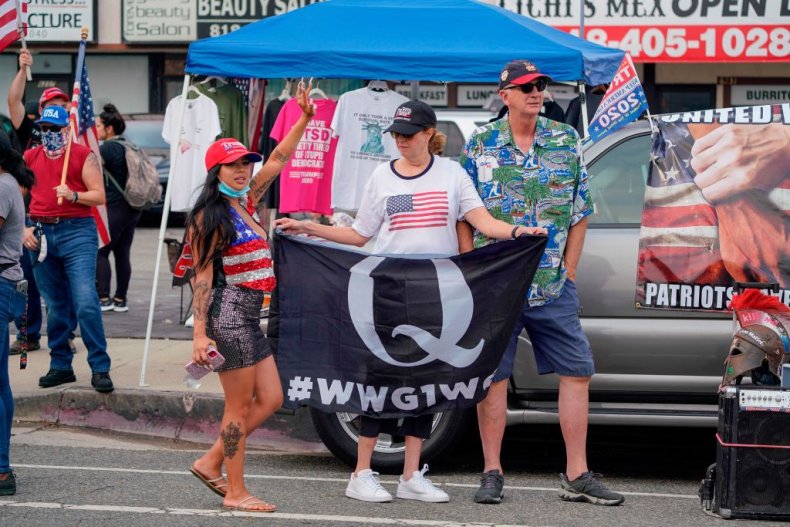 A day earlier, Witzke posted a meme of Black children dancing with the caption "Black babies when Ruth Vader Ginsburg [sic] dies," less than 24 hours after the Supreme Court justice died from pancreatic cancer.
In a Facebook message posted with the meme, Witzke accused the 87-year-old of having an "obsession with abortion" that singled out minority groups. Ginsburg backed abortion rights at her confirmation hearing, but there is no evidence that she particularly wanted BAME groups to have abortions.
"Tens of millions of black and brown babies never got a chance at life because of Ruth Bader Ginsberg [sic]," Witzke said. "If elected, I pledge I will only ever vote to confirm a pro life justice to the Supreme Court."
The Delaware News Journal reported that the candidate later removed the post before re-uploading her message without the meme alongside it. Witzke said that she had removed her initial post because of "repeated threats" to reveal personal information about her and her family.
"I stand unapologetically pro-life and I stand behind my campaign's criticisms of Ruth Bader Ginsburg," she later added. "With that being said: I am taking back full control of my Facebook page, in order to ensure that our message comes across as intended."
The Republican candidate's now-deleted original post drew a lot of criticism from local voters, with the News Journal reporting that commenters called Witzke "an embarrassment" and "classless" over the remarks.
Her updated post without the meme has attracted mixed messages of support and condemnation.
Newsweek has contacted Witzke and the campaign of Sen. Coons for comment. This article will be updated with any responses.