QAnon Shaman Jacob Chansley, From Jail, Calls Senate Sacred Space, Says He Stopped People Stealing Muffins
Jacob Chansley, the pro-Trump rioter dubbed the "QAnon Shaman," described the Senate as a sacred space, and claimed he stopped other rioters from stealing muffins during the insurrection in a new interview from jail.
In the wake of the January 6 insurrection by former President Donald Trump's supporters, a bare-chested Chansley wearing a horned headdress and animal skins with a painted face and holding a spear with an American flag attached has become one of the most iconic images of the attack on the U.S. Capitol.
In a new interview with 60 Minutes Plus, Chansley—also known as Jake Angeli—pushed back against allegations that he was carrying out an attack, insisting he just prayed and sang a song. Clips of the interview aired on Thursday during a segment of CBS News This Morning.
"My actions were not an attack on this country. That is incorrect. That is inaccurate, entirely," Chansley insisted.
"My actions on January 6? How would I describe them? Well, I sang a song, and that's a part of Shamanism. It's about creating positive vibrations in a sacred chamber. I also stopped people from stealing and vandalizing that sacred space, the Senate. OK, I actually stopped somebody from stealing muffins out of the break room. I also said a prayer in that sacred chamber because it was my intention to bring divinity and to bring God back into the Senate," the Trump supporter added.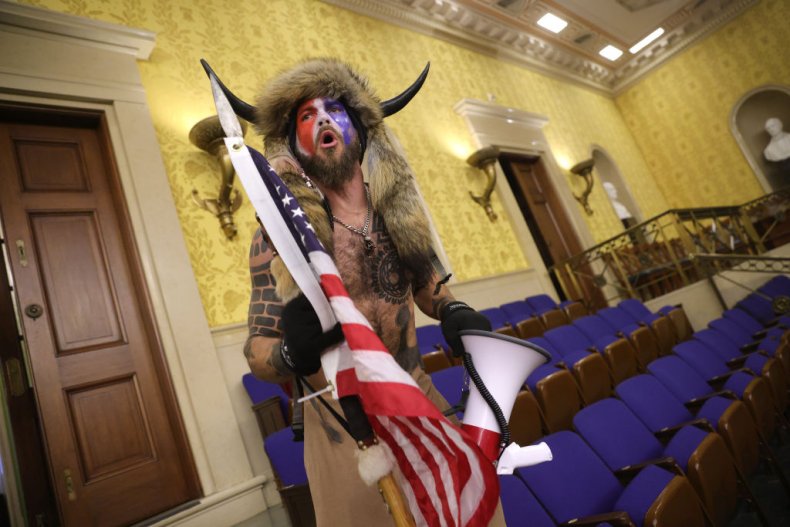 Chansley said entering the Senate chamber was the "one very serious regret" that he has. He said that he believed "when we were waved in by police officers that it was acceptable."
"I consider myself a lover of my country. I consider myself a believer in the Constitution. I consider myself a believer in truth and our founding principles. I consider myself a believer in God," he said, when asked if he considers himself "a patriot."
The Capitol rioter explained that he "developed a lot of sympathy for Donald Trump" because he felt that the media and "the establishment" were "picking on" and "going after" the former president "unfairly." Chansley said he's been "a victim of that" all of his life "whether it be at school or at home." He said he personally identifies with the former president in many ways.
"And I honestly believe, and still believe, that he cares about the Constitution, that he cares about the American people," Chansley said. He explained that the fact that Trump did not give him and other rioters a pardon "wounded him "deeply."
Although Chanlsey said he regrets entering the Capitol with "every fiber" of his being, he said that he does not regret his loyalty to Trump.
Chansley's attorney, Albert Watkins, told Newsweek that his client "like many millions in our nation, are traversing a path from the land of propaganda driven reality to the land of truth."
"This is a process. It requires patience and compassion by all," Watkins said.
Government prosecutors have alleged that Chansley left a menacing note for former Vice President Mike Pence during the events of January 6. That note reportedly said: "It's only a matter of time, justice is coming."
During the insurrection, some demonstrators chanted "hang Mike Pence," and a large wooden gallows was erected outside the Capitol building. Other rioters threatened to harm or assassinate other prominent lawmakers.
More than 300 people from at least 40 different states have been charged by federal prosecutors for their involvement in the attack on the Capitol. The insurrection came after Trump urged supporters to come to Washington, D.C. for "wild" demonstrations, as Congress convened to formally certify President Joe Biden's victory.
The former president had baselessly claimed that the election was "rigged" and "stolen" by Democrats. At a rally ahead of the riot, Trump told supporters to march to the legislative building and urged them to "fight like hell" to keep him in office.