'QAnon Shaman' Jake Angelli Accused Trump of 'Grooming' Americans to Accept Conspiracies
"QAnon Shaman" Jacob Chansley claims that former President Donald Trump used social media and "public propaganda" to "effectively groom" his followers into believing conspiracy theories.
Chansley, also known by his stage name Jake Angelli, argued that he was one of millions tricked by the former president in a motion seeking to secure his pretrial release on Tuesday. Chansley is facing a potentially lengthy prison sentence for his alleged role in the deadly January 6 breach of the U.S. Capitol. Chansley insists that he believed he was "lawfully answering the call of the President" at the time that he and many others illegally entered the building.
"For years during the Trump administration, the President honed and routinely utilized his mass communication means to effectively groom millions of Americans with respect to his policies, protocols, beliefs and overwhelming fixation on all matters conspiratorial," Chansley's attorney Albert Watkins wrote in the motion.
"Months before the 2020 Presidential election, former President Trump heightened his public propaganda such as to alarm, alert, and amass his supporters and cause them to be concerned about an inevitable voter fraud being perpetrated upon the United States of America and, in turn, theft of our nation, loss of our democracy, and the seating of a falsely/fraudulently elected individual other than former President Trump," the motion continued.
Previously a fixture at rallies and gatherings promoting the pro-Trump conspiracy theory featured in his nickname, Chansley gained national notoriety due to photos showing him inside the Capitol building following the breach. He became an instantly recognizable figure after images of him shirtless while wearing a furry horned hat and American flag face paint quickly went viral.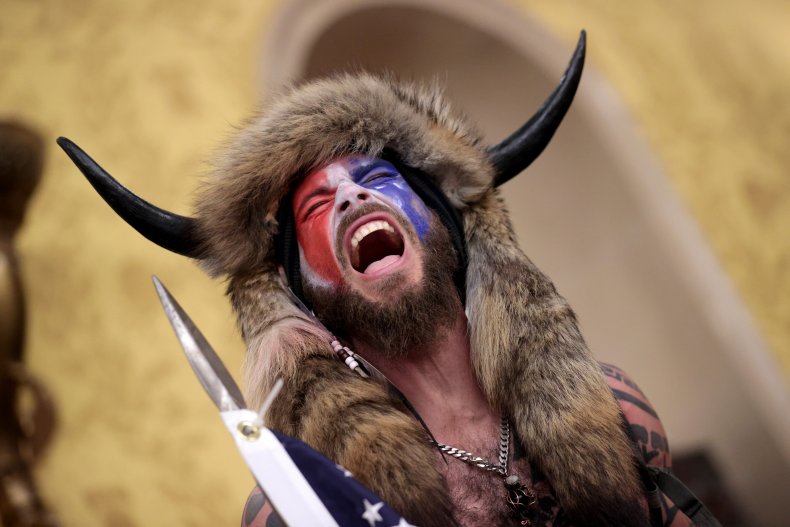 Besides being allegedly duped by Trump, the motion provides several additional reasons to justify Chansley's pretrial release. The document admits that Chansley does not have "an underlying medical condition which makes him especially vulnerable" to COVID-19 but argues that Chansley's "faith precludes him" from receiving a vaccine that could prevent him from becoming infected, suggesting that he should therefore be released on both medical and religious grounds.
Chansley also claims that bad prison food should bolster the case for his release. The motion states that although Chansley is "very grateful" for a court order that he only be served organic food in jail due to his religious beliefs, "the Defendant has experienced significant digestive tract issues for which medical consultation has been sought," with the symptoms being "attributable to the sustenance accorded the Defendant while in custody."
In a public apology issued on February 8, Chansley said that he was "deeply disappointed in former President Trump," lamenting that Trump was "not honorable" and had "led a lot of peaceful people down." Weeks earlier, the formerly devoted Trump follower had unsuccessfully lobbied for a presidential pardon, arguing that he had been peaceful and "accepted the President's invitation with honorable intentions" before entering the Capitol.
Tuesday's motion notes that Chansley "was compelled to reconcile his prior faith in former President Trump with the actions and words of former President Trump" after his pardon request was denied while Trump granted pardons to "his friends and colleagues and Lil' Wayne" instead.
Trump's office declined to comment for this story.