QAnon Shaman Video Raises Questions About Capitol Police Officers
Footage from the January 6 uprising obtained by Fox News has cast fresh doubt on the extent to which one of the perpetrators—who became infamously known as the QAnon Shaman for his elaborate dress on the day—was prevented from entering the U.S. Capitol by police officers.
Jacob Chansley, also known as Jake Angeli, was depicted by news presenter Tucker Carlson as walking around the building unhindered, and even escorted by police to "multiple" doors leading to the U.S. Senate chamber.
Chansley was sentenced to 41 months in prison after pleading guilty to one count of obstructing an official proceeding, but denied other charges against him. The aired surveillance footage calls into question the extent of those charges, and the actions of Capitol Police.
The force's role in the uprising has been a matter of debate, including how easily officers were overwhelmed by the crowd and the shooting of Ashli Babbitt, one of the protesters. However, many have been lionized by lawmakers, receiving medals for their actions.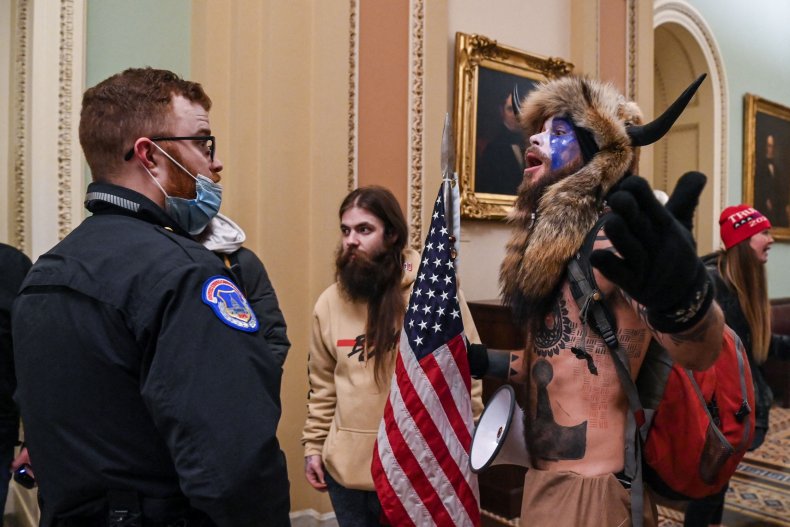 In a review of footage from January 6, 2021, Carlson—who CNN previously reported had been granted access to all the security footage from the day by Republican House Speaker Kevin McCarthy—suggested that once Chansley entered the U.S. Capitol, CCTV showed him moving around unimpeded.
"The tapes show that Capitol Police never stopped Jacob Chansley; they helped him," Carlson said on Monday. "They acted as his tour guides."
Footage reproduced on Fox News shows Chansley—wearing a viking hat with fur and horns, shirtless with red, white and blue face paint—roaming the halls with other insurrectionists while being followed by officers.
One officer appears to show Chansley that a door to the Senate chamber was locked by turning the handle, before leading him back to a further five officers. Carlson characterized the officers as "even try[ing] to open locked doors for him."
Carlson claimed that at least nine officers were within touching distance of Chansley, but "not one of them even tried to slow him down."
He went on to claim Chansley "understood that Capitol Police were his allies." In the Senate chamber, the QAnon Shaman was videotaped stating: "Thank you heavenly father for taking the inspiration needed to these police officers to allow us into the building."
A Capitol Police spokesperson told Newsweek: "Before this video was recorded, a violent group of people fought through multiple police lines and illegally broke into the U.S. Capitol, which was closed for a Joint Session of Congress."
They added that, as shown in the HBO documentary Four Hours at the Capitol, the officer who followed Chansley into the Senate chamber was on his own and was "vastly outnumbered by rioters," but persisted with asking them to leave before calling for back-up.
Chansley was arrested in Phoenix, Arizona, three days after the Capitol riots, and soon after was indicted on six charges, including one count of obstructing, impeding and interfering with a law enforcement officer engaged in the performance of his duties during a civil disorder.
Chansley later pleaded guilty to one count and the other charges were dropped.
While it is unclear exactly what Chansley did outside the Capitol building, the footage suggests that he may not have been impeded or obstructed by law enforcement once inside.
Newsweek has contacted the Department of Justice for comment.
Plea agreement documents by the state attorney for Washington D.C. argue that Chansley was among a crowd that "forced their way through, up and over the barricades, and officers of the U.S. Capitol Police."
They go on to say that Chansley was one of the first 30 to enter the Capitol building via a broken door and on the second floor, he and other rioters "were met by a line of U.S. Capitol Police officers, instructing them to peacefully leave the building." Instead of obeying the instruction, Chansley is said to have moved to the third floor and entered the Senate gallery.
Chansley gained the moniker the QAnon Shaman after the conspiracy theory movement based on the predictions of an anonymous online account.
Update 03/07/23, 11:00 a.m. ET: This article was updated to include comment from a Capitol Police spokesperson.