'QAnon Shaman's' Attorney Looking to Call Trump as Witness in Capitol Riot Case
If Jacob Chansley, also known as Jake Angeli and the "QAnon Shaman," goes to trial for his role in the Capitol riot, his attorney, Albert Watkins, thinks it would be smart to call former President Donald Trump to testify. But getting Trump on the witness stand could be a tricky business, according to a former federal prosecutor.
Chansley, who was photographed wearing a fur headdress, horns and face paint at the Senate dais during the January 6 riot, has said he was following Trump's orders, which is a blame game at least five other accused rioters have played. The "Trump defense" may not be enough to convince 12 jurors to acquit, but if it persuades one juror to hold firm to a "not guilty" verdict, it could create a hung jury, resulting in a mistrial.
"I think calling President Trump to the stand would be smart," Watkins told Newsweek. "He's a material witness. I would ask him, 'What do you mean saying, 'I'll go with you'? What does that mean?"
On January 6, the day legislators convened to certify President Joe Biden's Electoral College win, Trump reiterated claims that the election was stolen from him at a rally, telling crowd members that if they didn't "fight like hell," they were not going to have a country anymore.
Encouraging people to "walk down" to the Capitol to "cheer on our brave senators, and congressmen and women," Trump told the crowd, "I'll be there with you." The point of going to the Capitol, according to Trump, was to give Republicans "the kind of pride and boldness that they need to take back our country."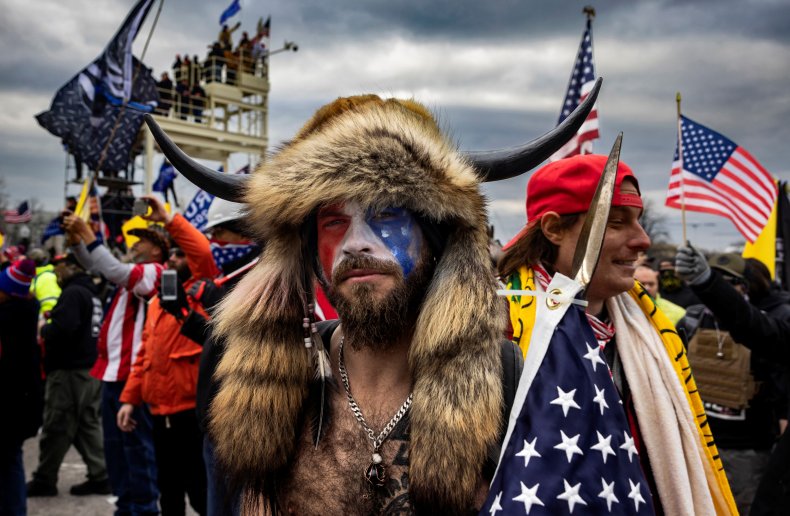 Trump's comments that day are the focus of his upcoming impeachment trial in the Senate, but he has denied having any involvement in provoking the attack on the Capitol. In a response to the House's single article of impeachment for "inciting violence," his lawyers said his "fight like hell" comment was "clearly about the need to fight for election security in general."
As for calling Trump to the stand, Neama Rahmani, a former assistant U.S. attorney and president of West Coast Trial Lawyers, said there's no restriction on a former or sitting president testifying. But a judge can reject a witness if the person is deemed to be irrelevant to the case and Rahmani said he doesn't see Trump's relevance in the cases against Capitol rioters.
"Mistakenly thinking the president was going to come with you is not a legal defense," Rahmani said. "The president can't authorize you to break the law. Even if the president testifies exactly like you want, that's not anything the jury can use to determine if a rioter is guilty or not guilty."
Speaking with the FBI, Chansley said he went to Washington, D.C., after the president asked for all "patriots" to come there on January 6. Other accused rioters have said Trump "invited us down" and that they were "following the instructions of former President Trump."
"Do you want to prosecute people for listening to their president?" Watkins said. "This is his call for help to save the country.... They were heeding the call of the president of the country whose words were an invitation to go down to the Capitol with him."
While the government may have an issue with bringing Trump to the stand, Watkins doesn't foresee a judge outright preventing it, although there may be some difficulty. As the former president, Watkins said, Trump won't have the same immunity and protections he would enjoy if he were still in office, making him subject to a valid subpoena as a material witness in an alleged federal crime.
Chansley pleaded not guilty to all six charges last Friday, and if the case goes to trial, Rahmani said, it will be "really tough" to defend him because of the number of photos and videos from that day. While he expected it to be a "slam dunk" for the prosecution, he said it's possible there could be one or two jurors sympathetic to Trump and the defendant, which would mean a hung jury.